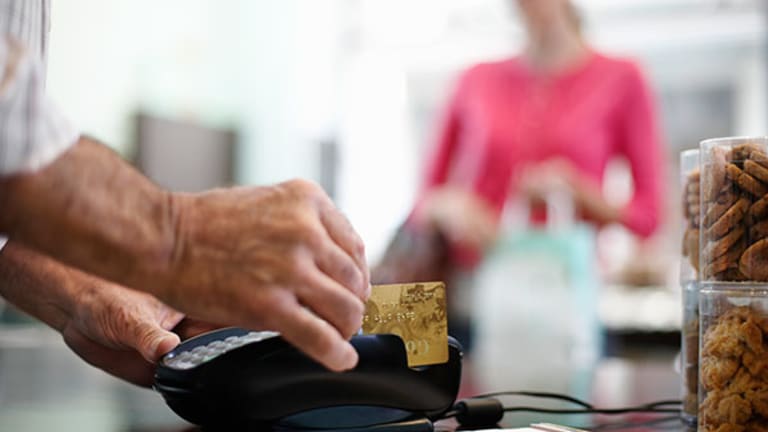 NEW YORK (TheStreet) -- Global Payments (GPN) - Get Global Payments Inc. (GPN) Report is on a huge run and recently hit an an all-time high -- but the stock has more upside.
Shares of the money transfer and electronic payment processing company are currently trading near an all-time high, $98.65, rallying by more than 7% after the company reported good third-quarter results and also issued an upbeat full-year guidance last week. The company said that it expects full-year revenue to grow 8%-to-10% and raised its earlier earnings-per-share guidance to a new range of $4.77-to-$4.84, representing 16%-to-18% growth.
Global Payments shares are up 22.8% year-to-date and 46.3% over the last 12 months, far eclipsing the single-digit gains registered by the S&P 500 and the Dow Jones Industrial Average.
In comparison, the company's peers, such as
Visa
(V) - Get Visa Inc. Class A Report
and
MasterCard
(MA) - Get Mastercard Inc. (MA) Report
have performed less well this year, gaining just 1.36% and 3.37%, respectively.
Even though Global Payments shares are trading near an all-time high, there are several reasons that the momentum can continue.
Why Is Global Payments Doing Well?
There are three main reasons why Global Payments is doing well:
Strong growth in North American and Asia-Pacific market
Favorable pricing opportunities arising from changing interchange fees
Smart acquisitions
Strong Growth in North American and Asia-Pacific Markets
Global Payments derives about 60% of its revenue in the U.S. market. The strong economy in this market has been driving growth for the company due to good growth in consumer transaction volumes. The company's U.S. market segment grew 13.5% during the quarter, significantly faster than the company's overall growth. The Asia-Pacific market also did very well, recording growth of 23.5%. This market is, however, still quite small and accounts for just 8% of the company's revenue. Strong growth in these two markets was able to offset weaknesses in the Canadian market (10.4% of revenue) where the company recorded a 6% revenue drop, and the European market (21% of revenue) where revenue declined 2.5%.
The American economy is expected to continue showing strong growth over the next couple of years. Meanwhile, strong growth in the company's Asia-Pacific market is being fueled by the rapid adoption of card payments. The Asia-Pacific market is home to three of the world's largest card markets including Japan, Australia and South Korea. Aggressive marketing efforts by card issuers and government tax benefits in this region are driving a rapid uptake of non-cash payments such as cards and mobile payments.
These trends should provide a nice revenue tailwind for Global Payments in the foreseeable future, and help to offset any weaknesses in Europe.
Favorable Pricing Opportunities Arising From Changing Interchange Fees
Global Payments acts as a global merchant acquirer. The role of a merchant acquirer is to accept cards from merchants then process debit and credit card transactions. Cardholders do not typically deal directly with the merchant acquirers like Global Payments but rather with banks that issue them with the cards. Companies like Global Payments act as third-party processors that use their scale and access to cutting-edge technology to handle massive volumes of customer transactions.
The E.U. introduced a cap on interchange fees for Visa transactions in January this year. These new laws have pushed Visa and others to change their fee structures from a set fee per transaction to one that is more based on the size of transaction. For many merchants, costs will be lower. The effect of lower interchange fees for merchants is mixed depending on their locations. According to Ayden, merchants in the U.K. will generally pay lower fees courtesy of 3D Securepay implementation whereas those in Germany and other countries where 3D Securepay is not easy to implement might not be so lucky.
Merchant acquirers such as WorldPay and Global Payments have been taking this window of opportunity to pass most of the increase in charges to merchants thus leaving themselves with fatter profit margins. This probably explains why the company's international segment grew its revenue by just 3.6% yet managed to grow its operating income by 12.6%. And this might help explain why the company raised its earnings-per-share guidance for the full year. Global Payments and WorldPay share a duopoly in the European market, and are thus the biggest beneficiaries of this windfall. Lower interchange fees might be bad for Visa but good for these merchant acquirers.
Smart Acquisitions
Global Payments has lately been making a flurry of high-profile acquisitions with the aim of growing its international operations. The company purchasedEzidebit, a leading payments technology company that serves the Australian and New Zealand markets, for $268 million. This will help the company expand its Asia-Pacific operations, its fastest-growing market segment. The company also bought Realex, an Irish technology payments technology company, for $125.9 million. Realex is one of Europe's fastest payment gateways. The merger will help Global Payments integrate its existing merchant services to become a one-stop shop and grow its footprint in Europe.
Shares Have Significant Upside
Global Payments raised its full-year fiscal 2015 revenue outlook to $2.75 billion-to-$2.8 billion and earnings per share to $4.77-to-$4.84. The company also estimates that it will earn $5.36 per share in fiscal 2016. The current price-to-earnings ratio of 26.6 is still closer to the 10-year median of 21.1 than its 10-year high of 38.2. The company also has $300 million lined up in share buybacks, which should cut its outstanding share count by almost 5%. Given this combination of factors, the shares have a 12-month upside of 15%-to-18%.
Oppenheimerreiterated its buy rating on the shares, while J.P. Morgan (JPM) - Get JPMorgan Chase & Co. (JPM) Report raised its price target to $97 from $94. Given the ongoing favorable secular tailwinds for the company, it's a sound long-term investment.
This article is commentary by an independent contributor. At the time of publication, the author held no positions in the stocks mentioned.