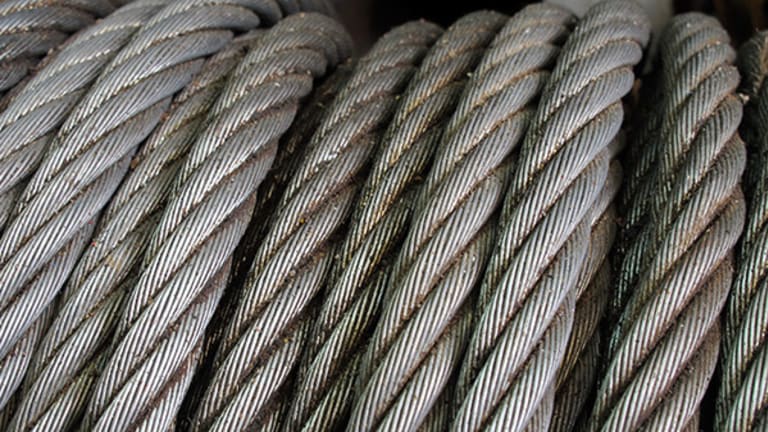 Buy This Steel Company for Its Dividend, Prospects
You may never have heard of Commercial Metals but it pays a dividend that exceeds the S&P average and its prospects could be improving.
Companies that sell steel and metals products have had their ups and downs. As recently as two weeks ago steel stocks were hot, although TheStreet's Jim Cramer said many of these stocks are still struggling despite the big boost in their stock prices.
So if you are considering buying shares of Commercial Metals Company (CMC) , which makes, recycles and markets steel and metal products, here's one of the things the company has going for it: a 12-cent quarterly dividend yielding about 3.4% annually based on a stock price of around $17. The average stock on the S&P 500 has an annual yield of 2%.
Management will finalize its list of who gets that dividend check on Monday, so you must buy before then. Investors of record as of April 6 will receive the dividend payment on April 21.
The stock is up an impressive 26% for the year to date and is up over 11% for the past 52 weeks despite continuous pressures from abroad, particularly China, which has flooded the market with cheap steel, as well as continued weakness in the scrap metal market. Weak commodity prices, combined with slumping oil, has made revenue hard to come by at Commercial Markets.
So why is Commercial Metals' stock up? Its business prospects are seen approving with President Obama's signing in December of bipartisan legislation to increase comprehensive infrastructure spending, expected to move billions of dollars into construction projects. Commercial Metals specializes in the type of steel products used for commercial buildings and roads.
Commercial Metals' fiscal 2016 profits, for its year ending in August, are projected to decline 28% to 99 cents per share. But for fiscal 2017, earnings are projected to climb 44% to $1.44 per share, which does not include the effect of that infrastructure spending. This could make Commercial Metals, with its strong dividend, a solid investment for the next 12 to 18 months.
This article is commentary by an independent contributor. At the time of publication, the author held no positions in the stocks mentioned.