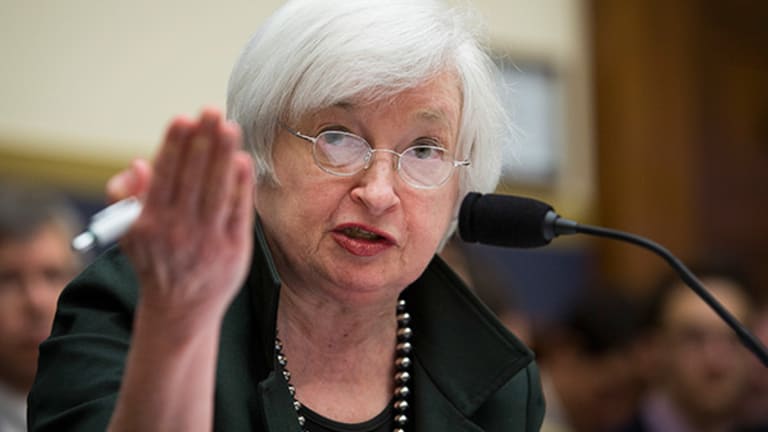 You'd better position your portfolio for a rising interest rate environment -- and you'd better do it now.
In an appearance before Congress this week, Federal Reserve Chair Janet Yellen said the U.S. economy is performing well enough for the central bank to consider hiking rates as early as December. We've all known for quite a while that higher rates are coming, but with each cryptic remark from Yellen, the day of reckoning keeps getting closer and more real.
Bank stocks particularly benefit from higher rates, but therein lies the rub: Although some banks have gotten their acts together, the financial sector as a whole remains littered with landmines.
I've pinpointed a banking play on rising rates that's reliable, safe and growth-oriented: Arrow Financial Corp. (AROW) - Get Arrow Financial Corporation Report , a tightly managed, undervalued bank with a rock-solid balance sheet and a long history of dividend increases.
data by
Arrow Financial's current dividend yield stands at a healthy 3.55%, compared to the
S&P 500
's average dividend yield right now of 2.02%. As a small cap with a valuation of only $361 million, Arrow should rack up outsized price appreciation as the Fed tightens. But along the way, you'll enjoy robust and safe income.
Only the strongest banks survived the financial meltdown that precipitated the Great Recession, and those that did emerged in slimmer, stronger shape.
That said, several banks are still struggling to clean up their balance sheets and put their reckless practices behind them. Many of the biggest banks, such as Bank of America and JPMorgan Chase, remain dicey investments, even when rates begin their inevitable climb in December or early 2016.
But if you're looking for dependable income in a perilous market, you've found it in Arrow, a small bank holding company focused on traditional commercial and consumer financial operations in upstate New York. Despite this year's extraordinary market volatility, the stock is now up about 2% year to date, compared to the year-to-date return of 0.9% for the iShares US Regional Banks ETF (IAT) - Get iShares U.S. Regional Banks ETF Report .
Arrow boasts a remarkably consistent record of dividend growth, with annual increases every year since 1997 and no cuts in its history. If this bank could weather the global financial crisis, it can certainly withstand today's turmoil and any market corrections that might be in the offing.
The bank's utility-like approach to banking is reflected in its strong asset quality and capital ratios. As opposed to many of the banking sector's giants that were over-leveraged leading up to the 2008 crash, Arrow Financial has consistently pursued conservative financial and lending policies. The company avoided the tsunami of bad debt and defaulting collateralized sub-prime mortgage securities that overwhelmed the industry during the Great Recession, and it's now in superb shape to capitalize on banking's resurgence.
Arrow's unwavering emphasis on high-quality credit is holding it in good stead for long-term growth as the U.S. economic recovery gains traction. An improving housing market is fueling demand for the bank's consumer real estate financing, and loans and deposits are expanding in its commercial segment. What's more, the company has no exposure to volatile short-term funding costs.
In October, Arrow announced that earnings for the first nine months of 2015 were $18.1 million, a year-over-year gain of 6.5%. Diluted earnings per share for the nine-month period increased 8 cents, or 6.1%, to $1.40 from $1.32 in the same period a year ago.
It's important to note that the bank's key profitability ratios remained robust: For the nine-month period, return on average equity was 11.73%, up from 11.55% in the prior year, and return on average assets was unchanged at 1.05%.
Also in October, management approved a new stock repurchase program of up to $5 million over the 12-month period starting January 1, 2016. And the company declared a quarterly cash dividend of 25 cents per share payable December 15, 2015, representing an increase of 2% over the cash dividend paid in the fourth quarter of 2014. It represents the 22nd consecutive year that the company has boosted cash dividends paid to shareholders.
Arrow now sports a trailing 12-month price-to-earnings ratio of only about 14, in line with the its industry (Northeastern Regional Banks) but below that of lower-yielding industry peers Community Bank System and NBT Bancorp.
The upshot: Arrow's high dividend is sustainable, even if market volatility persists, and it's a great way to leverage a rising rate environment.
Looking for other high-dividend stocks that pay reliable and safe income, year after year? Click here for a free report.
John Persinos is editorial manager and investment analyst at Investing Daily. At the time of publication, the author held no positions in the stocks mentioned.