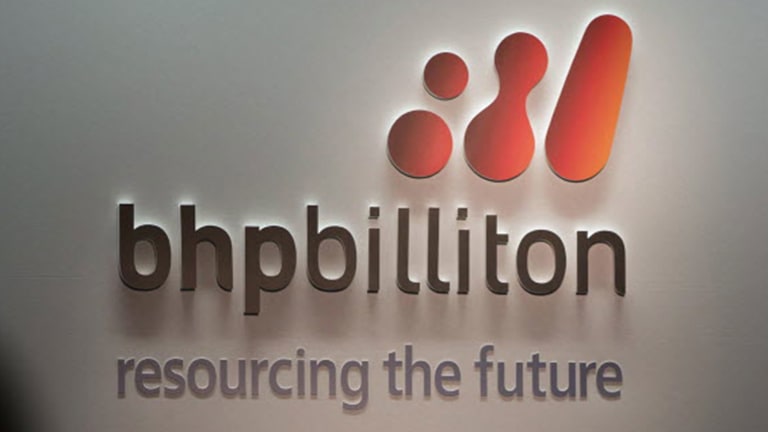 Buy This Deeply Undervalued Mining Stock for Its 5% Dividend
See why BHP Billiton is deeply undervalued, and what catalysts could bring the stock price higher.
NEW YORK (TheStreet) -- BHP Billiton (BHP) - Get Report, the largest mining corporation in the world, has massive scale and a 5% dividend. Here's why you should invest.
The Austrialian company has a market cap of $120 billion and is a member of the exclusive Australian ASX 20 Index. The company produces a variety of natural resources including oil, gas, iron, nickel, copper, diamonds and coal. 
BHP Billiton's scale is massive. Just check out the the company's production in its latest quarter listed below. Kt stands for Kilotonnes. One Kilotonne is equal to 2,204,622 pounds. MMBOE stands for millions of barrels of oil equivalents.
Petroleum: 61.5 MMBOE
Copper: 460.0 kt
Iron Ore: 58,979 kt
Metallurgical Coal: 11458 kt
Energy Coal: 19.714 kt
Alumina: 1,248 kt
Aluminum: 245 kt
Manganese Ores: 2,049 kt
Manganese Alloys: 182 kt
Nickel: 32.5 kt
The miner earned just under $10 billion in income over the last 12 months on sales of $63 billion. This highly profitable company's slogan is "resourcing the future" and it does provide resources for continued global economic growth.
Consistency in a Volatile Environment
BHP Billiton's profits fluctuate with both the demand and price of metals and oil. This makes the company's earnings highly volatile from year to year.
BHP Billiton currently trades for a price-to-earnings ratio of just 12.4 and has an exceptionally high dividend yield of 5.4%. The company appears undervalued on several metrics.
From 2002 through 2014 the miner traded for an average price-to-earnings ratio of about 0.9 times the S&P 500, which has a price-to-earnings ratio of 20.8. BHP Billiton is currently trading at just 0.6 times the S&P 500's price-to-earnings multiple. Based on the company's price-to-earnings ratio versus the S&P 500, BHP Billiton shares must gain 50% to reach the historical average ratio.
In addition to its low price-to-earnings ratio, BHP Billiton looks very cheap using its dividend yield. The company is trading near its all-time high dividend yield.
Negative Events 
BHP Billiton's share price, currently around $45.80, has declined over 34% over the last 52 weeks thanks to low metal and oil prices combined with a strong dollar.
Metal prices have declined significantly over the past year. The price declines of several metals over the last 12 months that are important to BHP Billiton are shown below:
Iron down 55%
Nickel down 26%
Copper down 9%
Manganese down 6%
Oil prices have also been in decline since the second half of 2015. Crude oil was trading for well over $100 a barrel at the beginning of 2014. Oil now trades for around $60 a barrel. 
BHP Billiton generates most of its earnings outside the United States and must translate its financials into United States dollars. The dollar has risen 20% in the last year. This has the effect of making BHP Billiton's operations appear less profitable than they really are. BHP Billiton does not convert the majority of its money into dollars in practice. The company only reports on a United States dollar basis.
The convergence of these three trends has resulted in a temporarily depressed share price for BHP Billiton. Patient investors can take advantage of these negative trends and purchase the stock at a discount. Shareholders who purchase now are getting shares of the largest mining corporation in the world at a deep discount.
South 32 Spinoff
The company's shares may not stay cheap for long. BHP Billiton shareholders recently approved the spinoff of the company's non-core operations into a new business called South 32 that will completed on May 25.
The spinoff will benefit shareholders by focusing BHP Billiton on its most profitable divisions. Over the last 10 years core operations have grown earnings-before-interest-and-taxes at 21% a year versus 15% a year for non-core operations. Core operations also have higher margins than non-core operations.
BHP Billiton announced it would not reduce its dividend for the spinoff. The company will likely be able to realize faster growth after the spinoff as management can focus on its core assets. Cost savings from streamlining the company's organizational model are expected to be $100 million every year.
Final Thoughts
BHP Billiton is an undervalued, high-quality business with a dividend yield over 5%. The company has a potential catalyst to improve growth with the South 32 spinoff. BHP Billiton shares will likely rise when oil and/or metal prices recover. The company should be appealing to dividend growth investors looking for high yield, growth and value.
This article is commentary by an independent contributor. At the time of publication, the author held no positions in the stocks mentioned.