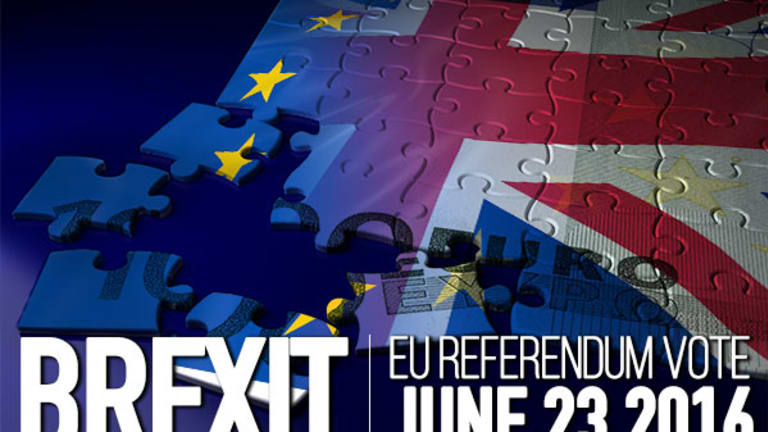 Buy These 5 U.K. Stocks Before the Brexit Vote
These five technical setups are showing solid upside potential right now.
All eyes are on the "Brexit" this week, as the calendar ticks down the hours until the referendum on whether Britain will stay in the European Union.
Yesterday, U.S. markets rallied alongside the pound largely on hopes that Britain will remain in the E.U., but the polls remain very split heading into Thursday's vote. Clearly, based on yesterday's price action, investors recognize that the Brexit vote carries some serious implications on U.S. stocks. But what many investors might not think about is the impact that the vote will have on U.K.-based companies that have shares listed on U.S. stock exchanges.
For the most part, U.K. companies listed stateside are large multinationals -- and some are British in name only. But none of that changes the fact that any stocks with British domiciles are going to be hugely impacted by the Brexit vote, one way or the other.
The thing is, while the odds may be split heading into the vote, U.K.-based stocks aren't all looking like a roll of the dice right now. Instead, a handful of big U.S-listed British stocks are showing bullish technical setups worth trading this week. And getting in ahead of the vote could hand you some big returns on these high-probability trades.
To figure out which stocks are in play this week, we're turning to the charts for a closer look at five breakout moves within the sector - and when to buy them.
In case you're unfamiliar with technical analysis, here's the executive summary: Technical analysis is a way for investors to quantify qualitative factors, such as investor psychology, based on a stock's price action and trends. Once the domain of cloistered trading teams on Wall Street, technicals can help top traders make consistently profitable trades and can aid fundamental investors in better planning their stock execution.
Without further ado, here's a rundown of five technical setups that are showing solid upside potential right now.
CNH Industrial NV
Leading off our list is London-based heavy equipment manufacturer CNH Industrial NV (CNHI) - Get CNH Industrial NV Report . CNH Industrial has been a strong performer, up nearly 10% since the calendar flipped to January 2016 -- but don't worry if you've missed the move in this $10 billion machinery stock so far. That's because shares are signaling the potential for a second leg higher in June.
CNH Industrial is currently forming an ascending triangle pattern, a bullish continuation setup that's formed by horizontal resistance up above shares at $8, and uptrending support to the downside. Basically, as CNH bounces in between those two technically important price levels, shares have been getting squeezed closer and closer to a breakout through our $8 price ceiling. When that happens, we've got a buy signal in CNH Industrial.
Relative strength adds some confidence to the CNH Industrial trade right now. Our relative strength line, which measures this stock's price performance versus the broad market, has been in an uptrend of its own since April, signaling that this stock is beginning to outperform the rest of the market right now. If shares can catch a bid above $8, we've got our buy signal.
Seadrill Partners
Seadrill Partners (SDLP)  may not have much exposure to the U.K. besides the fact that it's headquartered in London, but this offshore rig operator is showing traders the exact same setup we just looked at in CNH Industrial. For Seadrill Partners, the key breakout level to watch is resistance up at $6. If shares can muster the strength to push their way above that $6 price level, we've got a clear-cut buy signal.
What's so special about the $6 level? It all comes down to buyers and sellers. Price patterns, such as this ascending triangle setup in Seadrill Partners, are a good quick way to identify what's going on in the price action, but they're not the actual reason that makes the stock tradable. Instead, the "why" comes down to basic supply and demand for SDLP's shares themselves.
The $6 resistance level is a price where there has been an excess of supply of shares; in other words, it's a spot where sellers have been more eager to step in and take gains than buyers have been to buy. That's what makes a breakout above $6 so significant -- the move means that buyers are finally strong enough to absorb all of the excess supply above that price level. If Seadrill can muster the strength to break above $6, this stock becomes a high-probability buy.
National Grid
They don't get much more British than U.K.-based electricity and gas utility National Grid (NGG) - Get National Grid Plc Report . This $52 billion utility stock provides the power and gas transmission for England and Wales, among other businesses. Likewise, the price action in National Grid doesn't get much more straightforward; this stock has been making its way up and to the right for the last year and change, and shares look likely to keep up that technical trajectory this summer.
National Grid is currently forming an uptrending channel, a bullish price setup that's formed by a pair of parallel trendlines that have corralled 95% of this stock's price action over the last 12 months or so. The uptrend in National Grid just got confirmed again in June, when shares bounced off of support for the sixth time yesterday. That bounce is a buy signal.
For investors who want to pick up a stake in National Grid this week, the 200-day moving average has recently started acting like a support level. That makes the 200-day a logical place to park a protective stop -- if that red line gets violated, then you don't want to own NGG anymore.
OM Asset Management
OM Asset Management (OMAM)  is another uptrending stock whose price action is about as basic as it gets. Since February, this $.17 billion London-based investment firm has been bouncing its way higher in a tightly-defined uptrend, and shares are touching trend line support for the umpteenth time this week. From here, another buying opportunity comes on the next bounce higher.
Waiting for that bounce is important for two key reasons: It's the spot where shares have the most room to move up before they hit resistance, and it's the spot where the risk is the least (because shares have the least room to move lower before the channel breaks, and you know you're wrong). Remember, all trend lines do eventually break, but by actually waiting for a bounce to happen first, you're ensuring OM Asset Management can still catch a bid along that line before you put your money on shares.
For OMAM, the support level to use for a stop loss is the 50-day moving average -- that price line has been a stellar proxy for this stock's uptrend since the middle of March. If the 50-day gets busted, then the uptrend is over.
ARM Holdings
Last on our list of potential British breakouts is Cambridge-based tech company ARM Holdings (ARMH) . This $20 billion semiconductor stock has been consolidating sideways for most of 2016, but zoom out on the chart a bit, and things suddenly start to look a lot more directional thanks to a reversal pattern forming long-term. Here's how to trade it.
ARM Holdings is currently forming an inverse head and shoulders pattern, a bullish reversal setup that indicates exhaustion among sellers. This stock's setup is formed by two swing lows that bottom out at approximately the same level (the shoulders), separated by a lower low (the head). The buy signal comes on a move up through ARM's neckline at $44.50; that's the key price level to watch from here.
Price momentum, is the indicator to look at in ARM Holdings. 14-day RSI, up at the top of the price chart, made a series of higher lows at the same time its price was bottoming in the inverse head and shoulders pattern. That's a bullish divergence that tells us buying pressure has been quietly building behind the scenes. Once shares can catch a bid above $44.50, we've got our signal that buyers are clearly in control of ARMH.
Disclosure: This article is commentary by an independent contributor. At the time of publication, the author held no positions in the stocks mentioned.