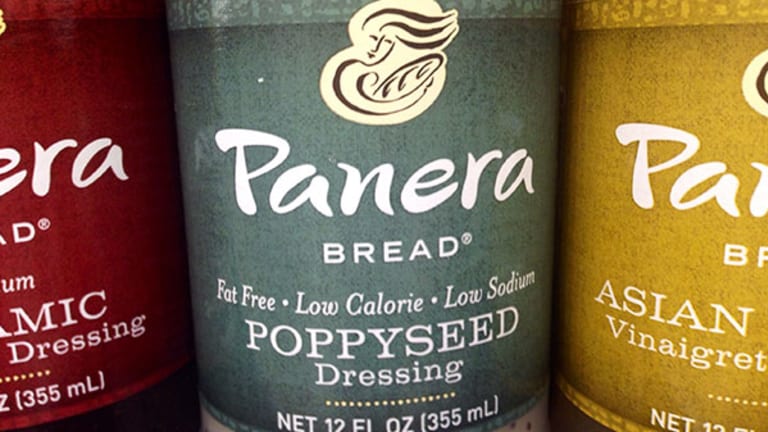 Buy These 5 Stocks This Week for Breakout Gains
These five technical setups are showing solid upside potential right now.
These five technical setups are showing solid upside potential right now.
It's hard to imagine that many stocks look attractive this week after the colossal Brexit-vote-induced selloff that U.S. markets have endured over the last couple of days. Since Friday, the S&P 500 index has lost 5.3% of its market value, shedding approximately a trillion dollars from its collective market capitalization.
And most stocks have participated in that selloff too. 450 S&P 500 components are down in the last two trading sessions. But there's a silver lining to the black clouds. Despite the recent rout in stock prices, some stocks are actually on the verge of pushing into breakout territory this week.
To make the most of a potential rebound this week, we're turning to the charts for a technical look at five stocks that are actually pointing higher as we head into July.
In case you're unfamiliar with technical analysis, here's the executive summary: Technical analysis is a way for investors to quantify qualitative factors, such as investor psychology, based on a stock's price action and trends. Once the domain of cloistered trading teams on Wall Street, technicals can help top traders make consistently profitable trades and can aid fundamental investors in better planning their stock execution.
Without further ado, here's a rundown of five technical setups that are showing solid upside potential right now.
Panera Bread 
Leading off our list of potential breakout trades is $5 billion bakery-cafe chain Panera Bread (PNRA) . Panera Bread has been in rally mode since last fall, up almost 25% since shares bottomed back in the middle of November. But don't worry if you've missed the move in Panera. This stock looks ready to kick off a second leg higher this summer.
Panera Bread is currently forming an ascending triangle pattern, a bullish continuation pattern that's formed by horizontal resistance up above shares (at $220 in Panera's case), and uptrending support to the downside. Basically, as Panera bounces in between those two technically significant price levels, this stock has been getting squeezed closer and closer to a breakout through its $220 price ceiling. When that happens, we've got a buy signal.
Relative strength is the side indicator that adds some confidence to the Panera Bread trade right now. Our relative strength line, which measures Panera's price performance vs. the broad market, has been in an uptrend of its own since November, confirming that this stock is still outperforming right now. Once shares can catch a bid above $220, it's time to be a buyer.
From a fundamental perspective, Panera is a holding in Jim Cramer's Action Alerts PLUS charitable portfolio. Cramer and Research Director Jack Mohr wrote on Friday:
Shares significantly outperformed the market on Friday's Brexit-induced selloff. The company is reaching an inflection point in earnings and we believe it has a long runway for growth ahead, powered by its Panera 2.0 initiative. The data don't lie and Panera 2.0-converted stores have showed significant same-store-sales acceleration for multiple quarters following their implementation and we expect this trend to continue to have a larger impact as more stores are converted. Importantly, 2.0 stores, over the longer term, also will result in better margins (although they do require an upfront investment). We remain confident in the long- term story and reiterate our $235 price target.
Starz
We're seeing a similar setup in shares of $2.7 billion entertainment company Starz (STRZA) . Like Panera, this stock is forming an ascending triangle pattern, in this case with a breakout level up at $29. Unlike Panera, the ascending triangle in Starz is showing up at the bottom of a long-term downtrend. Even though the setup in Starz isn't exactly "textbook," it's tradable this summer. If $29 gets taken out, it's time to buy.
What's so special about the $29 level? It all comes down to buyers and sellers. Price patterns, such as this ascending triangle setup in Starz, are a good quick way to identify what's going on in the price action, but they're not the actual reason that makes the stock tradable. Instead, the "why" comes down to basic supply and demand for STRZA's shares themselves.
The $29 resistance level is a price where there has been an excess of supply of shares; in other words, it's a spot where sellers have been more eager to step in and take gains than buyers have been to buy. That's what makes a breakout above $29 so significant -- the move means that buyers are finally strong enough to absorb all of the excess supply above that price level. So if Starz can muster the strength to break above $29, this stock finally becomes a high-probability buy.
Qiagen 
It's been a rough year to own shares of Qiagen (QGEN) - Get Report . This Dutch mid-cap medical testing stock has lost almost 30% of its market value since the calendar flipped to January, underperforming the rest of the broad market by a big margin. And it certainly hasn't helped lately that this stock has significant exposure to the Eurozone. But after a prolonged selloff, this stock is starting to look "bottomy" in the very long-term.
Qiagen is currently forming a long-term double bottom, a bullish reversal pattern that looks just like it sounds. The double bottom is formed by a pair of swing lows that bottom out at approximately the same level -- the buy signal comes on a push through the peak that separates those two troughs. For Qiagen, that breakout level to watch is resistance up at $24.
Price momentum is another important indicator to watch in Qiagen. 14-day RSI, our momentum gauge in this stock, has been trending higher ever since shares bottomed for the first time in February. That's a bullish divergence that signals that buyers are building strength here. Once $24 gets taken out, it's time to join them.
TAL Education Group
It doesn't take an expert trader to figure out what's been happening in shares of Chinese K-12 after-school tutoring stock TAL Education Group (XRS)  lately. In the last year, this $5 billion stock has seen its share price rally 68%, hitting all-time highs in 2016. But shares could be heading even higher this summer.
TAL Education has been making its way higher in an uptrending channel. That simple price pattern is formed by a pair of parallel support and resistance lines that have corralled 99% of XRS' price action so far this year. And as shares rebound off of the bottom of that channel for the umpteenth time this summer, it makes sense to buy the bounce.
Waiting for that bounce is important for two key reasons: It's the spot where shares have the most room to move up before they hit resistance, and it's the spot where the risk is the least (because shares have the least room to move lower before the channel breaks, and you know you're wrong). Remember, all trend lines do eventually break, but by actually waiting for a bounce to happen first, you're ensuring that TAL Education can still catch a bid along that line before you put your money on shares.
Target 
Last but most certainly not least is retail giant Target (TGT) - Get Report . Target has been a pretty awful stock to own in the last few months. Since shares peaked back in April, this stock has given back 16% of its market value, underperforming the rest of the S&P by a big margin. But after the latest leg lower last month, Target is beginning to show signs of a reversal. Here's how to trade it.
Target's price action has evolved into an inverse head and shoulders pattern, a price setup that signals exhaustion among sellers. This stock's chart pattern is formed by two swing lows that bottom out at approximately the same level (the shoulders), separated by a lower low (the head). The buy signal comes on a move through Target's neckline at $70 -- that's the key price level to watch from here.
Target is another stock where momentum is worth watching. Our momentum gauge, 14-day RSI, bottomed out with this stock's left shoulder, and the indicator has been making higher lows ever since. That's our signal that buying pressure is building. Once shares are able to catch a bid above $70, the gap this stock made in May is likely to get filled quickly. That's good reason to keep a close eye on this $41 billion retail giant in July.
Target is another holding in Jim Cramer's Action Alerts PLUS charitable portfolio. Cramer and Research Director Jack Mohr wrote on Friday:
Target's domestic focus and almost 3.5% dividend yield helped the stock outperform at the end of the week while the rest of the market fell victim to Brexit concerns. TGT shares should continue to benefit as long as the dollar remains strong, and this could last for some time until the implications of U.K.'s exit from the EU are better defined. That being said, we remain disappointed in TGT's latest quarter and need to see a turnaround in the business before we look to get back in. 
Disclosure: This article is commentary by an independent contributor. At the time of publication, the author held no positions in the stocks mentioned.