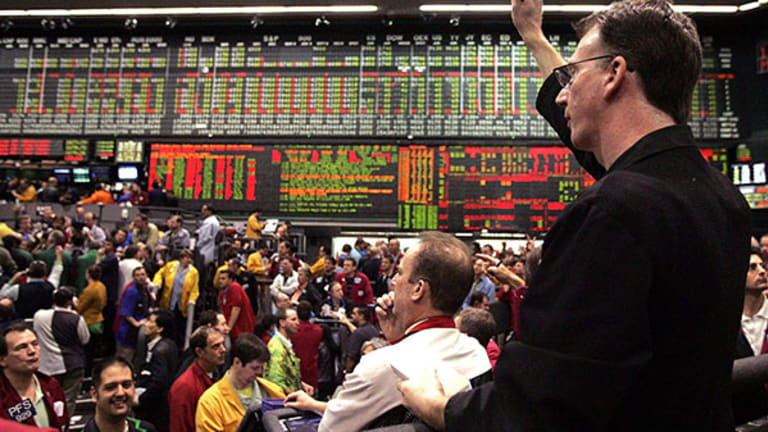 Buy These 5 Financial Stocks for Breakout Gains
The financial sector isn't showing any signs of slowing down. Here are five technical setups worth trading now.
BALTIMORE (Stockpickr) -- The financial sector has been heating up in 2015 -- and it's all be happening right under investors' noses.
Since the broader market bottomed back in late January, the S&P 500 has managed to move about 6% higher, putting the big market average on track for double-digits by the end of the year. But financial stocks? They're already there. Over that same stretch, the SPDR Financial Sector ETF (XLF) - Get Report is up 10%.
The financial sector isn't showing any signs of slowing down in the second half of the year. In fact, it's heating up. And some stocks are getting close to big breakouts this week as a result.
To find the financial trades that look best-positioned for breakout gains this week, we're turning to the charts for a technical look at five technical setups from the sector.
In case you're unfamiliar with technical analysis, here's the executive summary: Technical analysis is a way for investors to quantify qualitative factors, such as investor psychology, based on a stock's price action and trends. Once the domain of cloistered trading teams on Wall Street, technicals can help top traders make consistently profitable trades and can aid fundamental investors in better planning their stock execution.
Without further ado, let's take a look at five technical setups worth trading now.
CME Group
Up first is financial market operator CME Group (CME) - Get Report. CME has been a strong performer over the course of the last year and change. Since last summer, this $33 billion stock has rallied close to 37%.
But don't worry if you've missed that move so far. CME looks set to kick off a second leg higher in the second half of 2015.
CME Group is currently forming a pretty textbook ascending triangle setup. The ascending triangle in CME is formed by horizontal resistance above shares up at $100, and uptrending support to the downside. As those two levels constrain the price action in this stock, shares have been getting squeezed closer and closer to a breakout above $100. When that move higher happens, we've got our buy signal. The fact that resistance sits at $100, a big round number, adds some extra significance to a move through that price level.
Relative Strength, (not to be confused with RSI at the top of the chart) adds some extra confidence to the upside in CME Group right now. That's because relative strength has been in an uptrend all year long, indicating that this stock isn't just moving higher -- it's outperforming the rest of the market long-term.
As long as that relative strength uptrend remains intact, expect CME Group to keep on beating the rest of the market too.
Westpac Banking
We're seeing the same setup in shares of Australian bank Westpac Banking (WBK) - Get Report, albeit with a bit of a twist. Westpac has been in a downtrend since March, dragging lower thanks to pressure from macro factors in the economy. But an ascending triangle bottom is shaping up in shares this summer, signaling a buy on a move through resistance at $26. Even though it's not exactly textbook for an ascending triangle pattern to show up at the bottom of Westpac's recent range, the trading implications are the same here if $26 gets taken out.
Why all of that significance at that $26 level? It all comes down to buyers and sellers. Price patterns, such as this ascending triangle pattern in Westpac, are a good quick way to identify what's going on in the price action, but they're not the actual reason a stock is tradable. Instead, the "why" comes down to basic supply and demand for Westpac's stock.
The $26 resistance level is a price where there has been an excess of supply of shares. In other words, it's a spot where sellers have previously been more eager to step in and take gains than buyers have been to buy.
That's what makes this week's breakout above $26 so significant. The move means that buyers are finally strong enough to absorb all of the excess supply above that price level. Shares are getting within grabbing distance of that level this month.
HDFC Bank
Indian banking company HDFC Bank (HDB) - Get Report has been in rally mode all year long. Since January, this large-cap banking stock has rallied more than 25%, making the price action in its U.S. equivalents look downright anemic by comparison.
But the mode doesn't look like it's over yet. Shares are testing a big breakout move this week.
HDFC Bank has been forming a rounding bottom pattern since March, showing traders a long-term bullish price setup that looks just like it sounds. The rounding bottom indicates a gradual transition in control from sellers to buyers, and if HDFC Bank can confirm a breakout above $64, we'll have a signal that buyers have retaken control of shares again. As with our Westpac trade, the price action in HDFC Bank isn't exactly textbook this summer, but just like with the other two trades, the breakout implications are the same.
If HDFC Bank can materially push above $64 this week, it's a buy. Once the breakout happens, I'd recommend parking a protective stop at the 200-day moving average. That level has been acting like a good proxy for support lately.
Investors Bancorp
Mid-cap banking firm Investors Bancorp (ISBC) - Get Report has been a pretty straightforward trade so far in 2015. Shares are up double digits year-to-date, propelled by a price setup that's about as simple as it gets. Since last October, Investors Bancorp has been bouncing its way higher in a well-defined uptrending channel -- and it's still a "buy-the-dips stock" this summer.
The channel in Investors Bancorp is formed by a pair of parallel trend lines that have enveloped this stock's trading range since last fall. Put simply, every touch of trend line support has been an ideal buying opportunity in shares of Investors Bancorp, and the most recent bounce happened just this month. That means that Investors Bancorp is probably pointed higher from here. Buy the bounce.
Waiting for that bounce is important for two key reasons: It's the spot where shares have the most room to move up before they hit resistance, and it's the spot where the risk is the least (because shares have the least room to move lower before the channel breaks and you know you're wrong). Remember, all trend lines do eventually break, but by actually waiting for this bounce to happen first, you're ensuring Investors Bancorp can actually still catch a bid along that line before you put your money on shares.
The 50-day moving average has mirrored the uptrend in this stock. That makes it a logical place to park a protective stop underneath. If the 50-day gets materially violated, then the uptrend is over.
ICICI Bank
Last up on our list is another big Indian banking company: $29 billion financial services provider ICICI Bank (IBN) - Get Report.
ICICI Bank hasn't performed like its peer HDFC Bank. In fact, shares of ICICI Bank are actually down more than 10% since the start of 2015. The good news for beaten-down investors is that this stock is starting to show classic signs of a reversal this summer. 
ICICI Bank has spent the last several months forming an inverse head and shoulders setup. You can spot the inverse head and shoulders by looking for two swing lows that bottom out around the same level (the shoulders), separated by a bigger trough called the head. The buy signal comes on the breakout above the pattern's "neckline" level. That's the $10.75 level in ICICI Bank.
Shares are hovering just below that neckline level this week. If ICICI Bank's buyers can press shares through that $10.75 price ceiling, then investors should look for a re-test of prior highs around $13.
Like with any breakout trade, it's important to be reactionary here. Don't buy ICICI Bank until buyers are able to shove this stock above $10.75.
This article is commentary by an independent contributor. At the time of publication, the author held no positions in the stocks mentioned.