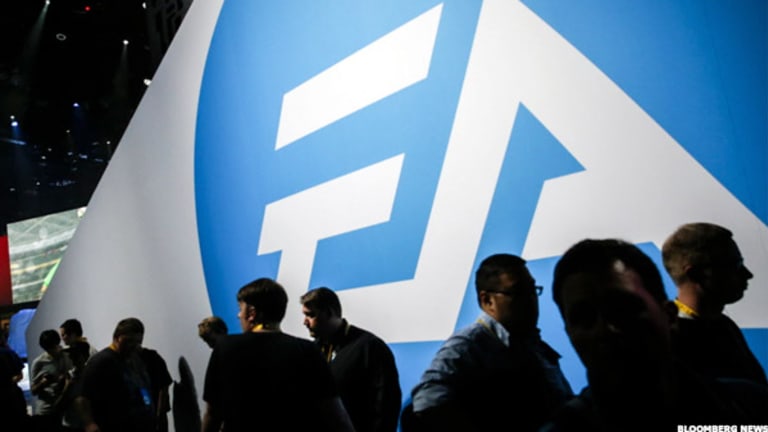 Buy These 5 Big Stocks for Big Gains in June
These stocks have both short-term gain catalysts and longer-term growth potential.
U.S. markets woke up last week, the big S&P 500 index pressing 2.26% higher between Monday's open and Friday's close. That recent pop in stock prices means that the S&P is back within 1.7% of all-time highs as Mr. Market rounds the corner toward June.
As has been the case all year, this summer is likely to provide investors with a market that's split between stocks are are working well and those that aren't at all. For instance, even though the S&P is hovering a few points above breakeven year-to-date, nearly a third of S&P components have managed to push 10% higher or better so far in 2016.
So as the calendar flips to a new month, it makes sense to focus on strength. To do that, we're turning to a fresh set of Rocket Stocks for this week.
For the uninitiated, "Rocket Stocks" are our list of companies with short-term gain catalysts and longer-term growth potential. To find them, I run a weekly quantitative screen that seeks out stocks with a combination of analyst upgrades and positive earnings surprises to identify rising analyst expectations, a bullish signal for stocks in any market. After all, where analysts' expectations are increasing, institutional cash often follows. In the last 351 weeks, our weekly list of five plays has outperformed the S&P 500's record run by 78.37%.
Without further ado, here's a look at this week's Rocket Stocks.
Allergan
Leading off the list this week is pharmaceutical stock Allergan (AGN) - Get Allergan plc Report . Allergan has been a company in transition in recent years. The firm has been involved in nearly three dozen M&A transactions since the start of 2013, pushing it from being a specialty drug stock to a major diversified pharma company. That deal pace hasn't exactly slowed since the completion of the firm's huge combination with Actavis early last year (which took the Allergan name), either.
Allergan owns a deep portfolio of brand-name drugs that's headed by flagship neuromodulator Botox. The firm's focuses in the specialty drug space include women's health, gastrointestinal, eye care, and dermatology and aesthetics. Historically, Allergan has had a huge generics business, but that's set to change when its $40 billion sale of the generics units to Teva Pharmaceuticals gets completed this summer. Getting rid of generics should help boost margins as more sales will come from the more profitable branded drugs side of the house.
Financially speaking, Allergan is in strong shape. The firm currently has approximately $1.2 billion in cash on its balance sheet, but that number will balloon when Allergan received $33.75 billion from Teva as the cash component of its generics deal. That transaction will hugely deleverage Allergan's balance sheet, offsetting nearly 90% of the firm's net debt.
After correcting hard in the last 12 months, Allergan is finally starting to see some bullish momentum again -- and we're betting on shares this week.
Allergan is a holding in Jim Cramer's Action Alerts PLUS charitable portfolio. Cramer and Research Director Jack Mohr wrote on Friday:
"Shares traded sharply higher this week on the back of continued momentum and increased confidence in the Teva deal going through. Once the deal closes (expected by end of June), Allergan will be on the receiving end of a $36 billion windfall in net proceeds ($32 billion in cash and $4 billion in equity). Its first priority is to pay down debt, which will help it maintain an investment-grade rating while reducing annual interest expenses by $125 million. Next, the company intends to voraciously buy back its shares. Its recently announced $10 billion buyback program should be immediately accretive ($5 billion in buybacks at around $225 a share would be over 6% accretive to 2016 EPS; $10 billion at $250 a share would be roughly 11% accretive to 2017 EPS). This helps provide a floor on shares while giving management ample optionality to optimize the use of their cash (if shares become expensive, capital deployment will shift toward more value-creating activities, such as tuck-in acquisitions). Management intends to prioritize tuck-in deals that can bolster any or all of Allergan's seven therapeutic areas of focus (eye care, central nervous system, aesthetics, urology, anti-infective, gastrointestinal and women's health). We like the flexibility, and view the business as undervalued with or without transformative deals. In fact, management validated the strength of the core business in their most recent earnings release (reported May 10), beating consensus on the bottom line and achieving strong year-over-year top-line growth, meeting the goals of sustained double-digit growth in the branded pharma business over the medium term. Longer term, management expects to deliver annualized sales/earnings growth of 10% and 15%, respectively, with upside driven by debt/interest payment reductions, share buybacks and accretive acquisitions post-divestiture. Finally, we expect an upward revision in AGN's valuation multiple following the completion of the deal as 1) the business model further distances itself from specialty pharma and speculative pharma peers; 2) uncertainty overhang is lifted; and 3) management unlocks capital deployment opportunities."
General Dynamics
Defense contractor General Dynamics (GD) - Get General Dynamics Corporation Report  is one of the biggest providers of products and services to Uncle Sam. Last year, the firm collected approximately $19 billion in revenues from the Federal government, giving it a powerful presence in the defense spending cycle, albeit not as powerful as some of its larger peers. An important differentiator for General Dynamics is the fact that the firm also has significant exposure to the business aviation market through its Gulfstream unit, which accounted for 30% of sales last year.
GD's defense arm is widely diversified. The firm manufactures everything from submarines to armored vehicles to computer systems. Those specialized, capital-intense products mean that competition is somewhat limited (for example, GD owns three of the six major submarine shipyards in the U.S., limiting competition for big-dollar sub fleet upgrade projects). Private jets have been one of the fastest-growing segments of the aerospace market in recent years, and that's provided strong performance for Gulfstream, where the business dominates the large jet category.
Like many of its peers, Gulfstream has a large backlog -- more than $51 billion at last count. That huge amount of work on the books gives investors some protection from downside risk. Likewise, it's worth noting that an increasing share of that backlog is coming from U.S. allies, spreading more of this stock's risks away from the Federal defense budget.
GD has trailed its peers so far this year from a stock performance standpoint, and shares could be ready to make up for some of that lost time this summer.
Johnson Controls
So far, 2016 has been a strong year for shares of $29 billion industrial product maker Johnson Controls (JCI) - Get Johnson Controls International plc Report . Since the start of January, this stock has handed investors total returns of 12.6%, outperforming the rest of the S&P 500 by a big margin. And Johnson Controls' bullish trajectory isn't showing any signs of turning around as 2016 closes in on the halfway-mark…
Currently, Johnson Controls builds HVAC systems, power solutions and automotive components. The firm's pending merger with Tyco International (TYC) , set to close later this year, will double down on the firm's existing HVAC business, plus add fire and security to Johnson Controls' offerings. The name will stay the same. One thing that won't stay the same is the automotive business -- the pending spinoff of car component unit Adient will break apart that significant piece of the legacy Johnson Controls empire.
Shareholders who own the stock today get to continue to participate in both: They'll receive shares of Adient as well as a stake in Johnson Controls post-Tyco merger. Change could ultimately be a good thing for investors in JCI in 2016. In the meantime, buyers are clearly still in control of shares right now, and it makes sense to bet alongside them.
Electronic Arts
Multi-platform video game publisher Electronic Arts (EA) - Get Electronic Arts Inc. Report  is another notable outperformer in 2016. Since the start of the year, this $24 billion stock is up more than 10%, putting it in the top quintile of S&P components. And there could be even more upside ahead as digital distribution and new titles drive sales growth at this gaming stock.
Electronic Arts is one of the biggest companies in the gaming business, with blockbuster franchises such as Madden, Battlefield and Need for Speed all selling under the company's banner. The firm's franchise-centric model lends itself to quick development lifecycles for games sold to an existing fanbase, resulting in big consistent revenues. Outside of its own brands, the recent 10-year contract with Disney to develop Star Wars titles gives EA a valuable franchise that Disney will be working hard to keep monetizing.
The recent shift to mobile gaming presents a big opportunity for Electronic Arts. The firm's sports franchises, which contribute nearly 50% of overall sales, lend themselves well to porting on mobile devices -- more so than platform-intense titles like first-person shooters and racing games, anyway -- giving EA the ability to open the tap on what's proving to be the biggest growth opportunity in the industry right now. An increased focus on downloadable content and smaller, more frequent titles in mobile should help smooth out revenue recognition, limiting some of the lumpiness of sales tied to game releases.
Stanley Black & Decker
Last up on this week's Rocket Stocks list is Stanley Black & Decker (SWK) - Get Stanley Black & Decker, Inc. Report . Housing has been an important tailwind for shares of Stanley Black & Decker in the last couple of years -- this tool and equipment maker has been benefitting as homeowners feel emboldened to invest in home improvements once again, and DIYers contractors buy more gear.
Stanley Black & Decker owns some of the best-known tool brands on the market today. Besides the Stanley and Black & Decker labels, the firm also owns brands like DeWalt, Porter-Cable, Mac Tools, and Bostitch. In short, Stanley Black & Decker owns a major share of the tool aisle at the big box home improvement store, as well as a big share of the professional contractor and mechanic's toolbox. Because batteries are generally brand and even product line specific, buyers generally make big investments in power tool lines when they make a purchase, hiking switching costs and driving recurring sales.
Likewise, investments in the security and infrastructure businesses provide some income statement diversification for Stanley Black & Decker, helping to counter the loss of the firm's 2013 home hardware and lock and key divestiture. Those new lines tend to have longer purchase cycles than consumer and contractor tools, so it could take some time to see them fully represented on the P&L.
With rising analyst sentiment in shares of Stanley Black & Decker this week, we're betting on shares of this Rocket Stock.
Stanley Black & Decker is another holding in Jim Cramer's Action Alerts PLUS charitable portfolio. On Friday, Cramer and Research Director Jack Mohr wrote: 
"Shares underperformed this week despite a 17% ramp in new-home sales. As a reminder, the stock sits at the bottom of our Blend Index as the recent rally in shares has made the risk/reward less compelling. We would exit the remainder of our position if shares crossed $115."
Disclosure: This article is commentary by an independent contributor. At the time of publication, the author held no positions in the stocks mentioned.