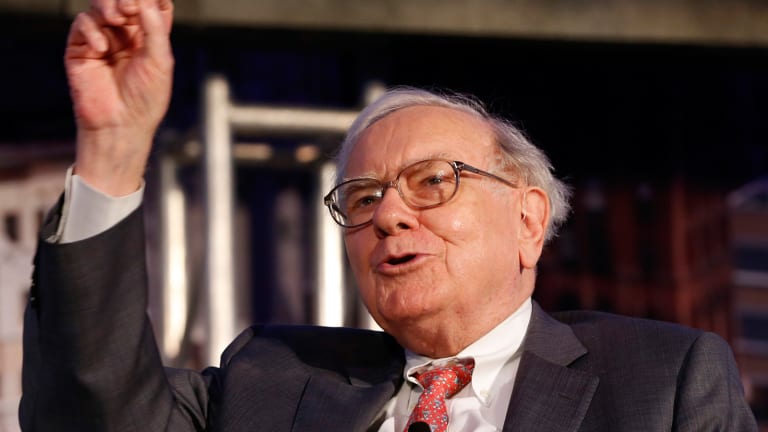 Buy These 4 Warren Buffett-Approved Dividend Stocks at a Deep Discount Today
Warren Buffett only invests in high quality businesses with shareholder friendly managements. See four of Buffett's favorite dividend stocks.
Warren Buffett is arguably the most famous investor of all time. Most investors know that he invests in great businesses for the long run, but few know the extent to which Warren Buffett invests in dividend stocks.
The Oracle of Omaha has over 90% of his portfolio invested in dividend stocks. His top nine stocks have an average dividend yield over 3%. Click here to see Warren Buffett's 20 highest yielding stocks.
But Buffett looks for more than just shareholder friendly managements and great businesses -- he also looks for value. Buffett has enriched himself and Berkshire Hathaway shareholders with his scrupulous focus on value investing over the past several decades.
So, in that vein, here are four undervalued Buffett dividend holdings. All four trade for a price-to-earnings ratio of just 12 or below. Additionally, all four have long histories of success. Take a page from Buffett's playbook and invest in these high-quality dividend growth stocks while they are trading for a discount.
1. Wells Fargo (WFC)
Price-to-earnings Ratio: 11.8
Dividend Yield: 3.1%
Wells Fargois one of Berkshire's biggest investments. It perfectly fits the mold of a value stock. Berkshire Hathaway recently upped its stake in the banking giant to an even 10%, from 9.8% at the end of 2015.
Despite Warren Buffett's vote of confidence in Wells Fargo, investors are still bearish on the stock as evidenced by its low price-to-earnings multiple.
Investors seem to be worried that a slowdown in U.S. economic growth exacerbated by the extreme volatility in emerging markets and the rising U.S. dollar will compel the Federal Reserve to postpone its interest rate hikes. The Fed raised interest rates in December for the first time in nearly a decade. Banks are one of the few industries that benefits from higher interest rates because banks can earn a higher spread between the interest paid on short-term deposits versus the interest earned on longer-dated loans.
This metric is referred to as net interest margin. Wells Fargo's net interest margin contracted from 3.11% in 2014 to 2.95% last year, due to persistently low rates. If the Fed decides not to increase rates again this year, it would weaken expansion of Wells Fargo's net interest margin.
Still, Wells Fargo is a value opportunity. The company continues to generate solid profitability, and it rewards shareholders with a solid dividend.
Wells Fargo's profits came in at $5.7 billion last quarter, unchanged from the previous year, while revenue grew 1% year-over-year.
Average deposits rose 6% year-over-year, while average loans increased 7%. The increased activity for both deposits and loans signals the U.S. consumer is still in relatively good financial shape. Wells Fargo ended the quarter with a solid 10.7% Tier 1 ratio.
Berkshire owns 506 million shares, worth $24 billion.
You see Jim Cramer on TV. Now, see where he invests his money and why Wells Fargo stock is a core holding of his multimillion-dollar portfolio. Want to be alerted before Jim Cramer buys or sells WFC? Learn more now.
2. IBM (IBM)
Price-to-earnings Ratio: 10.9
Dividend Yield: 3.5%
It's no secret that IBM needs to do something drastic to change things up. The company has been stuck in a prolonged stagnation.
Still, it is doing a lot right during this phase, including divesting low-growth hardware businesses in exchange for higher-value businesses in emerging areas:
The cloud
Big data
Security
In short, IBM is reinventing itself by transitioning from low-margin to high-margin businesses.
As a supplement to these initiatives, IBM is turning to mergers and acquisitions to procure additional growth. IBM recently acquired data company Truven Health Analytics in a $2.6 billion takeover. The deal is another example of IBM's major push into health care.
IBM could badly use a boost. Shares of IBM are down over 20% in the past two years. The S&P 500 Index is up 9% in the same time; IBM has significantly underperformed the market.
On Jan. 19, IBM reported fourth quarter adjusted earnings-per-share of $4.84 on $22.06 billion of revenue. On a year-over-year basis, the results were once again poor. Revenue declined 9% as reported, while earnings-per-share fell 17% from the same period last year.
The good news is that IBM continues to generate strong free cash flow. Despite its declining revenue and earnings, IBM is actually growing its free cash flow.
This is because of the company's turnaround strategy to branch out into higher-growth businesses. The company generated $13.1 billion of free cash flow in 2015, up $700 million from the previous year.
IBM is highly profitable and remains a free cash flow machine. Plus, IBM ended 2015 with $8 billion in cash and another $5 billion in long-term investments on the balance sheet. It can use this cash, along with its organic free cash flow, to:
Buy back stock
Raise its dividend
Pursue future growth through internal investment and acquisitions
3. American Express (AXP)
Price-to-earnings Ratio: 12.0
Dividend Yield: 1.9%
Buffett focuses on finding intrinsic value, which is essentially the true value of a business based on its future earnings discounted to the present value.
There is often a disconnect between the current share price of a company and its intrinsic value. Buffett has made billions finding and investing in these value opportunities. American Express could be one such opportunity.
It is true that recent negative headlines -- including the loss of a partnership with retail giant Costco Wholesale -- are a concern. But, American Express remains a strong brand with a long track record of surviving ups and downs.
Total revenue net of interest expense fell 4% last year for the company. Earnings-per-share fell 9% to $5.05. These declines are certainly not cause for celebration, but they are hardly indicative of a serious deterioration in the business model.
It's worth noting the rising U.S. dollar did the bulk of the damage to revenue and earnings growth last year. Excluding foreign exchange fluctuations revenue was flat for the year.
Despite its challenges, American Express realized a 24% return on average equity in 2015. Few businesses can generate such tremendous returns on equity.
The company is also a strong dividend growth stock. Last year, it raised its shareholder payout by 12% and also announced a 150 million share repurchase program. It's nearly been one full year since the last dividend increase, meaning shareholders are in-line for another pay raise.
Going forward, American Express has a good chance of returning to earnings growth in 2016. The rally in the U.S. dollar has eased somewhat to start the year. This is a tailwind for American Express earnings. Looking longer-term, another factor supporting earnings will be the company's plan to cut costs by $1 billion per year by the end of next year.
Management expects 2016 earnings to come in between $5.40 and $5.70 per share. In 2017, earnings are expected to be $5.60 per share.
Berkshire Hathawayis the largest individual shareholder. The firm owns more than 151 million shares of American Express, which is a 15% stake in the company worth more than $10 billion.
4. Phillips 66 (PSX)
Price-to-earnings Ratio: 11.3
Dividend Yield: 2.6%
In typical Buffett fashion, the legendary investor said first and foremost he likes Phillips 66'smanagement team. It's easy to see why. Phillips 66 has navigated a safe rout in the commodity markets much better than many of its industry peers. The stock is up 11% in the past year, while the S&P 500 is slightly negative in that time.
The oil refining business is much different than other areas, such as exploration and production, or even midstream transportation. Refiners like Phillips 66 can actually do better in an environment of declining oil prices.
Over the past year, oil refiners have seen their profitability improve as the price of oil collapsed. The reason is because, as oil falls, so do refining feedstock costs. This expands refiners' spreads and profit margins.
Berkshire has taken a 10% stake in Phillips 66.
Overall, Phillips 66's adjusted profit rose 10% last year to $4.1 billion. The fact that Philips 66 posted double-digit profit growth in one of the worst years for the oil space since the 2008 recession is a notable achievement.
Going forward, Phillips 66 has some big projects in the works to keep the profits flowing. One is the Sweeny Fractionator One project, which has a capacity of 100,000 barrels per day. Another is the Freeport LPG Export Terminal, with capacity for 150,000 barrels per day.
The company brought the Sweeny project online in the fourth quarter. Construction of the Freeport project is on schedule, with startup expected in the second half of this year.
As a reflection of its success, Phillips 66 increased its dividend 12% in 2015. Since its 2012 spin-off, the company has nearly tripled its dividend. In addition, the company recently announced another $2 billion will be added to its share buyback program which will help fuel future earnings growth.
Phillips 66' solid dividend yield, growth prospects, and safety give it an above average rank using The 8 Rules of Dividend investing.
This article is commentary by an independent contributor. At the time of publication, the author did not hold any of the stocks mentioned.