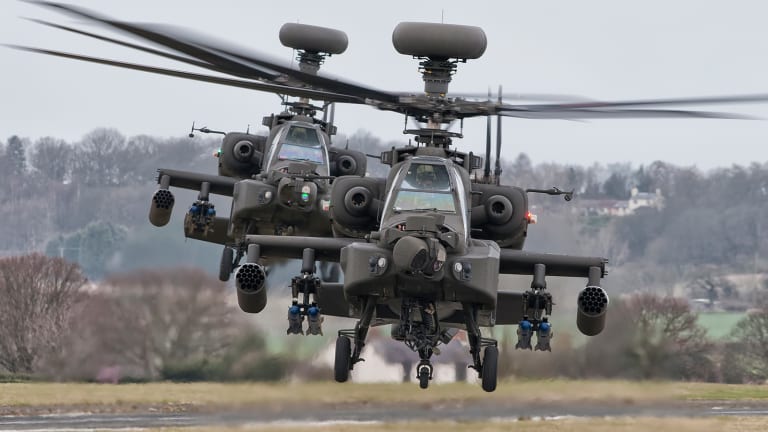 Buy These 4 Defense Stocks as International Tensions Mount
Rising tensions in the Middle East and elsewhere are causing governments to boost military spending and making defense stocks attractive.
Rising tensions in the Middle East and elsewhere are causing governments to boost military spending and making defense stocks attractive.
NEW YORK (TheStreet) -- Elevated tensions in key parts of the world are likely to lead to increased spending on weapons, making defense stocks a good bet.
Investors should buy shares of the world's top defense companies, including Lockheed Martin (LMT) - Get Report, Boeing (BA) - Get Report, Raytheon (RTN) - Get Report and the U.K.'s BAE Systems (BAESY) .
Also, any news that Democratic presidential Hillary Clinton is losing ground vs. potential Republican rivals should make defense stocks even more attractive, as Republicans tend to spend more on defense than Democrats.
Amid increased tensions with Iran, Saudi Arabia increased its defense budget by 17% last year, to $80.8 billion, according to the Stockholm International Peace Research Institute, CNN reported. The country likely will increase military spending by an even larger percentage this year, as it launched a war against Iranian-backed rebels in neighboring Yemen, and the pending nuclear deal between Western powers and Iran will make the Saudis more fearful of the Islamic Republic.
Indeed, according to research firm IHS, Saudi Arabia's spending on imported weapons is expected to jump 52% this year to $9.8 billion, representing one of every seven dollars spent on defense imports, 24/7 Wall Street reported.
Moreover, in April The New York Times reported that the Saudis, along with other countries in the region, were looking to purchase "thousands"  of new weapons from American defense contractors, providing "a boom" for those companies.
Iran's neighbors must certainly preparing for the imminent signing of a nuclear deal between Western countries and Tehran. The deal is expected to lift most sanctions on Iran, and in the aftermath money is likely to flow into the country's economy.
Just how much, and how quickly, remains the subject of a hot debate. Critics of the deal have estimated tens of billions of dollars. For example, Michael Oren, the former Israeli ambassador to the U.S., has said Iran's "signing bonus" could be as much as $50 billion, Politico reported.
Others, however, have said it will
for investment in Iran to pick up.
In the past, Tehran has spent a great deal of money on backing radical rebel groups such as Hamas and Hezbollah which sought, with some success, to overthrow the established governments of the Palestinian Authority and Lebanon. The Iranians are also backing the rebels in Yemen, who have effectively taken over over that country.
So assuming that past is prologue, the Iranians will spend a great deal of newfound money on subsidizing rebels who will look to overthrow the governments of other Middle Eastern nations.
Consequently, the Saudis and their neighbors bordering the Persian Gulf, fearful of becoming the next Yemen or Lebanon, are spending more of their money on defense. Enriched by oil, the Gulf countries spend a sizable amount on defense, with Oman expected to cough up $9.9 billion for its military this year and the United Arab Emirates has a military budget estimates at more than $14 billion. The UAE is also on track to become the world's third largest importer of defense products this year.
According to International Policy Digest, ballistic antimissile systems and new-generation warplanes are in high demand in the Middle East region. Raytheon, Lockheed Martin and Boeing, specialize in those products.
Elsewhere in the region, Israel, Jordan and Egypt, are also likely to increase their defense spending, out of fear of a more powerful and emboldened Iran.
This trend is likely to continue and intensify a more money pours into Iran's coffers and it gives more money to rebels and terrorists around the Middle East. The region's governments will have to spend more on their weapons to stay ahead of the groups seeking to overthrow them, who will be getting more money from a richer Iran.
Tensions are also brewing in other parts of the world. A May 20 Reuters article reported that an unnamed U.S. official said China is becoming more assertive with territorial claims in the South China Sea. Consequently, Asian countries are trying to coordinate their amphibious forces in an effort to contain Beijing. Meanwhile, China said it would increase its military spending by 10.1% this year.
Japan and China have had bilateral territorial disputes and exchanged angry words in recent years, although the leaders of those two countries met earlier this year, and Japan's prime minister said their relations are improving.
Still, Japan and other East Asian countries are likely to increase their defense spending and import more American defense products due to tensions with China and Beijing's increased military spending. Of course, many Asian countries, including Taiwan and South Korea, buy a significant amount of American made weapons.
Meanwhile, some Eastern European countries are increasing their defense budgets because of fears about Russia. Ukraine, which was invaded by Russia, is expected to double its defense budget this year, and Poland raised its defense spending by 13%, the Stockholm International Peace Research Institute found, according to Stars and Stripes. Poland, which plans to spend $40 billion on modernizing its armed forces over the next ten years, committed in April to buy Raytheon's Patriot missiles.
All of these international threats will increase pressure on the U.S. to raise its own military spending, or to at least refrain from cutting it further.
Additionally, while Former Secretary of State Hillary Clinton leads potential Republican rivals in polls, her support has dropped by several points in the last few months, according to an average of polls compiled by RealClearPolitics. She now leads former Florida Governor Jeb Bush by around five points, 47%-41.7%. The decline in recent months may be tied to various scandals involving the Clintons.
It's still early in the race, so a Clinton loss remains a possibility. A Republican president likely would give defense stocks an additional boost.
This article is commentary by an independent contributor. At the time of publication, the author held no positions in the stocks mentioned.