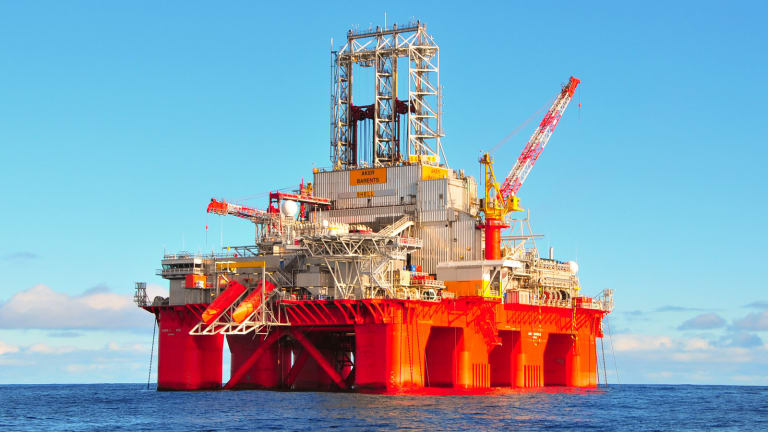 Buy These 3 High-Dividend Oil Stocks While They're Still Cheap
Oil prices have risen since March 2015 lows, but there's still time to benefit from low oil prices. Here are 3 oil stocks that are a great value.
NEW YORK (The Street) -- The price of oil has recovered to around $60 a barrel since hitting lows under $50 in mid March. The recovery in oil prices is a positive sign for oil stocks. Simply put, the higher the price of oil, the more money these 3 oil stocks below make.
Despite oil prices rising in the last 2 months, these 3 oil stocks are all still significantly undervalued. Each has a dividend yield above 3% - providing current income for investors. The combination of a high dividend yield and an undervalued stock means investors get "paid to wait" for the company's stock price to rise.
These 3 high-yield oil stocks have had more than 25 years of dividend payments without a reduction.
ExxonMobil (XOM) - Get Exxon Mobil Corporation Report is the largest oil corporation in the world. The company has a market cap of $365 billion. ExxonMobil's market cap makes it the 4th-largest publicly traded corporation in the United States.
The stock price has declined by more than 10% in the last 12 months and is currently trading for a price-to-earnings ratio of just 13.1. The company appears to be significantly undervalued at this time. ExxonMobil's current dividend yield of 3.3% is near the highest level it has been since the 1990's. Simply put, now is one of the best times to buy ExxonMobil stock in the past 25 years.
ExxonMobil is more than just a value stock. The company is among the highest-quality "blue chip" publicly-traded dividend stocks. ExxonMobil is a Dividend Aristocrat thanks to its 32 consecutive years of dividend increases. The company's ability to steadily raise dividends despite fluctuating oil prices shows it has excellent earnings power.
One of the largest and most profitable companies in the world, ExxonMobil very clearly has a competitive advantage. It generates more than 80% of its profits from its upstream drilling and exploration business. ExxonMobil's industry-leading size and excellent connections around the world give it global access to profitable exploration opportunities. 
In the short-run, the company's profits are dependent on the price of oil. When oil prices hit lows near $30 a barrel in 2009, ExxonMobil still made over $19 billion in profits on the year. Generating $19 billion of profits in one year would be considered a huge success for all but a few businesses. Low oil prices reduce earnings, but ExxonMobil still generates significant earnings even during periods of low oil prices.
The company's long-term growth potential is dependent upon rising energy demand. The growing middle class in developing economies like China and India is causing global energy demand to increase. This trend will benefit ExxonMobil as it continues to supply oil for the world.
Chevron
Chevron (CVX) - Get Chevron Corporation Report is one of the larger oil corporations in the world. With a market cap of over $200 billion, Chevron generates the bulk of its profits -- about 85% -- from its upstream division.
Chevron has paid increasing dividends for 27 consecutive years. Many investors don't think of oil stocks when picturing stability; however, Chevron and ExxonMobil have proven they can increase their dividend payments year after year.
Chevron's earnings are dependent upon the price of oil. Still, the company remained profitable through the Great Recession when oil prices dipped to around $30.
Chevron's earnings per share fell from $16.69 in 2008 to $11.26 in 2009. The company's EPS fell in the Great Recession of 2007 to 2009 due to lower oil prices brought on by reduced demand for oil. Despite this, the company didn't lose money; it only saw earnings decease by about 1/3 through the worst of the recession. By 2010, the company's EPS had rebounded to $16.10 and had reached new highs of over $20 per share by 2011.
For a business to increase its dividend payments for 27 consecutive years and remain profitable through recessions, it must have a strong competitive advantage. Chevron's competitive advantage is similar to ExxonMobil's. The company's size, history, and connections position it to take advantage of the largest oil projects in the world.
Oil is a national interest - as a result, the industry is heavily subsidized. The oil, gas, and coal industries received $21.6 billion in subsidies in 2013. Subsidies strengthen United States oil corporations' competitive advantages and help them compete with other international or government-sponsored oil companies.
Chevron's future growth will be driven by rising energy demand in developing markets, combined with rising global populations. Energy demand is expected to increase 40% by 2035.
These long-term trends will cause the company's earnings-per-share to rise in the long run. Over the last 10 years, Chevron stock has returned over 11% a year -- better than both ExxonMobil and the S&P 500. The company has the potential to continue rewarding shareholders at a double-digit clip over the next 5 to 10 years.
Chevron's shareholders will benefit from the company's 4% dividend yield, oil and gas volume growth, and potential oil price increase after 2015.
Chevron stock currently has a 4% dividend yield. The stock's high dividend yield should appeal to income oriented investors. Chevron's current dividend yield is around the same level as it was during the height of the Great Recession. In addition, Chevron has a price-to-earnings ratio of just 11.8. Chevron's stock price has fallen by over 9% in the last year. The company's shares appear undervalued at current levels.
Helmerich & Payne
Helmerich & Payne (HP) - Get Helmerich & Payne, Inc. Report is not nearly as large as Chevron or ExxonMobil. With a market cap of "just" $8 billion -- about 45 times smaller than ExxonMobil -- Helmerich & Payne is the industry leader in North American contract drilling rig services. The company has 17% market share in this industry versus 11% for its next-largest competitor.
Helmerich & Payne owns over 300 AC Flex Rigs. These rigs have higher utilization rates, better safety records, and higher margins per day that competitor rigs. Its "best in class" rigs have driven strong growth for the company.
Over the past decade, Helmerich & Payne has compounded earnings-per-share at over 20% a year. This level of growth is what one would expect from a fast growing tech company; not a 'boring' land oil rig company. The main driver has been the rapid growth of North American oil.
Low oil prices have hurt Helmerich & Payne's share price. The stock has declined 26% over the last 12 months, but has recovered some since lows reached at the beginning of February. The company still appears significantly undervalued at this point.
Helmerich & Payne is trading for a price-to-earnings ratio of just 11.5. This is unbelievably low for a company that has compounded earnings-per-share at 20% a year over the last decade.
With a dividend yield of 3.7% to go along with its absurdly low price-to-earnings ratio, Helmerich & Payne is an industry leading stock and an excellent candidate to consider when building a dividend growth portfolio.
Low oil prices will temporarily impair Helmerich & Payne's earnings. The company is partially protected against low oil prices thanks to its contracts, which have steep early termination fees. When the company's customers terminate contracts early, Helmerich & Payne takes large one-time gains. These gains eased Helmerich & Payne's earnings-per-share declines to 13.9% last quarter versus the same quarter a year ago despite the rapid decline in oil prices.
Helmerich & Payne performed well during the Great Recession as well. The company saw earnings-per-share decline by 26% during the worst of the downturn. This is a smaller decline than oil giants ExxonMobil or Chevron posted, thanks in part to the termination fees. The company is proving once again it can withstand low oil prices. When oil prices rise, expect Helmerich & Payne to return to rapid earnings-per-share growth.
This article is commentary by an independent contributor. At the time of publication, the author held long positions in XOM and HP.