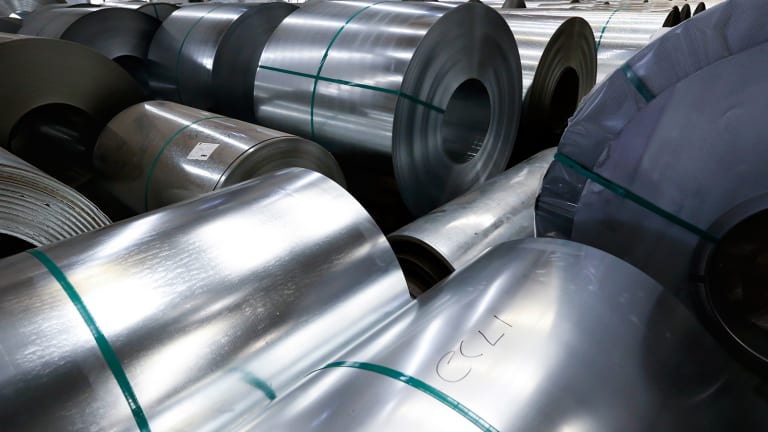 Publish date:
Buy SunCoke Energy for Its Huge Dividend, Then Run For Cover
Other than its dividend, the steel-industry supporter's shares have nothing to offer except more downside risk.
Other than its dividend, the steel-industry supporter's shares have nothing to offer except more downside risk.
Shares of SunCoke Energy (SXC) - Get SunCoke Energy, Inc. Report will begin trading ex-dividend on Monday -- the day the company finalizes the roster of shareholders to whom it will mail payments this quarter. To qualify for a dividend check, investors must own shares of the Lisle, Ill.-based company on or before its ex-dividend date. Investors of record as of Nov. 18 will receive their payments on Dec. 3. But beyond its dividend, there's no reason to hold these shares.
Owing to weak steel prices, which have sent the Market Vectors Steel Index ETF Fund (SLX) - Get VanEck Vectors Steel ETF Report plummeting 36% on the year, revenue and profits have been hard to come by for SunCoke, which manufactures the coke required for blast-furnace steel production. After missing Wall Street's revenue and earnings estimates in three straight quarters, its share have gotten pummeled, falling more than 77% in 2015. If you've held these shares for the past three years or five years, you're in the hole more than 70% over both periods.
All of that aside, SunCoke does pay a robust 15-cent quarterly dividend that yields of nearly 15% annually, with the stock trading around $4.30, and near its 52-week low of $3.92, where it opened Thursday. That lands its yield about 13 percentage points higher than the average yield paid out by companies in the S&P 500 (SPX) index. And while this quarter would mark the second consecutive period during which SunCoke will pay its 15-cent cash payout, it has raised its dividend more than 150% in the past year, from 0.058 a share.
All told, the company is one of the more generous payers on the market. But with a net debt position of around $900 million, owing to poor business fundamentals, there are a ton of other things management should consider doing with that cash, including paying down its debts. Granted, SunCoke, is not alone is its struggles. Companies like AK Steel (AKS) - Get AK Steel Holding Corporation Report (down 57% in 2015) and U.S. Steel (X) - Get United States Steel Corporation Report (down 63% in 2015) are being forced to adapt to a "new normal" of weak commodity steel prices.
But unlike SunCoke, AK Steel pays no dividend and U.S. Steel's dividend yields under 2%. With SunCoke projected to lose 25 cents a share for its fiscal 2015 (ending in December), reversing 2014's profit of 23 cents a share, the company would be better served to forego its dividend to preserve capital.  The long-term prospects of the company do not look good, given how management is -- seemingly -- mismanaging investors' money. Given its robust yield, however, this is a stock to buy and hold just long enough to collect the dividend, then get out quickly.
This article is commentary by an independent contributor. At the time of publication, the author held no positions in the stocks mentioned.