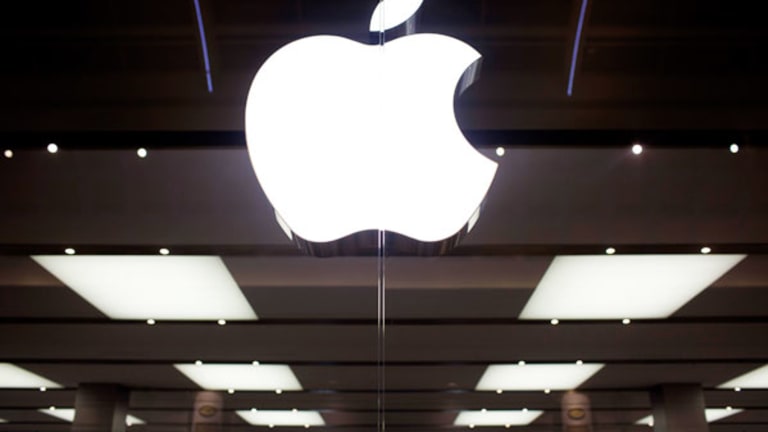 Buy, Sell or Hold Apple: Psychology, Sentiment and Your Cost Basis Matter
Rocco Pendola says every investor is in a different position with AAPL, so he can't, in good conscience, make a one-size-fits-all buy, sell or hold call.
NEW YORK (TheStreet) -- I went on CNBC's "Fast Money" Tuesday. And let's face it, I got beat up a little bit. I knew I was walking into a shark tank.
Former NFL linebacker
can probably relate. I'm sure he got his bell rung early on in battle. It might not have been
who knocked him flat, but, hey, it's all good. She's one of the best.
That said, with all due respect to Karen, cost basis absolutely matters as
Apple
(AAPL) - Get Apple Inc. Report
longs consider what to do, if anything, headed into today's earnings report. It seems to me the "Fast Money" crew wanted a clear-cut
buy
or
sell
; I don't think it's that simple, particularly because I don't have a crystal ball and I don't treat investing (or trading) like gambling.
Watch the video. Then I will provide context and my response.
First -- and I'm not ashamed to admit this, I was a little nervous. I think I am all right at this television thing after all of seven appearances; however, It takes time to get comfortable in that environment. Comfort only comes with time and practice. When you do TV everyday the words tend to flow; when you don't do it everyday, sometimes they just don't.
That was evident, toward the end of the piece, when I flubbed my response to a question about Apple's valuation. In bringing up
Amazon.com
(AMZN) - Get Amazon.com, Inc. Report
,
:
Apple deserves more breathing room. We give Jeff Bezos and AMZN serious benefit of the doubt. That's because investors see less uncertainty in Amazon as it sets itself up for the long term. Understood. I support the thesis. However, I do not buy the notion that Amazon is a 3,000-to-11 favorite -- using each stock's price-to-earnings ratio -- over Apple.
it didn't come out that way, however those who read me regularly know I have been making AAPL/AMZN comparisons for several days, if not weeks.
They also know I don't think AAPL is a good stock to own right now. That's a broad statement. It's meant to be. I can't, in good conscience, provide a one-size-fits-all buy, sell or hold recommendation on this thing.
It's a tough stock to own because everything but reality has been driving the share price since pretty much April. Do you really want to be in a name that gyrates wildly on the basis of headline noise and hysteria? If you're a nimble trader, no doubt, it's made for you. However, most long-term investors should not a.) open a fresh position ahead of earnings or b.) add to an existing position.
Three key points on that: One, why do you even have to take a side? Look for
stocks that have and will likely continue to outperform AAPL, while triggering less anxiety
. Two, wait for
before you buy. Why buy AAPL into what might be the continuation of a hornets' nest? If it goes up and the noise takes a breather, I reckon you won't miss out on the entire run from $500 to $700. I will take a little less upside if it means less anxiety each day of the week.
I'm not sure why the "Fast Money" crew was so taken aback by that. The first half of this Tweet from
Twitter
follower
states it well:
Not sure about the information flow part, but I often think "traders" just don't understand long-term investors. That's pretty clear when you make a statement like cost basis only matters for tax purposes. Really?
If you're the average long-term investor, you really shouldn't be making buy more/sell/hold decisions on the day of Apple's biggest earnings report ever. As of last night, the options market hints at a 10% move in AAPL, to either side, on Thursday (via veteran options trader
). Again, not the type of stock that provides a good night's sleep for most long-term, risk-averse cats.
That said, reality, for large swaths of long-term investors, is straightforward: They do not go into a position with discipline, using pre-determined -- and quite possibly scaling -- stop losses and profit targets. In other words, if it drops this much, I sell this much. If it goes up this much, I sell this much. There's a time to have strong hands or let winners run, no question, but discipline trumps trying to use intuition. The latter blows up portfolios.
So, you're looking at your cost basis ahead of earnings. Maybe you say,
I got in at $300. I am up 67%.
That's pretty damn good.
How will I feel if I hold some or all of my position through earnings, AAPL gets hit and my on-paper profit drops to, say, 50%?
Or
can I live with myself if I sell now and take these respectable profits, but miss out on another 15% or so of upside?
That's just one scenario and a handful of a practically infinite number of questions AAPL longs are likely asking themselves right now. And it's all about cost basis, emotion, psychology, volatility and headlines.
Timothy Seymour, another Fast Money panelist, said that's what I should be asking -- is AAPL a good buy on the basis of valuation? Sadly, what to do vis-a-vis AAPL has very little to do with valuation or fundamentals. I'm not sure how you could feel even remotely comfortable buying AAPL on the conviction it's undervalued. Maybe you're right, but now is not the time to follow through on that conviction unless you have nerves of steel and a massive appetite for risk.
If that were the case -- if, as a market, we fairly assessed AAPL from these standpoints -- it would be a no-brainer. Buy more. Put the stock certificates in a safe and check in on things after summer vacation. But that's not it rolls.
You need to do what works for you, but, as I have been saying for weeks, if you're up on AAPL, at least take
some
profits. And if you're going to start fresh or buy more, you'll have plenty of time to get in after, not before, earnings.
--Written by Rocco Pendola in Santa Monica, Calif.
Rocco Pendola is
TheStreet's
Director of Social Media. Pendola's daily contributions to
TheStreet
frequently appear on
CNBC
and at various top online properties, such as
Forbes
.