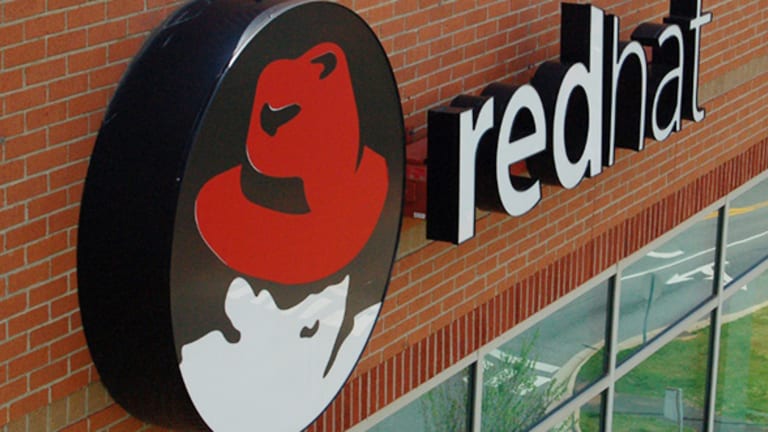 Buy Red Hat, Get Into the Red-Hot Cloud
Red Hat is having a great run against its cloud competitors. The company reports earnings late Tuesday.
Red Hat (RHT) , the world's largest provider of open-source Linux software solutions, reports fiscal fourth-quarter earnings results after the closing bell Tuesday.
The stock, at around $73, is down 12% for the year to date despite surging 22% from its February low of $59.59. Tthe S&P 500undefined  is down around 1%. But in the short term shares have risen 14% over the past 30 days, outperforming the 12% one-month rise in the iShares North American Tech-Software ETF (IGV) . 
Does this mean you should buy? Yes, and here's why.
For the quarter that ended February, Red Hat is expected to earn 47 cents per share on revenue of $537.20 million, translating to year-over-year growth of 9% and 15.8%, respectively. For the full year, earnings are projected to climb 16.25% year over year to $1.86 per share, while revenue of $2.05 billion would mark a year-over-year rise of 14.4%.
The cloud is hot and that makes Red Hat hot, too, with a 16% year-over-year increase in subscription revenue and 8% rise in training/services revenue. In its third quarter, Red Hat extended its streak of consecutive earnings beats to 14.
What's more, the Linux specialist saw its third-quarter deferred revenue surge 14% to $1.49 billion -- a growth acceleration of one percentage point from the second quarter. Deferred revenue, especially in the tech software industry, denotes the strength of future sales or pent-up demand. In this case, it suggests Red Hat has established solid pricing power with its customers and likely gaining market share over its competitors as evidenced by the 12% rise in its infrastructure-related business (Linux and virtualization).
So, while these shares -- priced at a forward price to earnings multiple of 33 against a P/E of 17 for the S&P 500 index -- aren't cheap, this is a stock to buy and hold. Red Hat stock has a consensus buy rating and an average analyst 12-month price target of $90, suggesting 23.5% gains from current levels of around $72. The implied gain is 36% if the stock reaches its high analyst target of $98.
The company is projected to earn $2.19 per share in fiscal 2017, suggesting not only a year-over-year earnings increase of 17.7% but earnings growth acceleration of more than one percentage point above fiscal 2016. What's not to love?
This article is commentary by an independent contributor. At the time of publication, the author held no positions in the stocks mentioned.