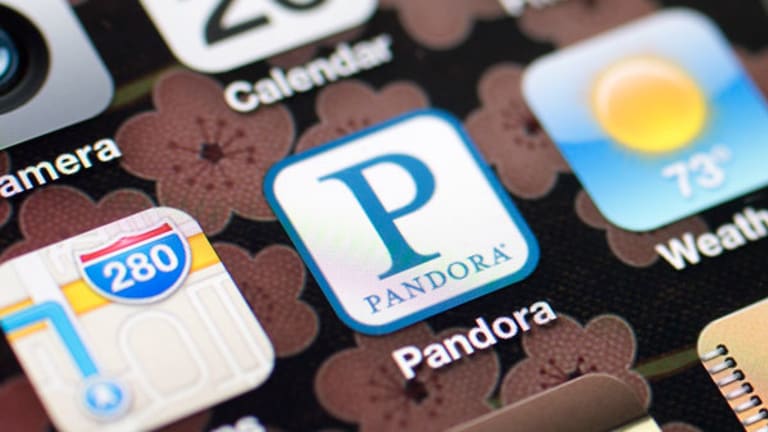 Buy Pandora Despite the Secondary Offering
Once that is out of the way, the stock will continue moving higher.
NEW YORK (TheStreet) -- What does it mean if you own a stock that has just announced a secondary offering? A lot of people think a secondary offering is a bad thing. Well, it can be. But many times, it can also be a good thing.
A secondary offering in a lousy stock is almost always a bad thing. It usually means the company is running out of money and it needs to keep raising more to survive.
Generally speaking, an owner of a lousy stock that does a secondary offering takes a big dilutive hit in ownership of company. A secondary offering obviously also dilutes the earnings per share of a company. But, a secondary offering by a good company is not necessarily a bad thing.
A second offering can indicate that a lot of good things are happening at the company. It can be an indication that there is strong demand for the shares and that the company is growing.
Generally speaking, a good company will proceed with a second offering because its shares are in demand and appreciating. So a company will then decide to take advantage of the favorable markets and favorable opinion towards their stock to float more shares and raise some cash.
This allows it to take the proceeds from that secondary offering of shares and reinvest them into the company in order to grow it further in spite of the current shareholders being diluted according to the size of the secondary offering.
But the hope is that, in the long run, the shareholders will be rewarded because the company will have successfully grown as a result of the proceeds of the secondary offering being used wisely.
Now, a secondary offering is obviously different from an initial public offering. When
Twitter
goes public at some point in the future, it will do an initial public offering.
In other words, Twitter will be selling current insider shares to the general public and there will also be an offering of new public shares that have been printed or established for the public to buy. So no longer will Twitter be a privately traded company, it will be a publicly traded company.
Not too long ago I did a whole
on the dangers of buying into a private company. Buying into one is a liquidity trap -- there's no market for your shares unless the company goes public, gets bought out or somebody else buys your shares (normally at a steep discount to what you paid for them).
I am sure the investors of Twitter would end up just fine, but generally speaking an investment into a private company is usually a very high-risk proposition. After Twitter does its IPO, it could very easily at some point in time do a secondary offering.
This is exactly what
Pandora Media (P) said last week that it planned to do.
Data from
Pandora is one of the hottest stocks in the market right now. Headquartered in Oakland, Calif., it is a mid-cap stock I currently own in the aggressive growth accounts that I manage. Technology stocks, especially Internet-related ones, continue to be one of the hottest sectors in the market.
Here are the top eight sectors from amongst the 60 or so that I track on a daily basis:
Data from
These sectors have been leading the market since the beginning of the year. It is very important to be in the right sectors of the market.
Performance:
Although past performance of a stock never guarantees future performance, it's a very good indicator and something that I like to pay close attention to. It is the first of three attributes that I require before I buy a stock.
Over the past 12 months, Pandora has delivered a whopping 159% to shareholders while the market has delivered only 18% during the same time frame. So far, over Pandora's publicly traded history, it has significantly outperformed the market.
Data from
Valuation:
Valuation is the second piece of my equation in determining the overall ranking of a stock. I use valuation models that carry out earnings, growth and target prices over the next five years.
Pandora is currently trading at about 98 times forward earnings with a 40% growth rate expected over the next five years. It has a PEG ratio of 2.44. This is a very rich PEG ratio.
However, when I take today's earnings and extrapolate them out at about 40% over the next five years, I come up with a target price of $51 per share. Pandora is currently trading at $24.25 per share. In other words, I believe it still has significant upside potential.
Data from
Pandora currently meets my valuation criteria.
Stock Chart:
The third and final piece to my equation in evaluating a stock is that all-important eyeball check of Pandora's one-year stock chart. Below we can see that Pandora is currently in a very nice uptrend and is still at or near all-time highs.
Courtesy of StockCharts.com
I realize that Pandora faces significant competition from
Apple
(AAPL) - Get Apple Inc. Report
. Pandora has a significant head start on Apple, however, and has a lot of loyal users.
I would use this current weakness in the share so buy the stock. Once the secondary is out of the way, the share should resume their ascent.
Of the 3,547 stocks that I rank on a daily basis, Pandora currently comes in at #35. Once again, clients of Gunderson Capital Management are currently long the stock.
Data from
This article was written by an independent contributor, separate from TheStreet's regular news coverage.