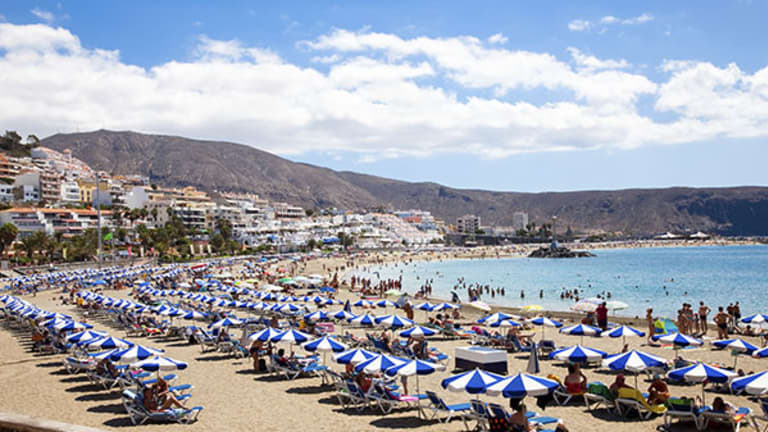 Buy Oversold Travelzoo Now for a 33% Bounce Back to Fair Value
Recently beaten down to $9, our Peter Lynch model gives TZOO a 98% rating and a fair value of $12. Buy TZOO now for a 33% gain.
NEW YORK (TheStreet) -- Travelzoo (TZOO) - Get Free Report is a debt-free hybrid of Groupon (GRPN) - Get Free Report and Orbitz (OWW) that's growing profits faster than either of them. In fact, it's 35.6% long-term earnings-per-share growth rate gives it a highly-favorable price-to-earnings-to-growth (PEG) ratio of just 0.38 and suggests you should buy Travelzoo up to $15 now.
Founded in 1998, the company went public in 2003 at $7 per share and has seen its stock price soar as high as $110 in 2004 before gradually working its way down over the years to its current range of $9-to-$14.
In just the past three weeks, it's risen 10% only to drop 20%. The short-lived gain was driven by growing expectations that the July 16 earnings report would beat analyst's consensus estimate. The stock then retreated when Travelzoo announced that it had slightly beaten sales expectations but missed the earnings estimate by $0.01 per share.
The inflated expectations were unfulfilled. But that price adjustment has now created a tremendous buying opportunity. The Baton stock-picking methodology based on legendary mutual fund manager Peter Lynch has now boosted its score of the company from 93% to 98%.
The reason our Lynch model likes Travelzoo so much is that it now has a PEG ratio of only 0.56, which means the company is growing its earnings at a little less than double the rate the market is currently valuing them. However, Lynch also felt that in order to be sustainable over the long haul a company needed to be growing its earnings at an annual rate of less than 50%, which Travelzoo satisfies with its earnings growth rate of 36%.
Lynch also preferred companies with a low debt-to-equity ratio, which for Travelzoo is a slam dunk since it has no long term debt at all. He also assigned a bonus point to companies with a net-cash-to-price ratio above 30%, which Travelzoo just qualifies for with a ratio of 36.1%.
In other words, Lynch liked to buy companies with high earnings growth but also not burdened with too much debt, and that's exactly what Travelzoo is.
Why Buy?
So why did the market pummel Travelzoo on July 16, and why should you risk your money buying it now?
Because, as Benjamin Graham once said, "In the short run, the market is a voting machine but in the long run, it is a weighing machine."
While Travelzoo did fall short on earnings' expectations, the financial metrics remain strong and the stock price will most likely reflect that value in the end. And because its PEG ratio is now even more favorable on the recent price dip, the downside risk is greatly reduced.
Travelzoo now claims to have over 25 million unique registered users like me taking advantage of special offers on travel, lodging and food every month, and the company has been funneling more marketing dollars into user acquisition programs.
Having said that, Travelzoo will likely take several quarters to emerge from its funk. Management has pointed out that the foreign exchange rate conversion in Europe was the primary drag on sales and will likely persist for the remainder of the year. Additionally, the last half of the year typically produces slower sales.
Those suffering from herd mentality have now abandoned Travelzoo. Those who believe in solid value stocks will buy Travelzoo.
Our calculations indicate that Travelzoo will rally from its current price of roughly $9 to at least $12 this quarter, handing savvy investors a quick 33% return. And a price of $15 is more reasonable long-term based on its earnings history.
Short-term traders should buy Travelzoo up to $10 now. Longer-term investors could pay up to $12.
This article is commentary by an independent contributor. At the time of publication, the author held no positions in the stocks mentioned.