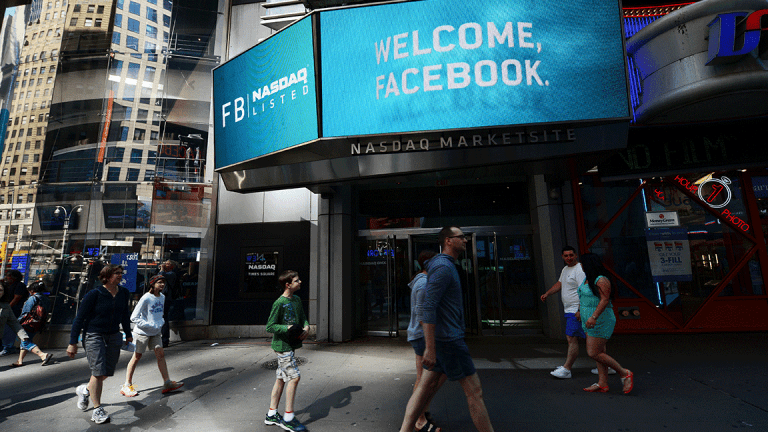 The moment of truth for long-time fans of Facebook's (FB) - Get Facebook, Inc. Class A Report stock has arrived. 
Choice number one is to buy Facebook's stock on its roughly 10% pullback at the hands of the Cambridge Analytica debacle spiraling out of control. With Facebook founder Mark Zuckerberg continuing to be MIA with media and investors, Facebook may not deserve the confidence of the bulls right now. 
It must be said that most Wall Street analysts have stayed upbeat on Facebook so far this week. Although those same analysts have littered their notes to clients with caution as to protect their tails (and jobs) should Facebook's stock keep dropping. 
For example...
"Headlines have weighed on the stock recently and we think that headlines will continue to weigh on investor sentiment until the second half of '18," writes Jefferies analyst Brent Thill. "We believe that these headwinds will not impact the top line, but will keep the stock range bound as Facebook proves it can continue to execute on top line growth -- we see the ~$15 of downside vs $65 of upside and view the risk/reward as compelling at these valuations for long term investors."
Thill adds, "We note that sentiment surrounding Facebook is one of the lowest among our entire coverage universe."
Choice number two for the bulls is to lock in gains on Facebook and head for the hills before a full on rout. As TheStreet said on its Jolt webshow Tuesday, Facebook's stock could fall 50% if the news around the handling of personal data continues at its current pace. With those Facebook gains in the bank, perhaps it would be worthwhile to pick up some Twitter (TWTR) - Get Twitter, Inc. Report , which has been swept up into the Facebook selling for arguably no good reason. 
Watch yours truly and TheStreet's Kinsey Grant debate Facebook below. Who do YOU think won? Hit us up at Twitter @TheStreet@KinseyGrant@BrianSozzi with your thoughts. And shout out to TheStreet's founder Jim Cramer and the Action Alerts Plus team for locking in gains on Facebook a while ago.
Subscribe to our Youtube Channel for extended interviews, Cramer Replays, feature content, and more!