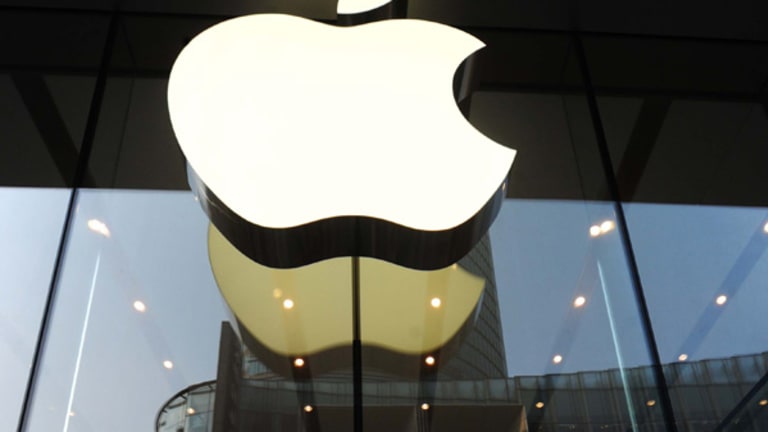 Buy on Apple's Dip Ahead of Earnings
Apple, which reports Thursday, has demonstrated weakness in front of blowout earnings before.
NEW YORK (TheStreet) -- Wall Street expects strong fourth-quarter earnings growth from Apple (AAPL) - Get Apple Inc. Report relative to last year after the market closes on Thursday.
The consensus is $8.85 a share, a gain of $1.80 from $7.05 during the corresponding quarter last year. Analysts are estimating as low as $8 per share, up to $10.05 per share. Even at the very low end, we are staring into the face of an increase of over 10%.
data by
Background:
Apple, together with subsidiaries, designs, manufactures and markets mobile communication and media devices, personal computers, and portable digital music players; and sells related software, services, peripherals, networking solutions, and third-party digital content and applications worldwide. The company was founded in 1976 and is headquartered in Cupertino, Calif.. Arch Coal trades an average of 16.1 million shares per day with a market cap of $587 billion.
52-Week Range:
$363.32 to $705.07
Book Value:
$119.23
Price To Book:
5.3
Forty-nine analysts rate Apple a buy or strong buy out of 55 analysts. The company has four holds, and two recommend selling.
Twenty-three out of 55 analysts now rate Apple a strong buy up from 22 analysts a month ago. Analysts overall have called this one correctly. In the last 12 months, the shares have accelerated higher. The one year return is 54%. The average analyst current target price for Apple is $778.32.
From a technical perspective, the chart on Apple looks interesting. The 200-day moving average is climbing, but the price broke below the 60- and 90-day moving averages in the past couple of weeks.
At the weekly and monthly level (where long-term investors should be focused on anyway), the picture is in stark contrast to the daily chart. Both the weekly and monthly charts are strong bullish trends with price near support levels. Even this week's dip fits in well with the longer term charts.
The company currently pays $10.60 per share in yearly dividends for a yield of 1.6%. Not what I would refer to as a high yielder by a long shot. But with a payout ratio of less than 25%, Apple has miles of room to increase the amount if the board wills it.
After falling 6.5%, investors can be forgiven for scratching their heads and wondering how much more they need to endure. One strategic solution, especially attractive in front of earnings, is writing calls against some shares. Premiums are high as volatility (time premium) increases in front of the earnings release.
Obviously, I am bullish with Apple, but I haven't always been, and I am not an iFanatic with Apple's products (I own a Samsung S3). I rate Apple positively simply on the numbers, and the numbers are attractive.
The last reported short interest is paltry and without reason to consider it a meaningful influence at only 1.6% of the average trading float.
Google's
(GOOG) - Get Alphabet Inc. Report
miss shook the market, and shortages in availability of the iPhone 5 have many questioning if Apple can hit their numbers or not. What is missed in this conversation is it doesn't matter what the numbers are for the last quarter (within reason), because everyone with a finger on the buy and sell buttons during the earnings call will have their full attention on what to anticipate beyond 2012.
Questions related to supply and availability of the iPhone 5 are plaguing shares as if extreme customer demand for your high-margin product is a bad thing. People used to buy iPhones that couldn't make a phone call, and the status of the iPhone hasn't lost its luster. Count on Apple selling every last iStatus symbol it can produce until it is ready to release the next in the series.
I am leaning towards the upper end of the estimates and believe Apple blows the sliding doors off the minivan. I believe Apple delivers above the mean estimate. More important, I believe Apple rallies after the earnings are out as investors put risk back on.
Apple has been the "buy on dips" stock for several years, with good reason. The current dip will once again prove that those sitting on the sidelines should have jumped on board for the next $100 in gains.
data by
At the time of publication the author had no position in any of the stocks mentioned.
This article was written by an independent contributor, separate from TheStreet's regular news coverage.