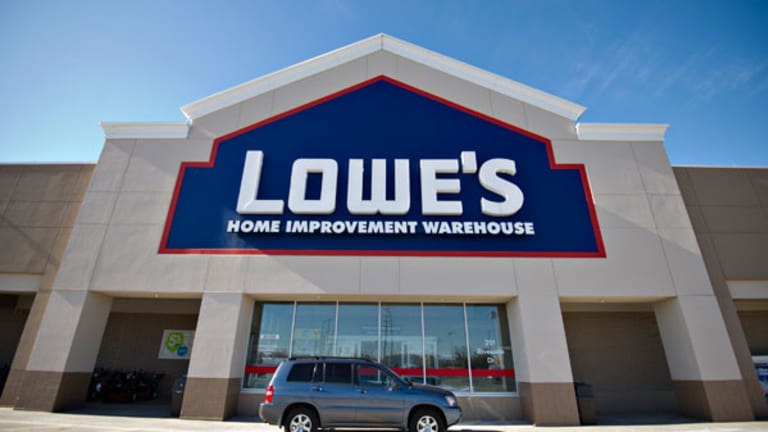 Buy Lowe's for New Highs
At some point, investors will look for safety by taking money out of other sectors and putting it into their homes.
NEW YORK (TheStreet) -- Home improvement giant Lowe's (LOW) - Get Lowe's Companies, Inc. (LOW) Report will report first-quarter earnings Wednesday. The stock closed Monday $45.55, up less than half of a percent. But the shares are down 7.3% year to date. Tuesday the stock was trading at $45.45, down 0.2%, as of 1:30 p.m.
With the up-and-down results we've seen so far from retailers J.C. Penney (JCP) - Get J. C. Penney Company, Inc. Report and Walmart (WMT) - Get Walmart Inc. Report, it's anyone's guess how the Street will react to the Lowe's performance. One thing is certain, however, management is no longer content with playing second fiddle to larger rival Home Depot (HD) - Get Home Depot, Inc. (HD) Report.
The Street will be looking for 60 cents in earnings per share on revenue of $13.86 billion, which would represent a year-over-year revenue increase of 6%. Earnings, meanwhile, are projected to grow by more than 22%, which speaks to the effectiveness of management's striving toward efficiency.
A lot has been made about Lowe's recent struggles. This has prompted analysts to reduce both earnings and revenue estimates since the February quarter from 63 cents and $14.08 billion, respectively. But despite headwinds, including adverse weather, Lowe's has always delivered on the bottom line.
Take, for instance, the February quarter. Helped by (among other things) management's ability to capitalize on the U.S. housing recovery, Lowe's posted revenue of $11.7 billion, up 5.6% year over year. Despite the severe winter weather, Lowe's still posted a 4% jump in same-store sales -- the metric that tracks the performance of stores that have been open for at least one year.
Plus, Lowe's opened 78 new stores in 2013. I'm optimistic about the company's growth potential. Home Depot, which I love, by the way, opened only four new stores. To the extent that Lowe's can continue its merchandising initiatives to drive higher comparable-store sales, these shares should do well.
And when you factor the ongoing improvement in the housing environment and a potential increase in the minimum wage, consumers will have more disposable income to tackle more do-it-yourself projects.
These potential catalysts will increase in-store traffic at Lowe's. Management must then figure out ways to generate higher revenue per transaction. This is where merchandising strategies play an important role.
Over the past several quarters, the merchandising advantage has tipped in Home Depot's favor. But even with Home Depot's edge in areas like cost management and logistics, Lowe's is slowly narrowing the gap. Like its slogan, Lowe's has never stopped improving.
On Wednesday, investors should also pay attention to what management says about the company's progress with Orchard Supply, which Lowe's acquired last year for $205 million. This deal was aimed at expanding Lowe's urban footprint in areas like California, where Lowe's lacked a strong presence to grab a piece of California's economic recovery.
As strong as this quarter is expected to be from an earnings perspective, it still pales in comparison to Lowe's long-term profit potential once management fully extracts value from this deal, which gives Lowe's 72 locations in California.
All told, there is plenty to like with Lowe's. And I would be a buyer here ahead of earnings, especially since the stock is down 7% on the year. Lowe's has yet to fully participate in the recent surge.
And at some point, investors will look for safety by taking money out of the other sectors and putting it into their homes, which should send Lowe's to new highs.
>>Read More: China's Smartphone Diplomacy With an Angry Southeast Asia
>>Read More: Cisco Must Buy Rackspace Right Now
>>Read More: Ambarella Will Ride GoPro Wave: StockTwits
>>Read More: Jim Cramer: Lunacy on Interest Rates
At the time of publication, the author held no position in any of the stocks mentioned.
This article represents the opinion of a contributor and not necessarily that of TheStreet or its editorial staff.