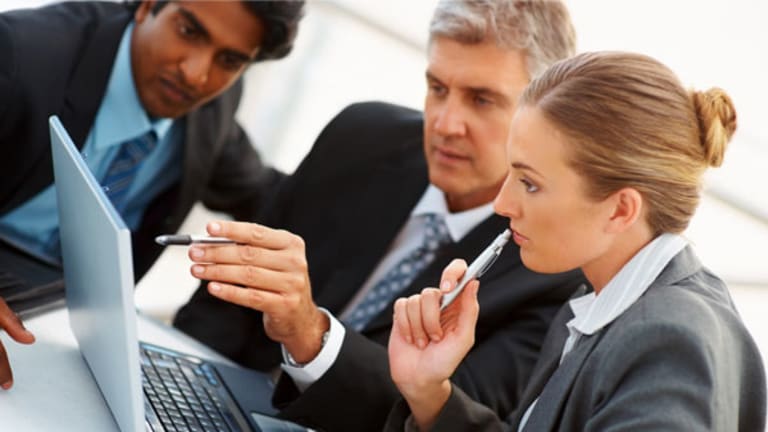 Buy Intel, Microsoft as They Prepare Assault on Apple
Intel and Microsoft finally get it and are taking steps to swipe a piece of Apple's pie. Their resurgence makes Nokia and Barnes & Noble worthy speculative plays.
NEW YORK (TheStreet) -- Intel (INTC) - Get Intel Corporation Report and Microsoft (MSFT) - Get Microsoft Corporation Report have been the sleeping dogs of the stock market. In a world where we measure everybody else against Apple (AAPL) - Get Apple Inc. Report, recent results are telling.
In 2011, AAPL returned over 25%. INTC increased by just over 15% and MSFT dropped by more than 5%. While AAPL still reigns supreme, the tide has begun to turn. As of Monday's close, AAPL is up 42% YTD, compared to 20% and 16% pops for MSFT and INTC, respectively.
Over the last month, both MSFT and INTC have outperformed AAPL. AAPL has struggled to retest the highs it set prior to earnings in early April. While this does not spell impending doom for Apple, consider it a harbinger of things to come over the long term.
Intel and Microsoft are -- finally -- doing all the right things. If anyone was ever going to wake up and provide Apple with legitimate competition, it was these two sleeping dogs. And their push should help weaker companies such as a whole slew of PC makers,
Nokia
and
Barnes & Noble
(BKS) - Get Barnes & Noble, Inc. Report
, not only stay alive, but turn things around.
To drive this point home, consider hockey's sleeping dog, and the results of him getting some ice time. If you follow the NHL Playoffs at all, you likely know that Alex Ovechkin scored the game winner Monday night in Washington's victory over the New York Rangers.
For a whole host of reasons, Ovechkin is not getting much ice time. In fact, in last night's game, he only played 13 minutes, 36 seconds. Capitals coach Dale Hunter has a whole host of good reasons for limiting his use of Ovechkin and fellow high-flyer Alexander Semin.
Those explanations aside, Hunter turned the Russian superstar into a sleeping dog. And you know what happens when you wake sleeping dogs -- they make the most of every single shift and, more often than not, do serious damage.
Intel and Microsoft are ready for a little ice time. Let's think about the billions Intel and Microsoft have spent over the last year:

Microsoft buys Skype.
Intel invests $300 million to push ultrabooks.
Intel invests in automotive technology.
Intel looks to move into the content game.
Microsoft invests billions in Nokia as well as Barnes and Noble's eBook/Reader business.
While Intel and Microsoft are not working directly together, their separate efforts will have profound impacts on Apple throughout the spaces in which the company runs.
Despite what the headlines lead you to believe, Intel and Microsoft already dominate the laptop and desktop markets. Clearly, Apple -- thanks to the late Steve Jobs -- saw the future first and acted accordingly.
Like Ovechkin for much of the regular season, it appeared that Intel and Microsoft merely had their heads down on the bench. While that might have been the case for a period of time, that lack of aggression is history.
How Intel, Microsoft Will Win
Intel has some new chips. Microsoft is about to hammer the market with a new operating system. Between the two, they'll power a new generation of not only PCs, but, more importantly, ultrabooks, ultrabooks that double as tablets, tablets and smartphones.
If you don't believe me, just ask Walt Mossberg at
The Wall Street Journal:
Windows 8 is the real deal. Clouded by Apple's very real greatness, we often forget that Intel and Microsoft still dominate the computer market. That's not going to change anytime soon.
While Mac sales might be increasing, they pale in comparison to the PC's market share. But Windows is no longer only about the PC. It's inclusion in ultrabooks and mobile gadgets has barely begun.
Armed with the first truly cross-platform operating system from Microsoft and fresh chips from an obviously agitated Intel, the two companies will break Anroid's mobile foothold and chip away at Apple's tablet and smartphone market share around the world.
Microsoft bought Skype and sunk cash into Nokia and Barnes and Noble for a reason. Intel is investing in several different directions with the same thoughts in mind. Just as my media favorites
Rogers Communications
(RCI) - Get Rogers Communications Inc. Class B Report
and
Madison Square Garden
(MSG) - Get The Madison Square Garden Co. Report
will dominate by owning and/or investing in every piece of the food chain from content to delivery to real physical properties, Microsoft and Intel will succeed by embracing the reality of a cross- and multi-platform world.
It's no longer enough to build chips for computers or design an operating system for students and professionals. Everything you do needs to be seamless, cutting across the various lives of business and pleasure we all lead. Apple, almost solely because of Steve Jobs, gets this.
In fact, Jobs invented "this."
Microsoft and Intel finally got the message. This makes them both screaming long-term buys. And their resurgence turns stocks like NOK and BKS into worthy speculative plays.
As for AAPL, I would hardly call it a sell, but the sleeping giants and their not-so-small beneficiaries will have something to say about those way-too-lofty $1,000 price targets.
At the time of publication, Pendola was long INTC, MSG, NOK, RCI