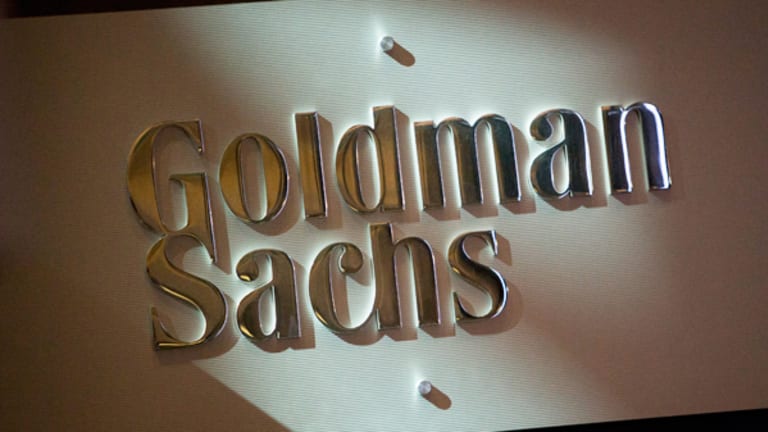 Buy Goldman Sachs for Its Cheap Price, Potential Growth
Despite its earnings miss, Goldman Sachs still looks set to grow.
Owing to its third-quarter earnings miss, shares of investment banking giant Goldman Sachs (GS) - Get Free Report have been under pressure, down 2.3% in 2015, including some 10% declines in the past six months. It's true, Goldman's stock performance in 2015 has not swayed too drastically from the 1% year-to-date decline of the Financial Select Sector SPDR Fund (XLF) - Get Free Report . Goldman is the fifth largest bank in the U.S. by total assets.
Its shares haven't performed the way investors hoped they would. That's likely to change, however.
Goldman will shortly pay its dividend, and now would be a good time to bet on Goldman's growth potential. Goldman Sachs shares will begin trading ex-dividend on Monday, Nov. 30. That's the last day management of the New York-based bank will finalize its roster of shareholders to whom it will mail dividend payments. To qualify for a dividend check, investors must own Goldman shares on or before its ex-dividend date. Goldman will pay its 65-cent quarterly dividend on Dec. 30 to shareholders of record as of Wednesday, Dec. 2.
This quarter will mark the fourth consecutive period during which Goldman will make made its 65-cent cash payout, which has been raised almost 85% in the past three years. With the stock's current price of around $190, Goldman's dividend yields just 1.36% annually -- below the 2% yield paid out by the average stock in the S&P 500undefined index. But there are tons of reasons to expect Goldman Sachs shares to outperform the S&P 500 in the quarters and years ahead.
For starters, Goldman stock -- trading at a price-to-earnings ratio of 12 -- is cheap, compared to a P/E of 21 for the S&P 500. If GS shares traded on par with the rest of the market, they would be valued today at around $358, not $189.
The reason the stock is trading at a discount? Like most banks, Goldman operates in a low interest rate environment that has pressured its revenue and its ability to grow fees.
While an interest rate hike has yet to happen, industry experts expect the Federal Reserve to raise rates sooner rather than later. And when interest rates do rise, this will improve Goldman's growth prospects significantly, especially in its trading business. A hike in interest rates will likely cause above-average volatility in the stock market. More volatility often translates to more trading activity and higher fees for Goldman.
At the same time, Goldman is improving in some of its most important metrics. After Goldman's third-quarter earnings results, analyst Glenn Schorr of Evercore commented on Goldman's strong capital ratios and decent book value growth, as well as the bank's vastly improved compensation leverage -- all factors that contribute to its long-term growth opportunities. The stock has a consensus buy rating and average analyst 12-month price target of $210.
This article is commentary by an independent contributor. At the time of publication, the author held no positions in the stocks mentioned.