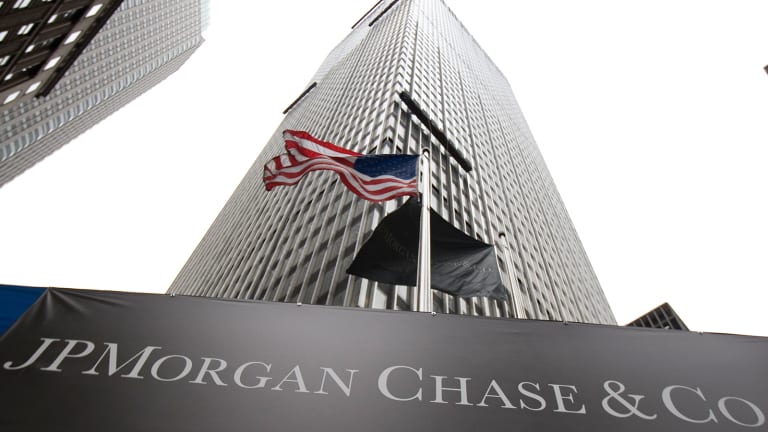 Buy Cisco Systems and JPMorgan Chase for the Dividends Now
You want dividends? JPMorgan Chase and Cisco are going ex-dividend Wednesday so you'd better buy soon.
You want dividends? JPMorgan Chase and Cisco are going ex-dividend Wednesday so you'd better buy soon.
NEW YORK (TheStreet) -- You want dividends? Cisco Systems (CSCO) - Get Report and JPMorgan Chase (JPM) - Get Report have dividends. But if you're going to buy, do it soon.
Many investors use the strategy known as buying dividends, or getting into a stock solely for collecting the quarterly payout and then selling the stock within days. The strategy requires timing to be effective.
In the case of Cisco and JPMorgan, that means you have to own shares prior to July 6 because the companies are scheduled to go "ex-dividend" on July 1.
Cisco's 21-cent quarterly dividend is scheduled to be paid on July 22 to investors of record as July 6, while JPMorgan's 44-cent quarterly payout will come weeks later on July 31. Some of these companies are also chosen for their long-term potential in addition to paying solid yields.
Lets take a look at the merits of both, starting with Cisco.
data by
The John Chambers era is coming to an end, but Cisco's growth is poised to accelerate. Sure, Cisco's core routing and switching business has lost some steam. That has been the case for several years. Cisco still holds the largest market share among computer networking vendors and is focusing more on products and services -- particularly the type that are tied to data centers, wireless networks and security.
The San Jose, Calif., company is also involved in the fast-growing market called the Internet-of-Things, which research firm IDC estimates to be a $1.7 trillion market in 2015. Nearly 15 billion devices will be connected this year, predicts IDC.
Cisco, however, is estimating the market to be an untapped $14.4 trillion opportunity. Cisco, which has invested billions in its IoT capabilities believe that 99.4% of devices that could be connected to the Internet are not yet connected. This implies Cisco plans to lead the realm of IoT as its once did at the height of the Internet's growth.
So with CSCO stock up a modest 1% on the year, now would be the time to add to an existing position or build a new position. The stock has a consensus buy rating and an analyst 12-month price target of $33, suggesting 15% gains from current levels of around $28. Combined with its 21-cent quarterly dividend that yields 2.92%, that's excellent value.
For similar reasons, JPMorgan's annual dividend yield of 2.53% makes JPM stock attractive at the current $69. I say this knowing full well that JPM shares are trading at near all-time highs, gaining almost 11% on the year, besting the 6% gains in the KBW Bank Index (BKX) . But there's still plenty of room to climb. Though the stock is a mere 2% away from its average analyst target of $71, its high target of $81 calls for gains of almost 20%.
Why the implied confidence? Despite the bank's legal and regulatory burdens of the past couple of years, JPMorgan has figured out ways to keep growing earnings. Plus, unlike several competitors, JPMorgan is well diversified in areas like retail banking and investment banking. All told, JPMorgan, which posted profits of almost $22 billion in 2014 on $98 billion in revenue, has tons of ways to make money, especially when factoring its expertise in commercial banking and in fixed income.
JPMorgan, which has also beaten earnings estimates in five out of six quarters, has achieved these results at a time of low interest rates that have pressured banking revenue and profits. But with industry experts expecting the Federal Reserve to raise rates sooner rather than later, this makes an already solid banking franchise like JPM even more attractive.
This article is commentary by an independent contributor. At the time of publication, the author held no shares in any of the stocks mentioned.