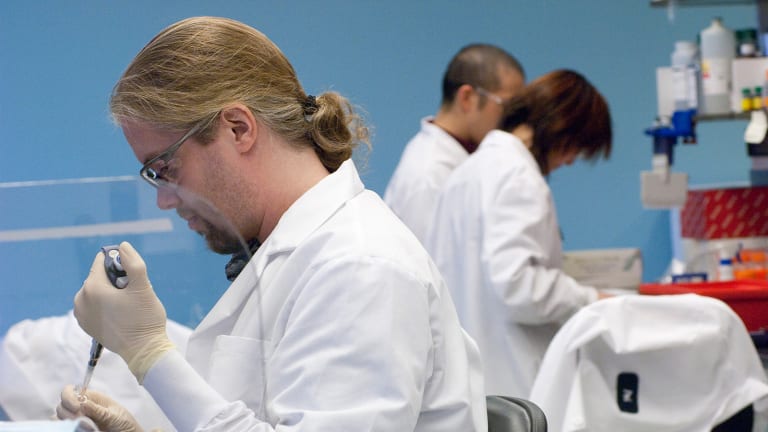 Buy AmerisourceBergen to Take Advantage of Strong Growth in Pharmaceuticals.
Drug distributor AmerisourceBergen put up another strong quarter thanks to growth in generics, Hep-C drugs, and its successful partnership with Walgreens.
NEW YORK (TheStreet) -- AmerisourceBergen (ABC) - Get AmerisourceBergen Corporation Report is on a huge run and was recently upgraded to a "buy" by a big Wall Street firm.  
The Chesterbrook, Pa.-based distributor of drugs and health supplies based runs 26 U.S. pharmaceutical distribution centers, four U.S. specialty distribution centers, and two Canadian distribution hubs. The company reported earnings April 30th and beat estimates by $0.26 per share, delivering profits of $1.45 versus the Capital IQ consensus of $1.19. AmerisourceBergen also raised guidance for full-year earnings to a range of $4.85-to-$4.95 from prior guidance of $4.53-to-$4.63. And unlike a lot of companies this quarter, AmerisourceBergen beat on top-line revenues as well, delivering revenue growth of 15%.
AmerisourceBergen's results were buoyed by strong demand for generic pharmaceuticals and robust sales for hepatitis C drugs. Several new, effective forms of Hep-C treatments are available from Gilead Sciences (GILD) - Get Gilead Sciences, Inc. (GILD) Report, AbbVie (ABBV) - Get AbbVie, Inc. Report, and Johnson & Johnson (JNJ) - Get Johnson & Johnson (JNJ) Report, driving rapid growth in this segment.
The company also continues to benefit from its alliance with drugstore-chain operator Walgreens Boots Alliance (WAG) . And non-pharma sales also soared 72%, thanks to the recent acquisition of MWI Veterinary Supply, a distributor of animal health products. AmerisourceBergen also has good leverage to future growth in U.S. biosimilars.
Wall Street firm UBS (UBS) - Get UBS Group AG Report recently upgraded the stock to "buy" concluding that among drug distributors, AmerisourceBergen has the greatest earnings leverage to the $65 billion in biologics that will be facing biosimilar competition over the next five years.
Unlike simple chemical formulations like Tylenol, complex biologics cannot easily be converted into generic drugs upon patent expiration. Biosimilars are basically "generic" versions of biologic substances that attempt to mimic the activity and safety of the original biologic substance. While the use of biosimilars has been approved in Europe and Japan for years, the FDA just approved the first biosimilar in the U.S. this past March.
Currently, three companies generate about 85%-to-90% of all revenues in the wholesale drug distribution industry, Amerisource Bergen, Cardinal Health (CAH) - Get Cardinal Health, Inc. Report, and McKesson Corp (MCK) - Get McKesson Corporation (MCK) Report. While AmerisourceBergen is not the largest competitor, is does have some of the best revenue growth in the group.
The company's estimated five-year annual growth rate is 11%, but that growth is rapidly accelerating given new opportunities in generic drugs and biosimilar agents, its successful partnership with Walgreens, and new drug availability in the Hep-C segment.
According to data from Best Stocks Now app, AmerisourceBergen receives a Momentum Grade of "B-" and a Performance Grade of A. Over the last year, the stock is up 78% and year-to-date it has advanced more than 25%. AmerisourceBergen ranks No. 328 out of the more than 4,000 companies in the Best Stocks Now universe. It receives a rating of "Weak Buy" with a Stock Grade of B+.
Given the huge opportunities in drug distribution due to growth in generics and biosimilars, new drug discoveries, and the potential of its pharmacy alliance, AmerisourceBergen appears poised for more growth going forward.
This article is commentary by an independent contributor. At the time of publication, the author held ABC.