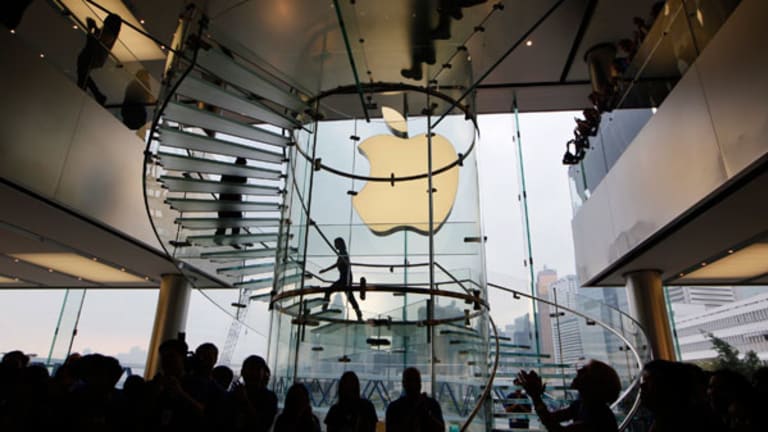 Apple iWatch Is Too Late
The market is assuming that an Apple iWatch would be a game changer for the stock. Not!
By Renee Butler
NEW YORK (
) --
Apple
(AAPL)
is always highlighted in investing news, but buyer beware -- sometimes hype is just hype. Apple's iWatch appears to be a reality; even
its 79 patent applications with the word 'wrist' in it. But that doesn't mean it's worth your time.
A bevy of people say this iWatch is going to be a game changer. Others say that the company is releasing too many products and diluting the advantages it held from a relatively low number of SKUs. I say, several other companies are already producing "smartwatches." So unless Apple comes up with something truly revolutionary, it is going to clock more down days than up, in the near term.
Expect a low-grade rally surrounding the recent news of an iWatch, but shares will go lower until the next product release.
TheStreet
says Apple should be launching the
and a next generation
iPad next month, says the Apple Insider
.
The stock will likely pop on the day of release -- it always does -- but the smart money is going to be hanging back and either buying in early, only to sell an hour later, or shorting off the high price on release day.
Year after year, companies have been launching various versions of these "smartwatches." There's
Sony's
undefined
, which is compatible with
Google's
(GOOG)
Android operating system.
Kickstarter raised a mammoth $10.27 million
last year to help bring Pebble to market; this one runs both iOS and Android (although it cannot run SMS on iOS). Heard of the
MartianWatch
,
or
? In all that time, these "smartwatches" have yet to catch on.
Apple is just playing catch-up. In other words, Apple would be really behind the mark if it didn't produce its own version. (
Apple's 6th generation Nano
had the capacity to be used as a watch, but the company no longer sells that build and, regardless, the 6th Gen Nano did not have email or texting capabilities. There is, of course, a possibility that Apple discontinued the model once it decided to launch a watch that integrates with the user's smartphone.)
A recent
points out that, while many of the existing smartwatches are close, they are not quite ready to meet a variety of consumer needs and preferences. Apple may well be looking to drop in with a product that does fill those requirements and, in turn, dominate the market the same way it blew away the Mp3 player competition with its iPods.
Rumors are that Apple may be building a
-style smartwatch, that such a watch could have solar or kinetic charging abilities, and that it would have more functionality than existing smartwatches, like the ability to use a map application.
Now for the real question: Is it worth betting on (aka "investing in") at this stage? My answer is, no.
I am still bearish about the company in the short term. Right now, Apple is trading at under $440, on a 52-week range of $419.00 to $705.07. The company had been trading at more than $700 in September, before it launched the iPhone 5, with its new connector plug (an issue for those with a variety of third-party iPhone products -- an issue solved by
a $29 accessory, as I mentioned on Seeking Alpha
, but an issue all the same). By October, the company's share price had fallen by more than $40, and it has only continued to decline since then.
At this point, an innovative product, such as a slap bracelet-style smartwatch, may help it gain ground, but with as little interest as has been generated about such products, it may only be enough to make sure it doesn't lose any more ground than it already has. I am confident that Apple will bounce back -- eventually. There are simply too many people in the Apple ecosystem (the way its technologies all interact with each other) for it to remain down for too long. But this is a stock that will go lower before it gets better.
A long position in the technology giant is not a bad idea. Whether you intend to hold that stock for the next couple years or until the momentum surges on a release day, but don't buy into the rally. Waiting a few weeks will help investors maximize the returns a shorter-term position will provide.
The market is saturated with smartwatches, and upgrades really add little functionality. Hit the snooze button.
Apple's main strength right now is that its users genuinely like its products and the Apple ecosystem tends to encourage user buy-ins. However, without a truly revolutionary product, and heavy-buyer interest in such a product, the company is going to follow the path of a popular, but mature, company: Moderate, dependable returns. That has its own value, especially for longer-term investors, and that may have been what Apple was hinting at when it started offering a dividend.
-- Written by Renee Butler in New York.
At the time of publication the author had no position in any of the stocks mentioned.
Follow @ReneeAnnButler
This article was written by an independent contributor, separate from TheStreet's regular news coverage.
Renee Butler is a freelance financial journalist based in Seattle. She has written hundreds of articles and blog posts on hedge funds, the financial markets, investing trends and company developments. Her articles have appeared on MSNBC, MarketWatch, the Motley Fool, The Street and Seeking Alpha, among others. Butler is a member of the National Press Club and the Society of Professional Journalists, and holds advanced degrees in business, financial management, psychology and sociology.