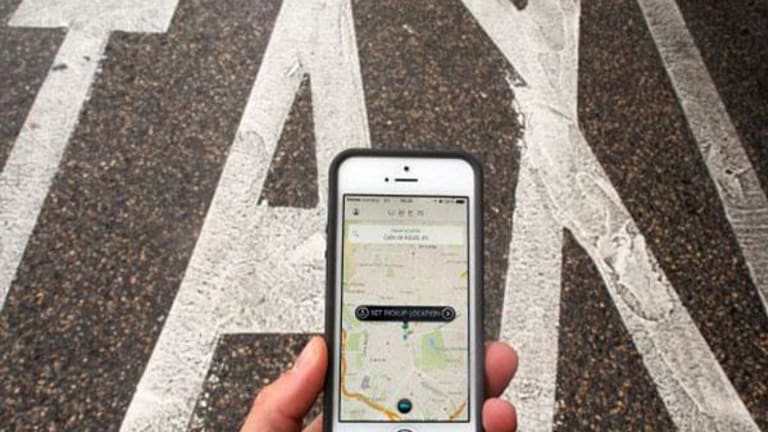 Business Travelers Continue Mass Migration to Uber; Lenders Under Pressure
Uber and Lyft continue to clobber taxis and rental cars among business travelers, while market share transfer beyond business starting to seriously hurt taxi medallion lenders.
Business travelers are continuing to increasingly use their phones to hail a ride rather than their arms, according to the latest data.
The migration trend of business travelers to ride-hailing apps for ground transportation continued in the second quarter of 2016 according to expense-management software company Certify. Uber and Lyft accounted for 49% of ground transportation market share in the quarter ended June 2016, up from 46% in three months.
In a testament to the bumpiness and noise in any given quarter, all of the Uber/Lyft market share gains came at the expense of car rentals, after the latter registered a share gain in the first quarter. Taxis maintained a paltry 14% share of business traveler wallets among Certify customers, down from 36% two years ago. Taxis suffered a 6% sequential share decline in the first quarter, the worst quarterly drop since ride-hailing apps entered markets in 2011, so a flattening of declines in the second quarter was not surprising. Ride hailing has gone from 8% to 49% (see Chart below) in the last 27 months -- an historic example of rapid, prodigious market disruption by innovation.
Share of Business Ground Transportation by Mode (Certify Client Base)
Source: Certify.
Uber's U.S. share has now increased from 14% in the first quarter of 2014 to nearly 75% in 2016, during which time Lyft has gone from 0% to 5%, all at the expense of taxis (see chart below).
Share of US Business Traveler Trips in Certify Client Base
Source: Certify.
Lyft again charged the cheapest average fares at less than $21 per ride (down nearly 8% year-over-year). Uber's $25.50 was down 15% after fare cuts in most of its markets in late January (fares were recently raised to offset some of that reduction) and taxis, at almost $40, were up over 15%. In addition to a significant price advantage, users again rated the ride-hailing experience higher than taxis. Uber's rating was unchanged from the prior quarter at 4.7, but Lyft jumped to the top spot going from an average rating of 4.5 to 4.8 sequentially. Taxis fell modestly to 3.75 on the five-point scale.
Share gains in the last twelve months were observed for Uber alone versus taxis in all major cities (see chart below). Miami has become a notoriously volatile market, perhaps owing to a limited Certify sample size in that city or other statistical noise. Double-digit year-over-year share gains were again observed in New York, Chicago and Atlanta (Dallas showed a 9% share gain for Uber in the first quarter). It is worth noting that sequential business traveler share was flat in New York, after a significant 16% sequential gain in share for Uber in the first quarter.
Uber Business Traveler Share Gains - Q2 2016 versus Prior Year
Source: Certify.
More data has emerged from other sources in the last three months to suggest an accelerating negative impact on lenders from ride-sharing market share gains versus taxi medallion owners and borrowers.
Signature Bank (SBNY) - Get Free Report missed consensus earnings estimates for the second quarter reported on July 20 and cited increased reserves against Chicago taxi medallion loans as the primary culprit. An industry advocate recently testified to the joint Transportation and License Committee in Chicago that 620 Chicago medallions had entered foreclosure proceedings. The city reports an incomplete list of taxi medallions in foreclosure proceedings that can be used as a directional proxy for foreclosure activity, and that trend would seem to at least affirm that the combination of negative equity and inadequate taxi medallion cash flows to service debt is becoming a bigger problem (see chart below). Foreclosures on the incomplete city list have gone from 104 to 217 since March 2016, contrasted with only four in March 2013.
Chicago Reported Taxi Medallion Foreclosure Trend
Other long time lenders to taxi medallion buyers experienced another spike in loan non-performance (delinquencies, troubled debt restructured, and actual loan loss reserves or markdowns). For Medallion Financial (MFIN) - Get Free Report , taxi medallion loan non-performance increased 50% in just three months (see chart below). Similarly, the percentage of non-performing taxi medallion loans for the three largest New York credit unions, in aggregate, rose 36% in just the last reported quarter to over $1 billion, over a 22-times increase since the end of 2014 (see second chart below). SBNY disclosed it had sold 16 NYC medallions in July at $625,000 and that it believed this market is stable. What was not disclosed, however, was the loan terms for these sales. If the financing component is very high -- 100% of the deal, or more, to remove the necessity for the buyer to pay any out-of-pocket costs -- then the medallion market may not be as stable as Signature Bank has suggested.
Medallion Financial Taxi Medallion Loan Non-Performance Trends
Credit Union Taxi Medallion Loan Non-Performance Trends
This article is commentary by an independent contributor. At the time of publication, the author held no positions in the stocks mentioned.