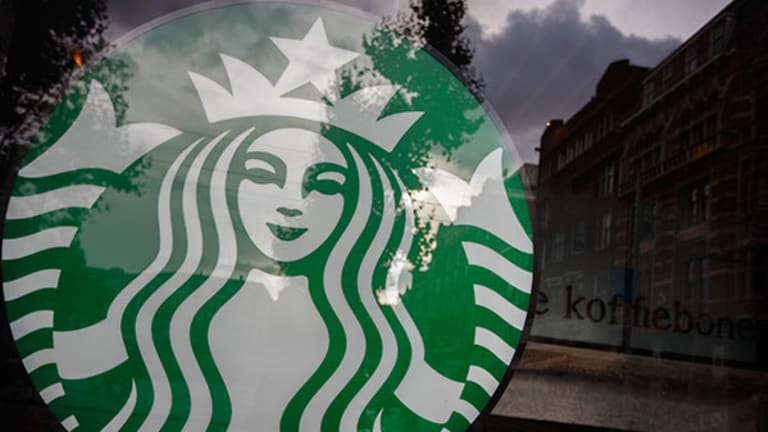 Burger King, Starbucks, Papa John's Touched by China Food Health Scare
Allegedly tainted meat from U.S.-owned Chinese supplier has little impact on stocks
NEW YORK (TheStreet) - We can now add Burger King (BKW) , Starbucks (SBUX) - Get Starbucks Corporation Report and Papa John's (PZZA) - Get Papa John's International, Inc. Report to the growing list of companies -- alongside McDonald's (MCD) - Get McDonald's Corporation Report and YUM!s (YUM) - Get Yum! Brands, Inc. Report KFC and Pizza Hut -- whose Chinese outlets allegedly have been sold contaminated meat by Shanghai's Husi Food Company.
Reports in the Chinese press of expired and contaminated chicken and beef products have prompted the well-known fast-food chains to severe ties with the U.S.-owned Husi Food, while some have even pulled potentially hazardous products from their menus in Chinese stores.
No illnesses have been reported so far in China due to the allegedly contaminated meat, which was only sold in China and Japan. The stocks of all the companies have remained steady.
TheStreet's Ruben Ramirez has details on the food safety scandal:

WATCH: More market update videos on TheStreet TV | More videos from Ruben Ramirez
Both McDonald's and YUM! issued apologies to their Chinese consumers Monday, and  Husi's meat products are also a problem in Japan as a Tokyo-based spokesman at McDonald's Holdings there said about 20% of its Chicken McNuggets had come from Husi, according to the Wall Street Journal.
Meanwhile, Burger King has "suspended the sale of any products from the Husi/OSI factory in Shanghai" according to Burger King's media relations team. Burger King China has also launched a full investigation into the matter.
In response to the scare, Starbucks pulled the chicken and apple Panini from their shelves in China after noting that the meat did indeed come from Shanghai Husi Food Company. Starbucks Public Affairs representative Marianne Duong issued the following statement, "After a thorough investigation, we identified one product, the 'Chicken Apple Panini', sourced from one of our suppliers, that uses chicken provided by Husi Food. This product is only available in stores in some of our Starbucks China markets, including, Shaanxi, Henan, Sichuan, Chongqing, Hunan, Hubei, Guangxi, Yunnan, Fujian, Hainan, Anhui, Jiangxi and Guizhou." 
Papa John's, one of the world's largest take-out and delivery chains in the U.S., was also caught with tainted meat products. In a phone interview, Director of Corporate Communications Darryl Carr noted the supplier in question had supplied products to a couple of their stores.
"As part of a test run, the supplier in question supplied beef and Italian sausage toppings to 5 stores in Shanghai, but once the news broke on Saturday, Papa John's immediately initiated the steps to have the products pulled," Carr said.
In a press release, Papa John's noted that they plan to "work in partnership with the Chinese government in its ongoing investigation to minimize the chances of something like this happening again."
McDonald's Japan has since prevented the selling of Chicken McNuggets at more than 1,300 of its locations that may have used chicken from Husi and have found alternative suppliers in Thailand and China.
During McDonald's second quarter earnings call, CEO Don Thompson noted that McDonald's isn't taking the situation lightly. "If those things are confirmed at a higher level, we will deal with that effectively, swiftly and appropriately," Thompson said. Additionally, Thompson admitted that Husi Food had tried to dupe McDonald's saying, "We do feel we were a bit deceived relative to one of these plants." Thompson did not go into specifics.
http://www.thestreet.com/story/12779387/1/why-kfc-mcdonalds-can-survive-even-a-nasty-food-scare-in-china.html
http://www.thestreet.com/story/12063001/1/yum-brands-tanks-as-china-kfc-issues-linger.html
http://www.thestreet.com/story/12777370/1/why-yum-brands-yum-stock-is-falling-today.html
http://www.thestreet.com/story/12779912/1/why-yum-brands-yum-stock-is-down-today.html

OSI Group - the Illinois-based parent company of Shanghai Husi Food Company, issued the following statement on July 21, "OSI Group take very seriously a recent media report on Dragon TV regarding products manufactured by its subsidiary, Shanghai HUSI Food Co. Ltd. Company management was appalled by the report and is dealing with the issue directly and quickly. The company has informed an investigation team, is fully cooperating with inspections being conducted by relevant, supervising government agencies, and is also conducting its own internal review." Read the full statement here. 
The privately held OSI Group ranked #62 on Forbes' List of America's largest private companies with estimated revenue of $5.9 billion and is currently the largest supplier of meat products in China to chains involved in the recall as well as Subway, according to PrivCo. 
In a recent development, Shanghai police have detained 5 people in an investigation of the tainted meat, including the head of Shanghai Husi Food and the firm's quality manager, reports Reuters.
According to the company website, OSI has been active in China for more than a decade. The meat processing company established its first food processing plant in Beijing back in 1991 and currently operates in eight cities, providing buyers with meat and produce. OSI began providing McDonald's China with meat products in 1992.
Based on the new developments in the investigation, Yum! China released an updated statement that it has "decided to immediately terminate all procurement from OSI China (including Shanghai Husi)." 
"This supplier is not a major supplier of YUM China. KFC and Pizza Hut have arranged alternative suppliers and we do not anticipate disruption to KFC restaurants. While there may be some temporary shortages of certain products at Pizza Huts, we expect this to be minimized and short-term." 
As the tainted meat scare continues to make waves in China, it's hard to ignore the health scare that rattled YUM! back in 2012. YUM was caught in the cross-hairs of an incident involving two KFC suppliers in China accused of filling chicken with excess antibiotics, which caused YUM to re-brand KFC and its menu in China to attract customers.
The incident caused a huge dent in Yum's revenue in China as KFC is reportedly the largest restaurant chain in China with more than 4,500 eateries. That resulted in a 41% decrease in YUM's operating profit in China that year.
YUM said its most recent earnings revealed that the company was "obviously pleased with the continued progress [made] at KFC and China as evidenced by strong sales." The China KFC Division delivered system sales growth of 21% during Q2 of 2014, according to YUM CEO David Novak. 
It appears that investors may be more concerned with Yum's relatively successful second quarter and increasing market share. Yum's worldwide sales grew 6% and the company saw operating profit in China increase 188% from the previous year.