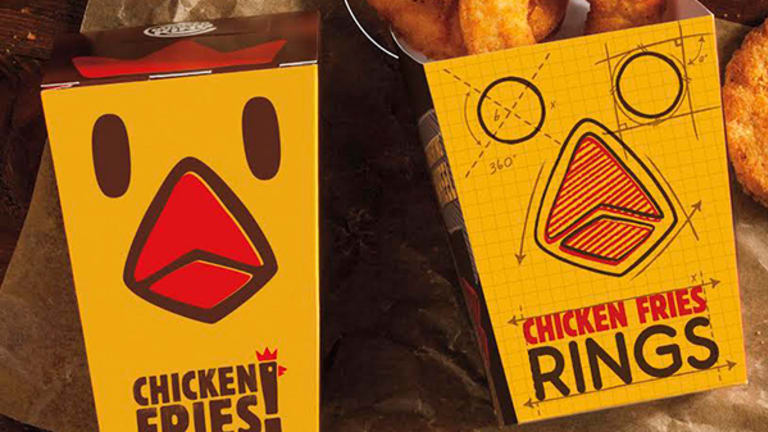 Burger King Adds Yet Another Weird New Item to Its Menu
Burger King launches chicken fries rings nationwide Monday.
Burger King launches chicken fries rings nationwide Monday.
The weird factor with Burger King's fast-food seems to know no boundary.
The division of Restaurant Brands International (QSR) - Get Report launched chicken fries rings nationwide Monday. A limited-time product, chicken fries rings look like onion rings but are made with white-meat chicken coated with spices. The product is the latest attempt by Burger King to extend its popular chicken fries franchise.
First introduced in 2005, the company got rid of chicken fries in 2013 before bringing them back in August 2014 as a limited-time offering amid outcries from consumers on social media.
The item came off Burger King's menu, only to be made permanent in March of last year. Last August, the company debuted fiery chicken fries in all of its U.S. restaurants.
What amounts to faux onion rings adds to the number of weird items debuted by the burger chain in the past few months in its effort to stick out in a crowded fast-food industry.
Burger King sold a black-bunned burger filled with A1 sauce called the Halloween Whopper for a limited time last September. In March, the company offered the "Angriest Whopper," a burger with a red bun, jalapenos and hot sauce. The most normal food Burger King has launched lately? Grilled hot dogs, back in February, but even those had a touch of weirdness given the company is known for its hamburgers.
Nevertheless, weird seems to be working for Burger King.
Same-restaurant sales at Burger King's U.S. business surged 5.7% last year, quicker than the 2.1% increase in 2014. Fourth-quarter same-store sales in the U.S. rose a solid 2.8%. Shares of Restaurant Brands have gained 8.8% this year compared to a 2.3% increase for the S&P 500.