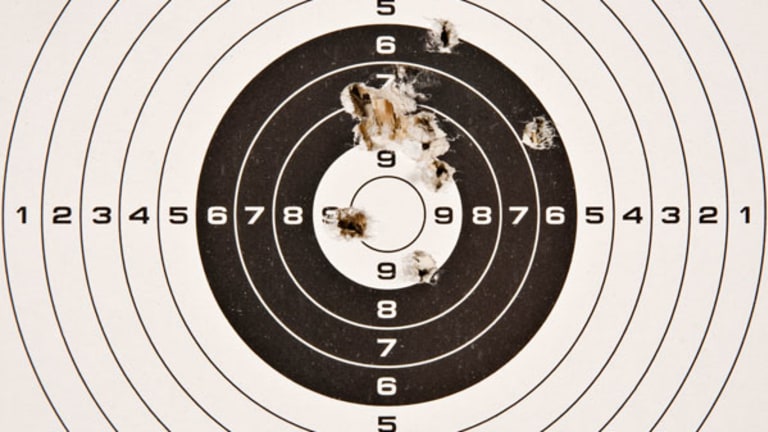 Bulls Make Money, Bears Make Money -- But Right Now How Can Anybody Make Money?
After the major damage to many stocks last week, what should you look for this first week of the second quarter?
NEW YORK (TheStreet) -- Bulls make money, bears make money, but in this market, it seems like no one makes money.
For the last few weeks the S&P 500 (SPY) - Get Report and DJIAI:DJI have held up within a range, giving the impression that the market has been relatively flat. But underneath the surface, things have not looked so neat.
The areas of the market that typically are regarded as risky, quick movers have been pummeled. Think of the biotech sector and growth momentum stocks. Think of Gilead Sciences (GILD) - Get Report (down over 17% in March), Priceline.com (PCLN) (down over 11% in March), and Netflix (NFLX) - Get Report (down over 19% in March).
Perhaps there were some quarter-end mark-up shenanigans taking place to account for the discrepancy between the story given by the S&P 500 and by the rest of the market.
In the end that is not our concern as traders or investors. What is our concern is preserving our capital and not over-trading this chop. For the first time in over a year, the PowerShares QQQ (QQQ) - Get Report, which tracks the Nasdaq 100 Index, closed below the 20-week moving average. The iShares Russell 2000 (IWM) - Get Report, which tracks the Russell 2000 Index, barely managed to stay above.
These are signs of deterioration that should not go unnoticed. In 2013, traders were rewarded for taking risk any time the market signaled trouble. That kind of complacency has likely led to negative returns on the year.
Overall, the longer term trend is still bullish and so far this can be construed as consolidation on a bigger picture outlook. However, in a shorter time frame, the price action is signaling more weakness to come. 
Next week begins the start of a new quarter. We may see some new money flow into the markets. There are also the rumors that China or Europe will announce more stimulus to aid their economic recovery. These catalysts along with a potential for a relief bounce are scenarios that could lift the market.
However, it will likely take a lot more than that to repair the technical damage done over the last few weeks. We are not yet oversold based on 20-day new lows, and the short-term trend is still pointing down. Thus, there is a good chance rallies will continue to be sold into until we see more confirmation of a bottom.
My focus for near future will be on looking to short bounces in stocks now in a clear downtrend and going long sectors that are outperforming, such as energy and semiconductors. Important downside levels for S&P 500 support and possible reversal zones are around $1,834 and $1,815 and $1,800. Levels of resistance above are $1,862, $1,875, and all-time highs at $1,884.
Keep your eyes on the U.S 20-year Treasury Bonds (TLT) - Get Report. They tried to breakout last week and if we see confirmation that investors are flocking toward safer investments instruments, it is another signal of a risk-off environment.
SPY Open Interest: Last week we had a very similar open interest where the 190 calls dominated. Last week, in "This Market Is Driving Everyone Crazy," I wrote that it was very unlikely we would close above them. The same goes for this week.
For more information about me please visit my site at www.sassyoptions.com.
At the time of publication, the author held no positions in any of the stocks mentioned.
This article represents the opinion of a contributor and not necessarily that of TheStreet or its editorial staff.