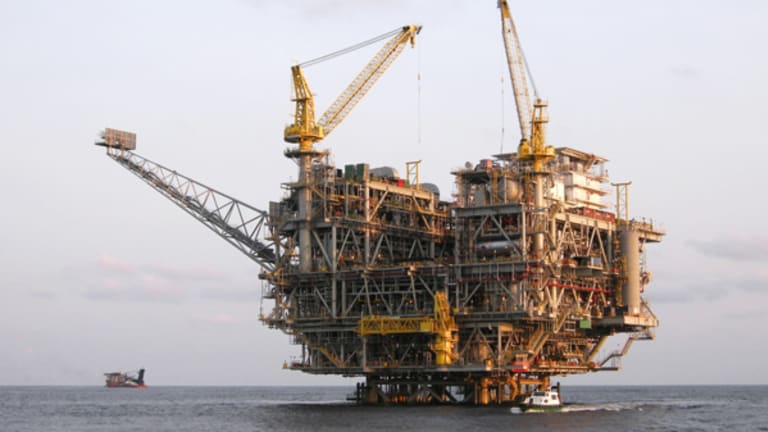 Bullish on Deepwater Drilling, Bulllish on Rowan and Ensco
North America is experiencing a resurgence in deepwater drilling and these two energy services companies are poised to benefit.
NEW YORK (TheStreet) -- It's hard not to be bullish about the outlook for the deepwater, off-shore drillers including Rowan (RDC) and Enscoundefined. After the profitable earnings report delivered last week by the "King Kong" of oil services companies, Sclumberger (SLB) as well as Baker Hughes (BHI) , the outlook is rosier for the sector.
Both SLB and BHI mentioned during their conference calls that there's a renewed demand for deepwater drilling in the Gulf of Mexico off the coast of the U.S. That kind of drilling and the kind that reaches down to "Davey Jones' locker" (a.k.a ultra-deep water drilling) is going on all around the globe. New technologies are making this kind of exploration and production for energy sources more profitable than ever.
Even the intermediate-size companies in this space should enjoy a boost from the resurgence of deep-water drilling.
Rowan is one of those, with a market cap of close to $4.6 billion. It's a major provider of global offshore contract drilling services, focused on safely and efficiently fulfilling the demanding offshore drilling needs of its customers. RDC claims that it maintains a 90-year commitment to the safety and development of employees and has cultivated one of the most experienced, skilled and dedicated workforces in its industry.
Rowan holds a leading position in high-specification jackup rigs and its fleet of 30 jackup rigs operates worldwide, including the Middle East, the North Sea, the Mediterranean, Trinidad, Southeast Asia and the Gulf of Mexico. The company will enter the ultra-deepwater market with four high-specification drill-ships expected to be delivered starting in late 2013.
In its latest update on its fleet contract status, RDC disclosed on Oct. 24 that it was awarded an estimated 285-day contract with Freeport-McMoRan (FCX) in the Gulf of Mexico commencing mid-October 2013 at a standby rate of $150,000 per day and then at $180,000 per day commencing mid-December 2013, above its previous day rate of $160,000 per day. The increase in the day rate of nearly 13% above its previous average speaks to growing deep water drilling demand.
On one of its drilling rigs, the "Rowan Stravanger", the company was awarded a 120-day accommodation work with Talisman Energy (TLM) in the Norwegian sector of the North Sea commencing May 2014 at $413,000 per day. Now you understand the dollar signs in my eyes when I speak of the profitability of deepwater, offshore drilling contracts.
Rowan steps into the earnings confessional on Nov. 5. The 37 analysts that cover RDC are looking for an average earnings-per-share (EPS) increase of 42 cents, up from 39 cents from the same quarter a year ago. The same analysts estimate that revenue and sales growth for the quarter will have increased by more than 8%.
RDC doesn't offer a dividend yield, but its forward (one-year) PE ratio is a tantalizing 10.3. As of the last quarter ending June 30, it had total cash of over $1 billion, which equals total cash per share of $8.10. Its total debt at that point was $2.01 billion. At the closing price on Monday of $36.88, it was below its book value per share of $37.87. Rowan still looks fairly valued, but its share price may be impacted one way or the other by the Nov. 5th earnings report.
Ensco is one of my favorites in the offshore drilling space for a host of good reasons. It's a global provider of offshore drilling services to the petroleum industry. "For more than 25 years, we have focused on operating safely and exceeding customer expectations. We are the industry leader in customer satisfaction, ranking first again with top honors for 2012 in 10 of 16 categories in an independent industry survey. Operating one of the world's newest ultra-deepwater fleets and largest fleets of active premium jackups, we have a major presence in the most strategic offshore basins across six continents" its Web site boasts.
Operating across six continents, Ensco's high-quality fleet (existing and under construction) includes 10 drill-ships, 13 dynamically-positioned semi-submersibles, 6 moored semi-submersibles and 46 premium jackups. In addition, it provides drilling management for three customer-owned deep-water rigs. ESV's rigs have drilled some of the most complex wells in virtually every major offshore basin around the world.
Ensco's share price of $57.86 translates to a trailing PE of about 10.6 and a forward PE of just 8. By market cap it weighs in close to three times the size of Rowan at nearly $13.4 billion and it pays a dividend yield-to-price of 3.46%. ESV shares trade for slightly higher than its book value per share of $54.53, and its balance sheet includes total cash (as of Sept. 30) of $325.4 million and total debt of $4.79 billion.
Its dividend payout ratio equals 33% of operating income, which from many perspectives looks sustainable. In the last quarter ending Sept. 30 the company reported improved results thanks to increased utilization, demand and the inclusion of new rigs to its expanding fleet.
EPS for Ensco was up nearly 10% over the year-ago quarter and total revenue improved by close to 13% to more than $1.26 billion. You can read all of the details of its third-quarter earnings and expansive global activities in its Oct. 23 press release.
Chairman and CEO Dan Rabun was quoted as saying, "During the third quarter, we accepted delivery of two more rigs that will commence multi-year contracts later this year -- Ensco DS-7, an ultra-deepwater drillship, and Ensco 120, an ultra-premium harsh environment jackup. These newbuild rigs plus six more under construction will drive revenue and earnings growth in the years ahead."
This helps explain the company achieving a quarterly revenue of $1.3 billion, a record amount for ESV. It also boasts an $11 billion backlog of contracted revenue.
Both Ensco and Rowan are already benefiting from the increasing rates offered to offshore drillers who place a large emphasis on execution, service delivery and quality. Unlike bigger companies such as Schlumberger, RDC and ESV don't have the deepest pockets
However, with the revenue their deepwater and ultra-deepwater fleets are generating, both companies should be able to ride the crest of demand from their base of global customers.
At the time of publication the author had no position is long ESV.

This article was written by an independent contributor, separate from TheStreet's regular news coverage.