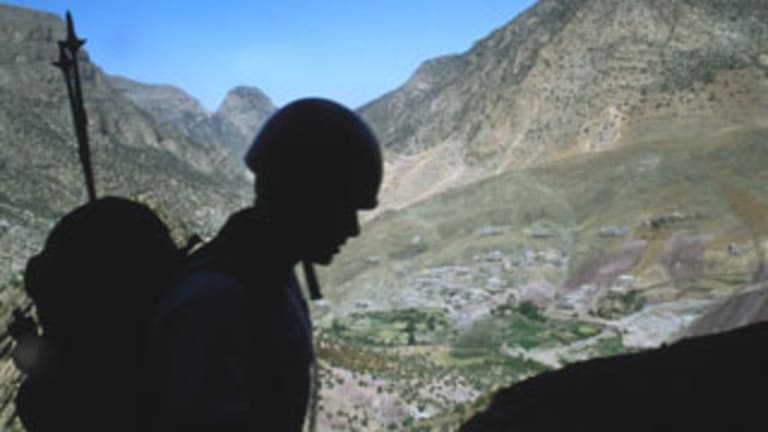 Bullish Earnings Support Key Defense Companies
Important acquisitions and big earnings surprises support the outlook for these three defense companies.
Editor's note: Our Pre-Memorial Day special examines military-related stocks and how to buy, sell or trade them. This feature includes a video by Gregg Greenberg, Defense-Stock Domination; and articles by Marc Courtenay One Priced to Buy; Robert Weinstein Bigger Guns, Bigger Profits; Richard Saintvilus Boeing's Offense Is Defense; Richard Suttmeier Sequester Survivors; and Richard Cox Bullish Earnings Support Defense.
NEW YORK (
) -- One of the stories not covered very much this year has been the strong earnings surprises seen by companies with significant exposure to the defense industry.
For the year to date, major rallies have come as a result of these upside surprises. But investment opportunities can still be found as valuations remain stable and a bullish outlook supports key areas of the defense sector. Here, we look at three companies well-positioned for continued growth.
Precision Castparts
(PCP)
Precision Castparts showed a 23% increase in its fiscal fourth-quarter earnings on improved sales in all segments of its cast metal parts business. The company makes castings and metal forgings for gas turbines and airplanes, and its revenue performance has seen gains for each of the last three years. The market environment has been widely supportive of these trends, with steady improvements seen in aerospace demand.
Strong revenue performance has also enabled the company to broaden its operations through acquisitions. In January, Precision Castparts purchased Titanium Metals Corp. for $2.9 billion, in a move that will allow for expansion in Precision's titanium capabilities. In March, the company outlined an agreement to buy
SKF AB's
metallic-rods unit for $52 million.
>>Also see: Key Reversals Suggest Sell in May >>
Precision's fiscal fourth-quarter profits came in at $414.2 million, equal to $2.82 per share. This is a marked increase from the $336.1 million ($2.30 per share) seen the previous year. Sales rose by 25% to $2.44 billion. Analysts, on average, were looking for earnings of $2.75 per share on revenue of $2.51 billion for the period ending March 31.
Areas of strength were seen in the company's forged products segment -- with gains of 31% to $1.12 billion -- and in air-frame products sales, which saw improvements of 40%. Trading with a P/E of 21.6, PCP stock has seen gains of nearly 14% for the year to date, making the company a strong option for momentum strategies.
Triumph Group
(TGI)
Triumph Group is another strong earnings performer, with fiscal fourth-quarter adjusted earnings from continuing operations coming in at $1.68 per share. This creates a 7% improvement from the $1.57 per share seen last year and compares well to the $1.59 per share expected by the consensus. In fiscal year 2013, adjusted income from continuing operations rose to $6.21 per share. This is an increase of roughly 24% from the $5.01 seen in fiscal year 2012.
From both a quarterly and yearly perspective, Triumph performed strongly in all of its business segments. This enabled the company to complete some important acquisitions of its own, with its purchase of Embee and Goodrich Pump & Engine Control Systems.
These acquisitions put the company in a stronger position in the metal finishing space and should contribute significantly to revenue into next year. TGI trades with a P/E of 12.8 and has seen a 13% rally year to date. But valuations are still well below their highs for the year, creating a great entry point at current levels.
B/E Aerospace
(BEAV)
Looking at the
Nasdaq
, a strong choice can be found in B/E Aerospace, which reported a 30.7% rise in net earnings for the first quarter at $89.9 million. The Wellington, Fla.-based company manufactures aircraft cabin interiors. It posted a 12.7% increase in revenue, at $842.2 million, when compared to the same period last year.
>>Also see: Tax Tip: Summer Employment for Your Dependent Child >>
Year-to-date, BEAV has posted the strongest stock performance of the group, with gains of nearly 28%. With a market cap of $6.51 billion, BEAV trades with a P/E of 25.1.
Revenue growth should continue to be driven by strength in the new aircraft delivery cycle, with more than 60% of first-quarter revenue coming from this area of the business.
At the time of publication the author had no position in any of the stocks mentioned.
This article was written by an independent contributor, separate from TheStreet's regular news coverage.
Richard Cox is a university teacher in international trade and finance. His articles appear on a variety of Web sites, including
,
, FX Street and others. Investing strategies are based on technical and fundamental analysis of all the major asset classes (stock indices, currencies and commodities). Trade ideas are generally based on time horizons of one to six months.