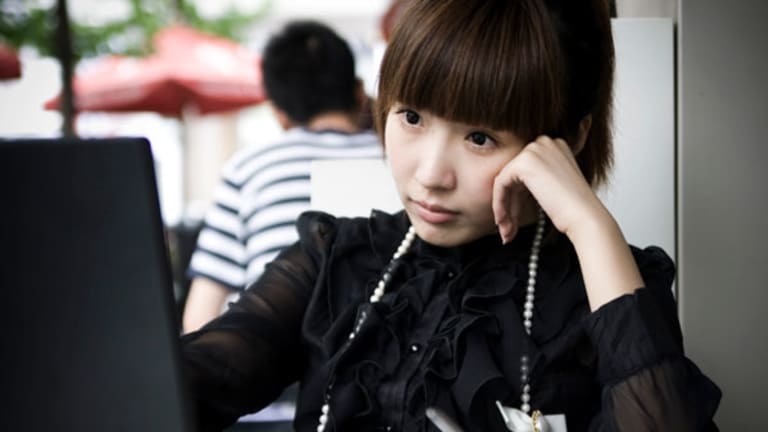 Bull vs. Bear on the Upcoming Alibaba IPO
When that IPO filing happens -- and it could be in a matter of days -- Alibaba will reveal details about itself that many in the investing world have been dying to see for well over two years.
When that IPO filing happens -- and it could be in a matter of days -- Alibaba will reveal details about itself that many in the investing world have been dying to see for well over two years.
NEW YORK (TheStreet) -- The news Friday that Alibaba will be filing its documents very soon to hold an initial public offering in New York is a big deal.
When that filing happens -- and it could be in a matter of days -- the company will reveal details about itself that many in the investing world have been dying to see for well over two years.
The company always seem to be compared to Amazon (AMZN) - Get Report and yet it is bound to show that it is much more profitable than Jeff Bezos' company. It will also show that it has its fingers in many more businesses with longer-term growth potential in China.
People will also see a business that's much larger than Facebook (FB) - Get Report in many ways.
So how should investors value it?
Over the coming weeks after an Alibaba IPO filing, you will likely hear two sides debating the merits of the value of the company in an IPO.
On the bull side, you will hear people make several points about why Alibaba is so big and significant:
Size. Alibaba's got its tentacles into all aspects of Chinese society will its Taobao service for consumer-to-consumer, its Tmall for business-to-consumer and its Alipay for payment systems. Not only are they selling a lot of stuff already but it's likely to dramatically increase in the coming years.
Profitability. American internet companies are accustomed to showing strong revenue numbers when they IPO but not profits. They promise that the profits will come shortly. Sometimes they do, sometimes they don't. But with Alibaba the profits are already here. This is why how people value the deal will be so interesting. Does it deserve the same valuation as Facebook because its revenues are the same? But if it's so much more profitable than Facebook, isn't it worth more?
The continued growth of Chinese consumers. In terms of revenue trajectory, there's no better place to be than a dominant player with the Chinese consumer, ready to ride that wave of increased buying power they will enjoy.
The ability to grow internationally. Many Americans only think about Alibaba as a China play. The reality is it has much broader ambitions, including taking its Web sites around the world. It will look to first sell to Chinese in those countries and then expand from there.

The ability to take on Amazon itself. Most people assume Amazon has won the war of e-commerce. Alibaba, however, has huge ambitions and clearly it wants to find a way to take on the American giant. Some of its recent investments in American companies like ShopRunner show some of its longer-term ambitions to take on Bezos. The company thinks there's an opportunity to allow third-party shop owners to keep their identity while selling on the Alibaba platform rather than be a faceless vendor on the Amazon platform.
Continued pace of growth. It was only two years ago that Alibaba was valued at $35 billion privately. Now, we are likely going to see a valuation of $150 billion or more. Yet, there's still a lot of growth potential for the company ahead. Institutional investors are hungry for growth. This is why Twitter (TWTR) - Get Report has been doing so well despite small revenue and profits (relatively speaking). When people get a sense of how big Alibaba is, the price talk should continue to climb leading up to the IPO.
On the bear side, there will be several who try to talk down the IPO. The main reason will always come back to Tencent and its WeChat application.
The main argument the bears will have is Tencent has always been strong in China on the gaming and communications side. Up until now, it really hasn't had to tread on the search territory of Baidu (BIDU) - Get Report or the e-commerce territory of Alibaba. Yet, WeChat has become enormously popular in the last year. Some believe it's responsible for the doubling of Tencent's stock price over the time to now a $150 billion market cap company.
With WeChat, there are now 300 million Chinese addicted to this app (just like many in the U.S. are addicted to WhatsApp). However, WeChat has gone much further than WhatsApp in terms of monetizing it already.
Most recently, WeChat has shown how powerful an e-commerce platform it can be by pushing out new games to its members or flash sales that are time-limited or to an offline business. Recently, Tencent made an investment in a taxi company where, if you book it and then pay for it from the WeChat app (using Tencent's Tenpay payment mechanism), you get a discount on your fare.
Tencent has also invested in China's version of Yelp (YELP) - Get Report and plans to roll out a bunch of new O2O (online to offline) services.
The bear case against Alibaba is that this new WeChat platform is going to become a powerful new way that Chinese consumers are trained on how to communicate and conduct e-commerce. Look how much WeChat has grown in a year and think about where it will be in five years.
Alibaba hasn't really done communications before. It tried to roll out a WeChat clone a few months ago with little success. It will likely have to make a big splashy investment or acquisition in something like Line to try and take on WeChat. If they can't, they might be at a big disadvantage in the O2O shift.
However, traditional e-commerce will still exist and Alibaba will continue to be the biggest and most dominant player in it domestically with its continued grand international ambitions.
At the end of the day, I continue to expect to see big institutional buyers fall over themselves trying to get a piece of the Alibaba IPO, especially as it draws closer.
At the time of publication, the author was long YHOO, which holds a 24% stake in Alibaba.
This article represents the opinion of a contributor and not necessarily that of TheStreet or its editorial staff.