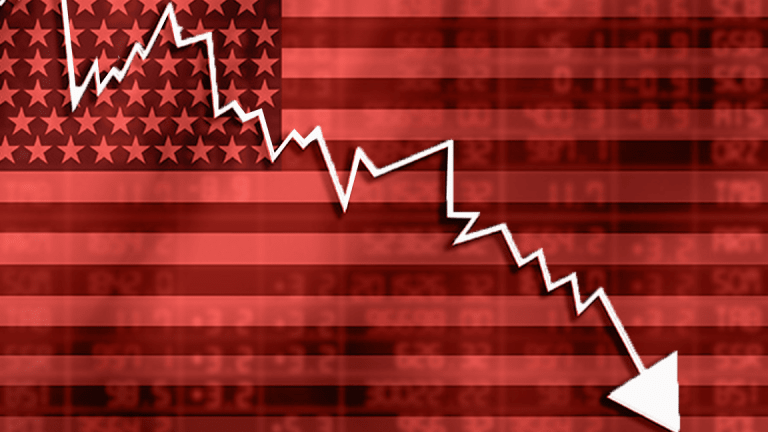 Stocks Are Getting Hammered and Signs of Bull Market Fatigue Are Apparent
Stocks come under big-time pressure on Tuesday amid a spike in Treasury yields and ahead of Donald Trump's 'State of the Union' address.
And you thought stocks only go up in a straight line.
On Tuesday, the Dow Jones Industrial Average dropped 362 points to 26,076, the S&P 500 fell 1% and the Nasdaq declined 0.9%. At one point in the session, the Dow fell as much as 402 points. On Monday, Jan. 29, stocks saw the largest single-day loss in at least five months.
With Treasury yields spiking on inflation fears and concerns over Trump's State of the Union speech Tuesday night, investors have opted to book profits and head for the hills. Given the eye-popping gains in big-cap stocks such as Netflix (NFLX) - Get Report and Amazon (AMZN) - Get Report this year, profit-taking is long overdue. In turn, there are signs brewing of fatigue in a market that most on Wall Street have believed could only go higher this year.
For starters, investors are rotating into more defensive sectors such as healthcare.
"We again highlight further technical evidence of a tactical rotation developing away from the recent leadership in cyclicals toward less cyclical sectors, notably healthcare," points out Fundstrat strategist Robert Sluymer. "To be clear, we do not believe this recent rotation is part of a longer-term top, but one that has potential to meaningfully impact portfolio performance in the first quarter."
Some other signs of bull market fatigue, per Sluymer's research, include (1) a stalling in industrial stocks; (2) fresh multi-week relative lows are expanding within industrials, materials and energy; (3) hot tech stocks such as Applied Materials (AMAT) - Get Report , Lam Research (LRCX) - Get Report and Coherent (COHR) - Get Report are beginning to reverse two-year relative up-trends.
The selloff became so severe on Tuesday, we decided to drop a live analysis from TheStreet's newsroom.
More of What's Trending on TheStreet: