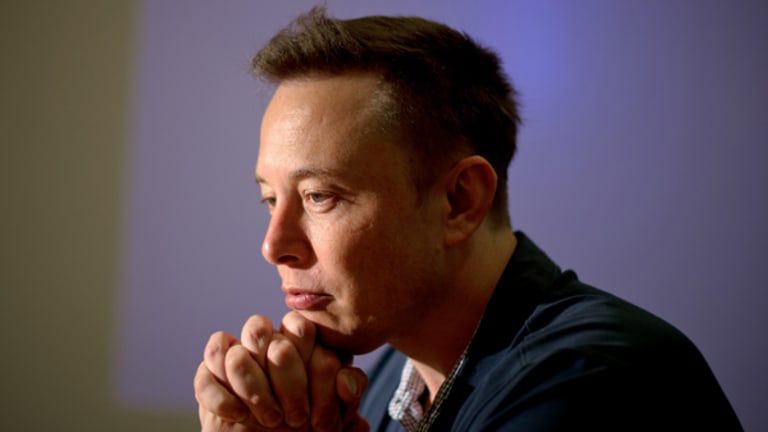 NEW YORK (TheStreet) -- Earlier this week, I wrote about Elon Musk and why he will change the world.
He already has to some extent. But how do you put a monetary value on that?
Well, you could start with an Elon Musk ETF.
Although this is hypothetical of course, you, as an Elon Musk shareholder, could have made very profitable returns, many times over at this point.
I'm basically talking about
PayPal
(now part of
eBay
,
Tesla Motors
and
SolarCity
(SCTY)
, because
SpaceX
and the pending
Hyperloop
are not open to public investment.
What if you had invested $10,000 in each company during the first day of trading?
The results would be staggering.
PayPal went public in February 2002. The company floated 5.4 million shares and opened at $15.41, before settling at a bit more than $20 a share. Assume you got in somewhere in the middle, say $17. Your $10,000 would have bought you about 588 shares.
A few months later,
eBay
announced it would acquire PayPal for $1.5 billion in stock, swapping 0.39 shares of its own stock, for each PayPal share.
This worked out to each share of PayPal equaling about $23.61, a 38% gain from your $17 entry point.
But, assuming you didn't sell your 229 shares of eBay (588 shares of PayPal, times 0.39 shares of eBay = 229 total shares of eBay), you'd be sitting on more than 900 shares today. After a 2-for-1 stock split in 2003, followed by another in 2005, you'd have 916 shares, each valued at approximately $54. Your total investment would be worth $49,464, nearly a 500% gain on your $10,000 investment.
Fast forward to June 2010, when Tesla made its public debut. The stock opened at $19 per share and closed at $24.62. Again, based on a rough estimate, let's assume you bought the stock at $22, which amounts to about 454 shares on a $10,000 investment.
Tesla started off 2013 at $35 per share, a modest 60% return on the invested capital in less than two years. But the ride's just getting started. Musk and the company continued to wow Wall Street with its highly touted Model S.
The car
scored
a 99 out of 100 from
Consumer Reports
, the publication's highest rating for a car,
ever
.
After that, quarterly results, high demand and profitability have fueled a rise in the stock to $145. The move in 2013 has been incredible, and early shareholders who stuck around have been handsomely rewarded. Your $10,000 investment would now be worth $65,830, a massive return of more than 650%.
Your two $10,000 investments would have turned into $115,294! But we're not done.
In December 2012, SolarCity went public with shares opening at $9.25 and closing at $11.79. For simplicity, assume you invested $10,000 at $10 per share, for a total of 1,000 shares.
Even though the stock rose as high as $52.77 in May before selling off a bit, your position still would have generated sizable returns. With shares currently priced near $38, your total investment would already be worth $38,000 -- in less than one year.
In all, you would have witnessed triple-digit gains in all of your our positions. Your three $10,000 initial investments would now be worth to $153,294.
Although Musk has said that he wants to get to Mars before putting SpaceX up for an IPO, that day cannot come soon enough for some. The company already has billions of dollars in contracts with NASA and continues to accumulate contracts for more space and rocket-related work for others.
Or how about his Hyperloop idea? The hypothetical travel method is already being dubbed as the fifth mode of transportation, joining automobiles, boats, trains and planes. What better way to raise capital for expanding or funding either one of these concepts than a public offering?
One thing's for certain on my end: I'm a buyer of Elon Musk, the Revolutionist.
At the time of publication, the author owned shares of EBAY.
-- Written by Bret Kenwell in Petoskey, Mich.
This article is commentary by an independent contributor, separate from TheStreet's regular news coverage.
Bret Kenwell currently writes, blogs and also contributes to Robert Weinstein's Weekly Options Newsletter. Focuses on short-to-intermediate-term trading opportunities that can be exposed via options. He prefers to use debit trades on momentum setups and credit trades on support/resistance setups. He also focuses on building long-term wealth by searching for consistent, quality dividend paying companies and long-term growth companies. He considers himself the surfer, not the wave, in relation to the market and himself. He has no allegiance to either the bull side or the bear side.