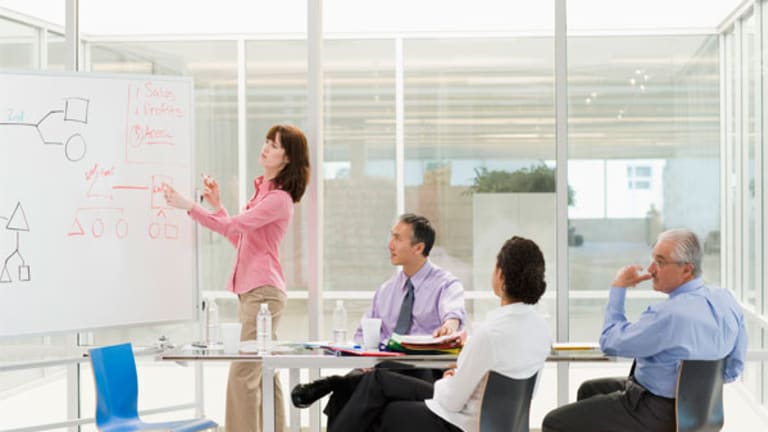 Bank of America Hires Buffett as Celebrity Spokesman - Today's Outrage
Everyone has the deal backwards --Buffett isn't investing in Bank of America, he's been hired as bank booster for $300 million a year!
NEW YORK (
) -- Everyone has this
Warren Buffett-Bank of America
deal backwards.
Buffett isn't investing $5 billion in
Bank of America
(BAC) - Get Free Report
. What's really happening is that Bank of America will pay Buffett $300 million per year to serve as a celebrity spokesman for the stock. And that's just the 6% annual dividend on the preferred shares he bought. He'll get even more when he exercises the stock warrants that go with the deal.
Having sold a previous 5 million share investment in Bank of America back in the fourth quarter of 2010, when the shares traded in the $13 range, Buffett is now stepping back in at the equivalent of a half-price sale with a preferred share deal with warrants that lets
Berkshire Hathaway
(BRK.B) - Get Free Report
lock in 700 million shares at $7.14.
This is brilliant. Buffett's move will be seen as the ultimate show of confidence by the king of value investing and will certainly push up the Bank of America share price and ensure he makes a tidy profit. Nothing wrong with that, although it's something that only Buffett could pull off.
These opportunistic profit grabs are something of a specialty for Buffett, who earned about $15 every second during the time he stepped into
Goldman Sachs
(GS) - Get Free Report
with a similar arrangement back in 2008, according to calculations by the
, which estimated that Buffett took home a gross windfall of $8.7 billion after giving Goldman Sachs $5 billion to play with for about 2 ½ years.
Bank of America also will pay handsomely for Buffett's seal of approval, giving up the 6% dividend on the initial 50,000 preferred shares and guaranteeing Buffett a 5% premium should the bank want to buy back the preferred shares.
For Bank of America CEO Brian Moynihan, it may seem like a small price to save some face since he gets new capital without having to admit to the world that he needs new capital. Moynihan says as much in the short, but enthusiastic, press release announcing that Buffett is back in the Bank of America fold:
"I remain confident that we have the capital and liquidity we need to run our business," Moynihan said in the statement, quickly adding that he also recognizes "a large investment by Warren Buffett is a strong endorsement."
Such confidence is somewhat undermined by the very generous terms of the deal.
Buffett is getting Bank of America on the cheap, so the risk is more than offset by the potential reward. In fact, I don't think Buffett is taking on much risk at all since there are no restrictions on his ability to exercise the warrants. He can convert and sell at any time.
Only Buffett could get a deal on such sweet terms.
While a slight to other shareholders who've suffered with Bank of America's recent share rout, they will all benefit from the upswing that Buffett will bring - just not as much as the Oracle of Omaha.
But hey, when you're the guy with the billions and the reputation, you get to call the shots.
I just wonder if Buffett will pay any taxes on the deal?
--Written by
in New York. Follow me on Twitter
Disclosure: TheStreet's editorial policy prohibits staff editors and reporters from holding positions in any individual stocks.