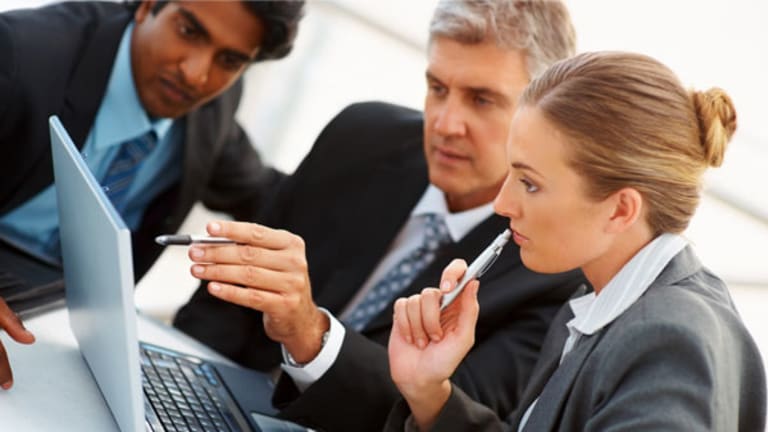 Publish date:
Buffett's Legacy Shows Values Matter
Warren Buffett's mystical hold on public admiration reflects core values that define great leaders.
Warren Buffett's mystical hold on public admiration reflects core values that define great leaders.
It's been over a year since the financial market crashed and, with it, the reputations of arguably every significant Wall Street business leader. Against the prior backdrop of Enron, WorldCom, et al., the malaise extends beyond the financial services as well, tainting C-suites across multiple industries.
Given the enormity of the crisis and the perceived breach of public trust, the pandemic negativism should not be all that surprising. Much more surprising is that certain reputations have remained uninfected, as if there were something in the DNA of these leaders that inoculates them against blame and allows an indissoluble bond with the mass public.
The name of Warren Buffett ranks highest on this enviable list. It can be argued that Buffett's rather mystical hold on public admiration is belied to some extent by his actions during the crisis. In her updated biography,
The Snowball: Warren Buffett and the Business of Life
, Alice Schroeder points out that, while Buffett acted as "the economy's greatest cheerleader," he was lending at rates that bordered on "usurious." Meanwhile, because of
Berkshire Hathaway's
(BRK.A) - Get Report
concentration in financial stocks, book value dropped by almost 10%, the largest decrease in its history.
>>Related Commentary: A Buffett ETF Play for 2010
Our concern is not to thrash out such arguments one way or another. If anything, sophisticated criticism of Buffett's business decisions only underscores the personal imponderables that have enabled him to play father figure during the global ordeal. It's likewise significant that those traits are by no means unique to Buffett. The personal styles of business legends like Sam Walton, who founded
Wal-Mart
(WMT) - Get Report
and Bill Gates, with
Microsoft
(MSFT) - Get Report
are extremely different from Buffett's, yet there's enough in common to suggest powerful lessons in leadership itself.
The knee-jerk explanation -- that businessmen like Buffett and Walton and Gates maintain public trust because they actually create jobs -- is only superficially valid. There will always be people who cannot understand how and why
Goldman Sachs
(GS) - Get Report
likewise creates jobs. Yet ask some of those same people what Berkshire actually does and they may not know that either. The link between Buffett and job-creation is no more discernible to the untutored eye than for Lloyd Blankfein or, certainly, the CEOs of consumer banks.
No, the Teflon is more deeply layered than that. Consider:
Spirit of Place.
Buffett is Nebraska; Walton, Arkansas; and Gates, West Coast. In other words, not New York! It may be altogether specious to oppose Wall Street to Main Street, especially for a financial markets power broker like Buffett. But none of these men are ever thought of as part of a Wall Street inner circle and, at least these days, that's a helpful starting point to maintain public trust.
The clear lesson for those who do work in the canyons of Lower Manhattan is to also be visibly involved in communities beyond New York.
Lifestyle.
Buffett's well-crafted personal mythology emphasizes disdain for the material trappings of success, as did Walton's. Buffett drives a 1990s American car and still lives in the home he purchased for a pittance decades ago. He apologizes for his private plane. Walton drove a red pick-up truck at the height of his success, which
Home Depot
(HD) - Get Report
co-founder Bernard Marcus recalls had no air conditioning but plenty of coffee stains. Walton's Bentonville office was small and unadorned.
Consciously or not, both men understood the leadership impact of such Spartan accoutrements. The American people (like any people) may dream of opulence, but they also distrust it and those who revel in it. If nothing else, the lifestyles of Buffett and Walton differentiate them from all the successful people whom the public envies. Take away public envy and all that's left is public admiration.
But their austerity bespeaks durable leadership at two deeper levels as well. First, the Protestant ethic views work as intrinsically valuable. Buffett and Walton personify that ethic because they eschew the trappings of success in favor of what's really important to them -- the work itself. The purpose of business is not to decorate the mansions of business owners, but to create something that will have permanent and collective impact. In this respect, Gates, while not known for a modest lifestyle, is relevant. When he was selected as the world's most admired business leader in a 2005 poll, over half the names mentioned were company founders. Building something mattered.
Second, austerity inspires confidence, and not just because it shows these are serious men who won't be distracted by frivolousness. Their austerity also shows
that success has not changed them
; that they have the same values with which they started out, and are no less trustworthy than when they opened their first five-and-dime. At a time of crisis, to whom should we turn if not such embodiments of uncompromised personal stability?
When executives stay away from those private elevators, they make wise peacetime investments, building personal brands that help preserve public loyalty when the battles begin.
Philanthropy.
Charity does not guarantee permanent public approbation but it's difficult to achieve it absent ongoing reminders of the leader's resolve to give back as much as possible. In 2005,
Time
did not honor Gates as Man of the Year because of the latest Windows incarnation; the Persons of the Year went instead to Bill and Melinda Gates (along with Bono) for their charitable work. Buffett's contribution of 10 million Berkshire shares the very next year was unmitigated synergism, thunderously underscoring both men's leadership by coupling them in the same conspicuous public context.
Philanthropy also reinforces the "lifestyle" leadership component. After all, leaders who don't care about buying the Hope Diamond further demonstrate their commendable indifference by using the money to support worthy causes.
Uncommon Common Wisdom.
The public will always admire those from whom it can learn. Wall Street kingpins are perceived as trafficking in esoterica; they've figured out brilliant financial stratagems, which explain their success. Most people do not hope to learn from them because most people do not understand those stratagems.
But Buffett and Walton inspire because they sincerely explain their incalculable success with homey concepts that anyone can understand. Consider a few postings from the blog, youngentrpreneur.com:
"Buffet is such an inspiration to young serial entrepreneurs like myself. I especially liked "hang out with people better than you." It's so true. You always gravitate to, and become more like, those you are around."
"I love Warren Buffet! Not because he's extremely wealthy but he creates his choice of words in a simple fashion."
"
His line 'Focus on your customers and lead your people as though their lives depended on your success" is such a strong driving force to succeed in business."
If you understand his simple wisdom, you can succeed, too. Your hope is so strong; it inspires a loyalty to your mentor that transcends crises and failures.
At the organizational level, highly complex business realties can and should be similarly recast in fundamental human terms; that is certainly the lesson we learn from
Nuts!
, the book about
Southwest Airlines
(LUV) - Get Report
by Kevin and Jackie Freiberg.
Prophetic Power.
Buffett's friend Bill Gates does not, to be sure, fit the mold exactly. He lives lavishly and does not inspire with simple practicable wisdom. Unlike Buffett, he is loathed in some quarters for his ruthlessness. Unlike Sam Walton -- who continues to be personally admired despite the business controversies his company has undergone since his death -- Gates' reputation is often inseparable from Microsoft's.
But Gates shares one quality, especially with Buffett, that provides him with a very special and admired niche in the hierarchy of public esteem. It is the apparent ability to know what's coming next before anyone else does. In fact, the word "visionary" is often used to describe Gates' eye for the technology that will dominate the future as well as its effect on that future. It's a mystique Gates consciously reinforces (including a 1996 best-seller called
The Road Ahead
).
At times of crises such unique prescience is always at a premium, since crises by their very nature raise fretful question marks about the future. If he lacks Buffett's comforting paternal aura, Gates is at least the man to see when survival itself demands knowing what lies ahead.
Gates made his bones as a prophet by spearheading the renewal of American technology at a time when it seemed the Japanese owned all the keys to the future. For those who lived through it, such leadership is remembered, and it covers a multitude of purported sins.
Anxiety about the future drives stockholders and taxpayers no less than CEOs. They can take just about anything except uncertainty. In a past column, we discussed the leadership of Sully Sullenberger, the
US Airways
(LCC)
Hudson River crash hero; his leadership was in simply alleviating unbearable anxiety. Gates' was ultimately no different.
Fighting Spirit.
Given any degree of sympathy for your cause, the public will be loyal to fighting spirits, especially in underdog roles. While Buffett's and Walton's relatively humble beginnings imply such courage, for Gates it's an overt leadership definer. To some extent, the Microsoft antitrust case actually consolidated Gates' place in the pantheon. If he began his ascent to power by taking on IBM, now he was going toe to toe with the U.S. government. People who had scant idea what the case was about were instinctively supportive.
No one ingredient can, of course, define a whole DNA. Yet imagine these molecules in combination: A munificent heartland business leader who still lives as he lived a billion dollars ago; who knows how to speak simple wisdom to a cross-section of people; who can foresee tomorrow's problems with the assuring strength of a sympathetic father; and who can fight for what he believes in against superior odds.
The reputation of such a leader won't be vitiated by something as insignificant as a global financial collapse.
Richard S. Levick, Esq., is the president and chief executive officer of Levick Strategic Communications, a crisis communications firm. He is the co-author of
Stop the Presses: The Crisis & Litigation PR Desk Reference
and writes for Bulletproofblog.com. He was named to the 2009 NACD/Directorship list of "The Most Influential People in the Boardroom." Reach him at rlevick@levick.com.