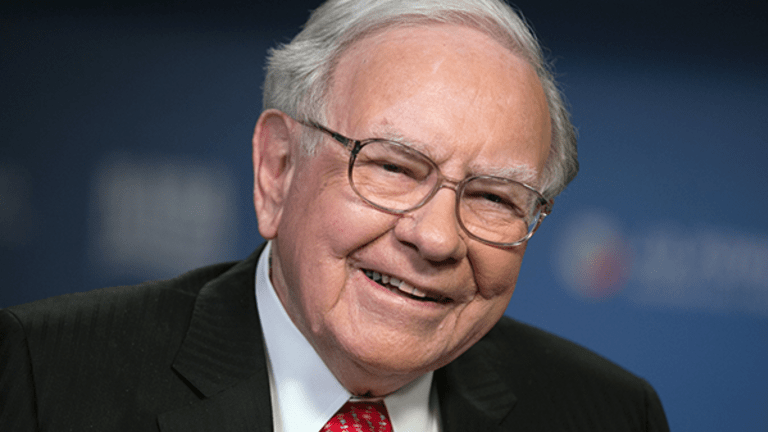 Publish date:
Warren Buffett Issues Dire Prediction for Newspapers
The famed value investor offers an ominous forecast for U.S. newspapers, predicting that only The New York Times and The Wall Street Journal are likely to survive the digital revolution.
The famed value investor offers an ominous forecast for U.S. newspapers, predicting that only The New York Times and The Wall Street Journal are likely to survive the digital revolution.
Warren Buffett, the billionaire investor who once held a large stake in Washington Post Co., offered a chilly prognosis for legacy print newspapers on Monday in an interview with CNBC.
While a few newspapers are having some success increasing revenue from digital operations, the controlling shareholder of Berkshire Hathaway (BRK.A) - Get Report said the great majority of daily publishers risk going out of business as they continue to struggle to replace steady declines in subscriptions and advertising at their core print products. 
"There are only two papers in the United States that I think have an assured future because they have a successful internet model to go with their print model, and that's the Journal and The New York Times," said Buffett, whose current holdings include 31 U.S. newspapers. "And I'm not saying it'll even be easy for them."
Indeed, both News Corp. (NWSA) - Get Report , owner of The Wall Street Journal, and New York Times Co. (NYT) - Get Report have showed some heartening signs in recent quarters.
Rupert Murdoch's News Corp. earlier this month reported that digital sales of subscriptions and advertising now account for 27% of revenue at its largest unit, which includes the Journal and other print publications in Australia and the U.K. Digital subscribers to the Journal totaled 1.1 million at the end of 2016, compared with 828,000 a year earlier.
New York Times Co. also reported similarly promising numbers in its fourth-quarter financial results. The publisher said it added 276,000 new digital news subscribers in the quarter, its largest quarterly increase since 2011, when it began offering a digital-only subscription.
And as Buffett was quick to mention, The Washington Post, where he once was the largest outside investor, has made impressive gains since being taken private in October 2013 by Amazon (AMZN) - Get Report founder Jeff Bezos. At the end of December, Post Publisher Fred Ryan said the newspaper had become profitable and that over the presidential campaign of 2016 digital subscription revenue had doubled.
The big difference between the Times, the Journal and the Post is that all three are able to charge a monthly subscription to their digital newspaper. All three offer unique, high-quality content and, most important, have attracted a readership willing to pay it.
Unfortunately, most newspapers haven't figured out how to create a paywall without jeopardizing readership. The result, as Buffett said, is that the situation for the rest of the U.S. newspaper industry is troubling if not downright dire.
In its annual report on the newspaper industry published in June, the Pew Research Center reported that for 2015, newspapers' weekday circulation fell 7% while Sunday circulation dropped 4%, the largest declines for both metrics since 2010. Meanwhile, the number of journalists nationwide has dropped by 50% since reaching a peak sometime around 2000.
Ten years ago, the Newspaper Association of America held its annual midyear review featuring the country's largest daily news publishers. The gathering was well-attended, featuring media analysts from all the major investment banks as well as private investors who coveted businesses with steady revenue, that is, classifieds and local advertising.
The list of attendees to the 2006 event was a who's who of the newspaper industry. Executives from Tribune Co., Gannett (GCI) - Get Report , Knight Ridder, McClatchy (MNI) - Get Report and Dow Jones spoke for roughly an hour each. Talk was generally upbeat, save for the occasional mention of "headwinds."
My, have times changed.
Knight Ridder in June 2006 was acquired by McClatchy, whose stock has fallen 97% over the past 10 years. Dow Jones was acquired by News Corp. in December 2007, and Tribune split into two, with its newspaper properties now operating as Tronc (TRNC) . And the Newspaper Association of America changed its name to the News Media Alliance to accentuate the digital side of legacy print publications.
Fourth-quarter revenue at Tronc, which owns the Los Angeles Times, the Chicago Tribune and other major dailies, dropped 6.9% as advertising sales slumped 13.7%.
To be sure, Tronc's management is trying all it can, cutting costs and investing in its digital operations in hopes of offsetting its print declines. But the future is anything but assured. 
Most U.S. newspapers, Buffett told CNBC, haven't been able to build a digital business to offset or even complement their print products where advertising rates remain much higher than what they're able to charge online.
"So circulation is going down significantly, advertising," he said. "I mean, it used to be dozens and dozens of pages of help wanted ads. It's basically disappeared. And no one has found the answer to that yet."