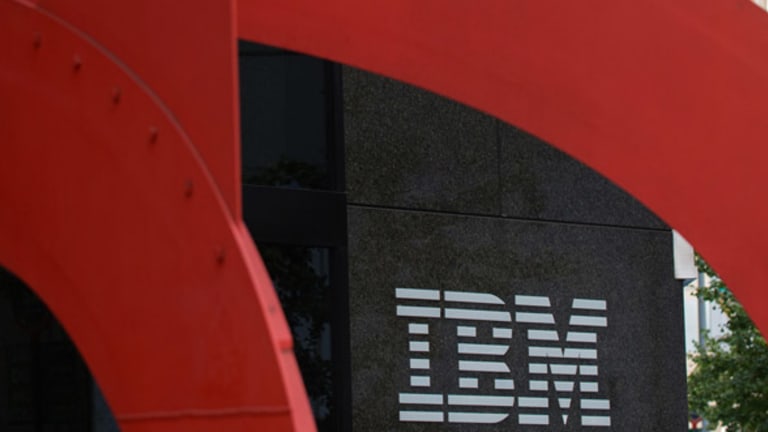 Buffett Bought More IBM Stock in the Third Quarter
Warren Buffett told CNBC that Berkshire Hathaway increased its IBM position in the third quarter.
NEW YORK (TheStreet) -- Warren Buffett loves Watson -- but he doesn't need its artificial intelligence to tell him IBM (IBM) - Get International Business Machines (IBM) Report is a good buy.
Buffett told CNBC on Tuesday that he bought more shares of the tech company in this year's third quarter. He corrected comments he made in an early August interview with the cable TV channel, when he seemed to indicate his Berkshire Hathaway (BRK.A) - Get BRK.A Report (BRK.B) - Get Berkshire Hathaway Inc. Class B (BARK.B) Report had increased its IBM stake in the second quarter -- just a few days later, Berkshire's 13F filing revealed it hadn't.
"Well I owe you on that, because I thought I was buying it in that quarter, we bought it in the first quarter," he told CNBC's Becky Quick on Squawk Alley."And normally I wouldn't tell you this, but we bought some in the third quarter." 
He declined to say exactly when he had purchased the new shares and did not indicate how much he had added to the stake or at what price. Berkshire Hathaway representatives did not return a request for comment. According to Buffett's latest 13F filing, Berkshire owns 79.6 million IBM shares valued at $12.9 billion as of June 30. Berkshire is IBM's largest shareholder, with an 8.12% stake, according to data compiled by Bloomberg.
"IBM invests heavily in innovation to drive value for our clients and our shareholders," said IBM spokesperson Ian Colley in a statement sent via email to TheStreet. IBM does not comment on specific investors.
Buffett has become one of IBM's biggest proponents since first buying shares in 2011, when he revealed a nearly $11 billion stake in the company. He addressed the investment in that year's letter to shareholders and made declarations that took many by surprise.
"We should wish for IBM's stock price to languish throughout five years," he wrote.
His logic: a lower stock price allows IBM to purchase more shares through its multi-year buyback program, thus increasing existing shareholders' stakes.
"If you are going to be a net buyer of stocks in the future, either directly with your own money or indirectly (through your ownership of a company that is repurchasing shares), you are hurt when stocks rise. You benefit when stocks swoon," he wrote.
On that front, Buffett has largely gotten what he's wished for on his IBM investment.
The company's share price has fallen more than 20% since he first publicly announced his stake in it nearly four years ago. From 2011 through 2014, IBM spent $54.6 billion repurchasing its shares.
The tech company bought back an additional $2.3 billion of stock in 2015, and its stock price has declined 8.23% year-to-date through market close Tuesday.
"People assume when we buy some stock we want it to go up," Buffett told CNBC in August. "We don't want it to go up, maybe obviously eventually, maybe five or 10 years form now, but we love the idea of a company buying its stock cheaper."
IBM is one of Buffett's "big four" investments along with American Express (AXP) - Get American Express Company Report , Coca-Cola (KO) - Get Coca-Cola Company Report and Wells Fargo (WFC) - Get Wells Fargo & Company Report . In his 2014 letter to investors, he said Berkshire had increased its ownership to 7.8% at the end of the year, compared to 6.3% at the end of 2013. And given that Berkshire has purchased more IBM shares in at least two quarters this year, its stake will likely be even higher at the end of 2015.
At this year's Berkshire Hathaway shareholders meeting in Omaha, Buffett said in an interview with TheStreet that he has no regrets holding IBM over another popular technology stock, Apple (AAPL) - Get Apple Inc. (AAPL) Report . "Obviously you can look back and say any stock that went up a lot, you can say you wish you bought," he said. "But we don't think that way. We buy businesses we think we understand at prices that we like, and then we hold them for a long time. And we usually make money, but not always."
Buffett discussed his next moves beyond IBM in an interview Tuesday with TheStreet in the wake of Berkshire's $37.2 billion acquisition of aerospace equipment producer Precision Castparts (PCP) .
"I have to refill the kitty a little bit, but I will be looking every day, I promise you that," he said. "And if I find something that makes sense, I will move."
This article is commentary by an independent contributor. At the time of publication, the author held no positions in the stocks mentioned.