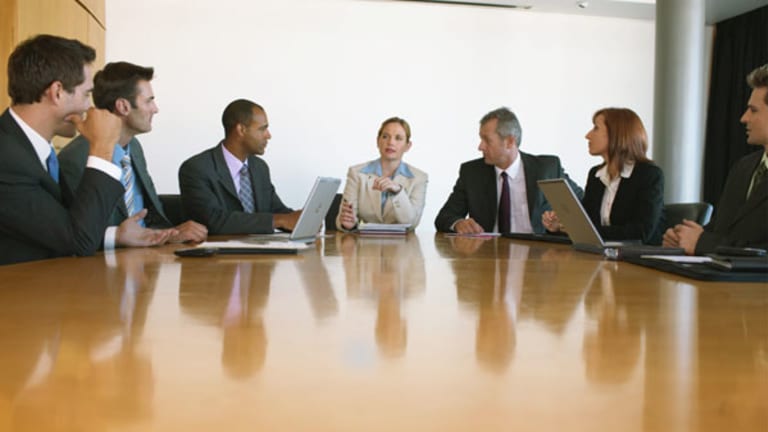 Buffett and Schwab in Obama Tax Smackdown
Kravis and Schwab want the rest of us to eat cake.
NEW YORK (
) --
Berkshire Hathaway
(BRK.B) - Get Free Report
Warren Buffett may want to tax the rich, but Henry Kravis and Charles Schwab? Not so much.
Kravis, head of private equity giant
KKR
(KKR) - Get Free Report
and Schwab, founder and Chairman of
Charles Schwab
(SCHW) - Get Free Report
have come out this week against President Obama's plans to instate a minimum tax rate for individuals who earn more than $1 million per year. Obama has called his plan "the Buffett rule," a reference to an
in
The New York Times
last month in which Buffett urged Congress to "Stop Coddling the Super Rich."
On Tuesday at the Bloomberg Dealmakers Summit, however, Kravis
about what he considers excessive regulation of business.
"I don't see what the incentive is in raising taxes," he said, adding, "we have a spending problem in America. We don't have a revenue problem."
Schwab chimed in Wednesday in an editorial in
The Wall Street Journal
, decrying what he called a "barrage of new complex regulations and legislation.
"We cannot fund our government coffers by following the "Buffett Rule," Schwab wrote.
Schwab also waxed nostalgic about 1974, the year he started his business. The country was undergoing a similar crisis of confidence, he argued, but private enterprise such as his pulled us out of it. At that time, however, individuals earning $100,000 or more were taxed at a rate of 70%.
Today, top earners are taxed at exactly half that rate, unless, like Kravis or Buffett, they make most of their money through investing. In that case, they pay a far lower rate. Buffett, according to his editorial, paid just 17.4% of his income in taxes last year.
"I have worked with investors for 60 years and I have yet to see anyone -- not even when capital gains rates were 39.9 percent in 1976-77 -- shy away from a sensible investment because of the tax rate on the potential gain," Buffett wrote, adding that "people invest to make money, and potential taxes have never scared them off. And to those who argue that higher rates hurt job creation, I would note that a net of nearly 40 million jobs were added between 1980 and 2000. You know what's happened since then: lower tax rates and far lower job creation."
While I like to think I am open to having my mind changed, a couple of rich guys saying higher taxes are going to kill the economy--and without citing any evidence of this at all--won't quite cut it.
--
Written by Dan Freed in New York
.
Disclosure: TheStreet's editorial policy prohibits staff editors, reporters and analysts from holding positions in any individual stocks.