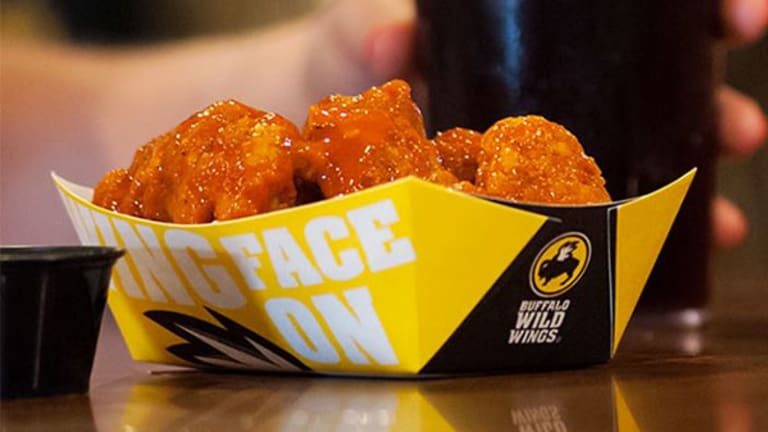 Buffalo Wild Wings' CEO Signals New Activist Investor Could Trigger Big Changes
Buffalo Wild Wings reports better-than-expected second-quarter earnings, but sales were soft. A new activist investor and the CEO comment.
Updated from 8:33 a.m. to include comments from CEO interview, analyst note and Jim Cramer.

Score one for Buffalo Wild Wings' (BWLD) newest activist investor? Perhaps. 
The wing and beer restaurant chain reported Tuesday that earnings rose 13.1% from the prior year to $1.27 a share, beating Wall Street forecasts for $1.25 a share. B-Dubs -- as it's affectionately known by customers -- saw its bottom line boosted by a focus on controlling costs such as labor and incentive compensation, as well as a good number of share repurchases.
But for the second straight quarter, same-store sales declined as the chain struggled against a sluggish consumer spending backdrop and a perception among some consumers that its wings are too pricey.
"Buffalo Wild Wings has aggressively raised menu prices in recent years and may need to moderate some of this inflation," said Credit Suisse analyst Jason West in a recent note.
Same-store store sales fell 2.1% at Buffalo Wild Wings company-operated restaurants, missing analyst forecasts for a 0.5% drop. The result was worse than the 1.7% decline delivered in the first quarter. At franchise-run restaurants, same-store sales declined 2.6%, falling short of estimates for a 0.8% decline. In the first quarter, same-store sales at franchise-operated restaurants declined 2.4%.
Buffalo Wild Wings has now reported slowing sales growth at both of its store formats for five straight quarters, according to Bloomberg data.
"But [Buffalo Wild Wings] talked about some things that are going to turn things around, next thing you know Buffalo Wild Wings, short squeeze, boom, commodities," said TheStreet's founder Jim Cramer.
"I prefer to look at the companies people left for dead; you had Apple left for dead, you had Boeing left for dead, you had Panera left for dead, you had Buffalo Wild Wings left for dead, and none of them died," said Cramer, manager of the Action Alerts PLUS portfolio.
The tepid sales results, however, may have lent support to Buffalo Wild Wings' new activist investor, Marcato Capital Management.
Big changes coming to Buffalo Wild Wings?
Marcato disclosed its 5.1% stake in Buffalo Wild Wings in a filing on Monday, making it the company's fourth-largest shareholder. Marcato is run by Richard McGuire, who formerly worked with hedge fund manager Bill Ackman, another well-known activist investor. 
In the filing, Marcato said it thinks Buffalo Wild Wings' shares are undervalued, and that it plans to suggest strategic alternatives to enhance shareholder value.
Some of the preliminary ideas presented by Marcato, according to the filing, could involve changing management or altering the company's capital structure or its mix of franchised and company-owned restaurants.
Buffalo Wild Wings executives don't appear to be turning a blind eye toward Marcato.
"We do have the capacity to take on some debt," Buffalo Wild Wings President and CEO Sally Smith told TheStreet in an interview on Wednesday.
The company would first look to repurchase shares and then possibly pay a dividend, Smith said. 
The company's debt-to-equity ratio was a relatively low 15% as of the quarter ended June 26. As Smith says, the company has the capacity to take on debt.
Buffalo Wild Wings will hold an analyst day on Aug. 16 in which it intends to lay out its plans to enhance shareholder value.
Oppenheimer analyst Brian Bittner wrote in a new note Wednesday, "We continue to be attracted to the risk/reward [on Buffalo Wild Wings], particularly with its investor event coming on August 16 and optionality going forward to improve sales, earnings, valuation and capital returns to shareholders."