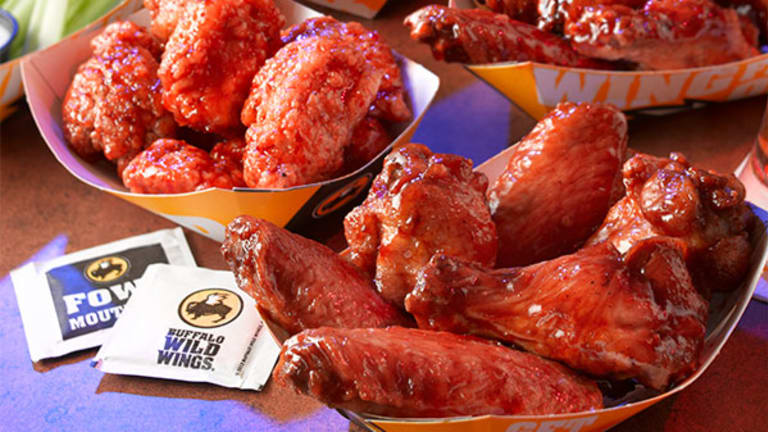 Buffalo Wild Wings CEO Tackles the Future With Innovation
Buffalo Wild Wings has an impressive financial record. President and CEO Sally J. Smith is looking to build on that with new menu innovations and restaurant concepts.
NEW YORK (TheStreet) -- Investing is a journey, not a sprint.
Buffalo Wild Wings (BWLD) long-term financials exemplify why patience in the investing process pays dividends.
Led by long-time President and CEO Sally J. Smith, Buffalo Wild Wings, the beer, wings and sports-watching outfit, has grown to more than 1,030 owned and franchised locations in the U.S., Canada and Mexico. Through new introductions to the menu such as limited-time wing sauces, and restaurant remodels that project a stadium-viewing experience, "B-Dubs" as it's affectionately referred to by regulars, has served up a sizzling financial track record.
Buffalo Wild Wings' gross profit margin has trended higher from 71.97% in fiscal 2005 to 73.54% in the current stub period. Operating profit margins during that timeframe have tacked on 279 basis points to 9.91%. Both are impressive achievements in the ultra-competitive restaurant business, and a clear sign that Buffalo Wild Wings' concept is differentiated enough, and with its loyal following can push through price increases when required (usually amid wing price inflation).
Buffalo Wild Wings' same-restaurant sales for company-owned locations have experienced an accelerated growth rate for five straight quarters, according to Bloomberg, and two consecutive quarters for franchised locations. At a 7.7% increase in the second quarter for company-owned restaurants, Buffalo Wild Wings' same-restaurant sales meaningfully outperformed McDonald's (MCD) - Get McDonald's Corporation (MCD) Report U.S. sales -- which declined 1.5% -- and Panera Bread (PNRA)  -- which posted an unchanged metric year over year.
The market didn't gobble up Buffalo Wild Wings shares following the second-quarter earnings release last month as analysts questioned the expense outlook for the remainder of 2014 and the subsequent possibility of moderating earnings growth.  
"We anticipate higher labor costs as a percentage of restaurant sales compared to the prior year and the second quarter. We are adding guest experience captains at nearly 80 additional company-owned restaurants in the third quarter, and in California and Minnesota minimum wage increases go into effect this quarter," noted head of investor relations Heather Pribyl on the company's earnings call. Pribyl added that " with these increases in hourly labor, we estimate that labor could increase 50 basis points sequentially over last quarter."
On the particular topic of guest experience captains, which hold such duties as managing audio and visual equipment and reaching out to the local community, Chief Operating Officer James Schmidt remarked on the call: "I'd say it takes us at least a few months to really get efficient with the guest experience model. So I would expect the inefficiencies to continue through the third quarter and fourth quarter."
However, what Smith has cooking up for the company's future to enhance the restaurant experience should mitigate the near-term concerns on costs and expenses.
The primary focus points: menu innovation; the introduction of technology to improve the guest experience and restaurant efficiency; and new brand incubation.
"Certainly we always want to keep innovating around what other kind of shareables we have in the restaurants," said Smith in an interview. The CEO said Buffalo Wild Wings has partnered with Johnsonville for a "Game Changer Brat" that will be introduced this fall. The "Game Changer" name taps into a successful craft beer that Buffalo Wild Wings launched in partnership with Redhook Ale Brewery.
Buffalo Wild Wings has worked to develop a brand that consumers are familiar with and that could be extended to other parts of the menu. The company also has developed new menu items that won't be found at competing dining chains.
Smith said how that brat, beer, and bowl of wings arrives to the table also is poised to evolve.
"You know, I think tablets, which will encompass ordering and payment, as well as on your mobile device, is where the restaurant industry is going as we strive partly to become more efficient," she said.
Buffalo Wild Wings will start testing tablet ordering for its core menu in the current quarter in Minneapolis, and has plans to allow its servers to use handheld devices.
Watch More: Burger King is Dismantling McDonald's: By the Numbers
The tablets also will be instrumental in feeding the excited environment that is typical at a Buffalo Wild Wings restaurant. For the company, it means sports trivia games. "Our next goal certainly is to have restaurants compete against each other using some of the gaming platforms that will be on the tablet," said Smith. Immersive digital experiences on tablet devices that create social interaction will likely keep people in the restaurant longer, boosting average guest checks and profits.
Even as it invests in its own brand, Buffalo Wild Wings has realized that the ever-changing tastes of consumers require it to be on the watch for other innovative restaurant concepts.
"We have an emerging brands strategy, where we are going to take, make investments in small emerging brands, maybe from three to 10 units, maybe a little bit more, that we believe have the opportunity to grow and become a national chain," Smith said.
Buffalo Wild Wings has made an investment in PizzaRev, which those in the industry have called the "Chipotle of Pizza." The craft-your-own pizza concept has 12 restaurants in operation in California, Minnesota, and Utah. The second PizzaRev in Edina, Minn., will open shortly.
Watch More: Norwegian Cruise Line CEO Outlines Earnings Beat Strategy
-- By Brian Sozzi CEO of Belus Capital Advisors, analyst to TheStreet. This article represents the opinion of a contributor and not necessarily that of TheStreet or its editorial staff.