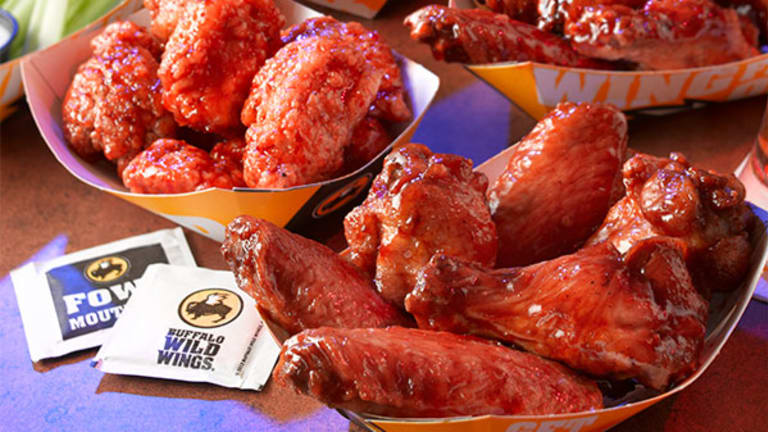 Buffalo Wild Wings CEO Sally Smith Spills the Company's Secret Sauce
Buffalo Wild Wings has set the stage for an interesting 2015, with a menu price increase and new technologies. Brian Sozzi talks with Buffalo Wild Wings CEO Sally J. Smith.
NEW YORK (TheStreet) -- Not every fast food chain could successfully sell the simple chicken wing, let alone at full price in an industry notorious for discounting and various promotions. The mission to sell one area of a bird's body is made even tougher in a nation obsessed with the perceived health benefits of eating Chipotle (CMG) - Get Chipotle Mexican Grill, Inc. Report burritos and salad bowls.
Buffalo Wild Wings continues to be an exception to the conventional wisdom.  The company's same-store sales at owned and franchised restaurants rose by 6% and 5.7%, respectively, in the third quarter. By comparison, McDonald's (MCD) - Get McDonald's Corporation Report  U.S. same-store sales fell 3.3% in the quarter, while Buffalo Wild Wings casual dining competitor Applebee's (owned by DineEquity (DIN) - Get Dine Brands Global, Inc. Report ) saw a 1.7% same-store sales gain. 
Earnings per share for the third quarter came in at $1.14 for Buffalo Wild Wings, 7 cents higher than the Bloomberg consensus estimate.
The secret sauce to the company's sales and earnings consistency is equal parts chicken-wing innovation and the theater found inside the restaurant.
"We offer wings, but also the flavor profile that -- we have fanatics about certain sauces," said Buffalo Wild Wings CEO Sally J. Smith in an interview with TheStreet. Smith added, "This year we introduced our Sauce Lab, introducing new sauces every 8-10 weeks for a limited time. That is something we will continue into 2015."
Buffalo Wild Wings offers 16 different wing sauces and five varieties of seasoning.
McDonald's learned a painful lesson earlier this year: there is more to selling a chicken wing than a cut-rate price and an easy-to-carry box. Lackluster sales of Mighty Wings, which were brought to market in September 2013, left the burger-seller with millions of pounds of excess inventory that had to be discounted. Consumers complained the wings were too spicy.
McDonald's currently offers no chicken wings for sale on its website, and has not outlined plans to re-enter the category. Yum Brands (YUM) - Get Yum! Brands, Inc. Report -owned KFC has a single chicken-wing option on its menu, traditional "hot wings."
The theater aspect to Buffalo Wild Wings now extends beyond big-screen TVs showing sports games from around the world. It also includes trivia games on tablet devices that foster social interaction within the restaurant, and interestingly, outside the four walls.
Smith told TheStreet that at "four high schools, we are working EA Sports (a division of Electronic Arts (EA) - Get Electronic Arts Inc. Report ), they have the Madden NFL game, and through a partnership we have rival high schools competing with each other online at their local Buffalo Wild Wings restaurants."
In 2015, the company plans to fully implement tablet ordering, and is "in discussions with multiple partners regarding payment methods, including mobile pay," said the company on its third-quarter earnings call. Buffalo Wild Wings will begin testing "several options" of mobile payment in the first half of 2015.
The biggest risk to Buffalo Wild Wings revolves around inflation for its bread-and-butter product, chicken wings.  Buffalo Wild Wings was forced to announce an average 3% menu price increase that goes in effect in November to offset costs, which may lead to weakening traffic to its restaurants and trading down to cheaper items just as costs are elevated.
Traditional chicken wings were 21% of the company's sales in the third quarter compared to 20% a year earlier. Buffalo Wild Wings' cost of chicken wings for the first two months of the fourth quarter is expected to average about $1.88 per pound, up from $1.64 a year ago.
Said Smith on the topic of wing inflation, "we typically see a rise in prices in the fall, and it then continues into the first quarter. We think it's going to be a little bit more sustained this year."
Smith went onto explain that breeders "don't grow chicken for the wings, they grow it for the breast product, and as the producers have produced larger birds, getting more breast meat, they will only get a couple of wings." Buffalo Wild Wings believes wing prices will "stay high" in the first half of 2015, and then should "moderate" in the second half.