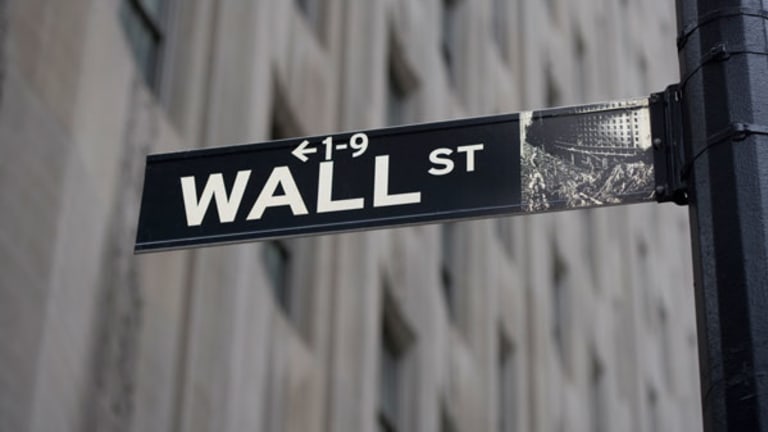 Bubble, Bubble, Are We in Trouble?
Bad news is good news, and the Federal Reserve presidents are of at least two minds.
NEW YORK (TheStreet) --Major U.S. stock indexes continue climbing further into bubble territory as investors ignore weak economic news and count on the Federal Reserve to keep the money spigots open.
All major indexes remain overbought and in record territory, according to several technical indicators.
Courtesy of StockCharts.com
In the chart of the
, we can see how the index has returned to overbought territory, with RSI above 70 and the index now far above its 50- and 200-day moving averages.
This major index is now more than 12% above its 200-day moving average, an extreme not seen since March 2000, just before the onset of the dot-com crash. Margin interest is near record highs and earnings have been mediocre, at best, while in recent days various Fed officials have been sending mixed messages about the future of quantitative easing.
All of this adds up to a continued high-risk environment for the stock market in an overbought, bubbly environment.
>>Also see: Saks Spikes on Report Goldman Sachs Hired for Buyout >>
Macroeconomic news remains weak, with recession deepening in Europe as the Continent's GDP has been in negative territory for six consecutive quarters. Even Europe's powerhouse, Germany, barely escaped recessionary territory, with a GDP growth rate of only 0.1%, missing expectations for the fourth quarter.
U.S. macroeconomic news remains weak, as well. Last week's worse-than-expected drop in April industrial production posted a back-to-back monthly decline, the first time that manufacturing output had fallen for two consecutive months since 2009.
The New York Federal Reserve's Empire State Index was forecast to increase to 3.75 in May from 3.05 in April, but instead fell more than four points to negative 1.4, further adding to the seeming divergence between bad news and stock-market euphoria.
But in today's upside-down world, bad news is good and good news is great and it's all about the Fed, which seems rather confused, itself, as seen in recent statements by Fed presidents.
Philadelphia Fed President Charles Plosser has already made it clear that he will advocate a plan to scale back the quantitative easing program at the next FOMC meeting on June 18.
Kansas City Federal Reserve President Esther George has been the only current FOMC member to vote against ongoing bond-buying at the committee's meetings.
On May 9, Dallas Fed President Richard Fisher insisted that the lack of job creation is a result of poor fiscal policy rather than monetary policy. Fisher contended that monetary policy had accomplished all it could in stimulating the economy and that the Fed's continuing bond buying amounts to overkill.Today New York Fed President William Dudley said he didn't know which way the next move would be due to ongoing market uncertainty.
Also today, St. Louis Federal Reserve President James Bullard said that quantitative easing should continue because it's working.
So what will it be? More quantitative easing or will the Fed start sliding its punchbowl off the table?
>>Also see: 5 Must-Have Disaster Apps >>
Investors will be watching for clues in this week's FOMC meeting minutes and Chairman Ben Bernanke's testimony on Capitol Hill. An even more significant event will be when the FOMC meets in June.
Overall, global stock markets appear to be in denial as the disconnect between stock prices and macro economics continues to grow. Like an addict in search of his next fix, global stock markets won't let themselves believe that the punchbowl of easy money might be taken away after all these years. Although the Fed knows it can't go cold turkey, even the hint of reduction could lead to serious withdrawal symptoms. It's never different this time and all bubbles end in tears. Wall Street Sector Selector remains in
, expecting a high-risk environment ahead.
Follow @WSSectorSelect
This article was written by an independent contributor, separate from TheStreet's regular news coverage.
John Nyaradi is Publisher of
, a financial media site focused on news, analysis, and information about Exchange Traded Funds (ETFs) and global financial and economic developments. John's investment articles have appeared in many online publications and he is a frequent guest on numerous financial media outlets. His book,
Super Sectors
, is published by John Wiley and Sons and included among the "Year's Top Investment Books" in the
2011 Stock Trader's Almanac
.