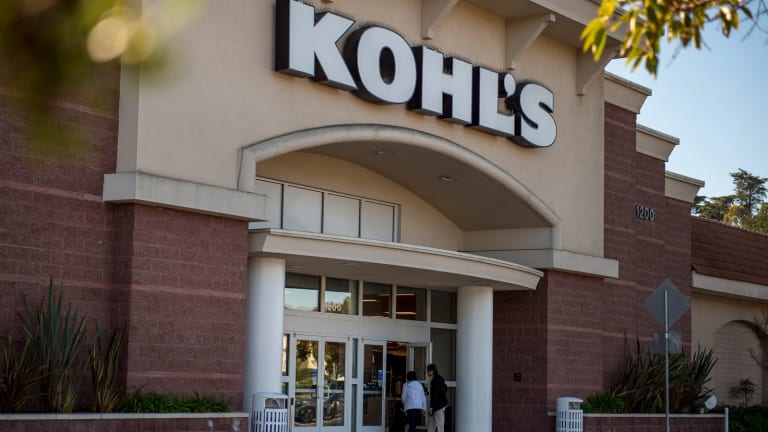 Nordstrom, Macy's Give Investors Little Hope for a Retail Bounceback
Kohl's, Macy's, Nordstrom and Sears had horrid starts to the year, suggesting the department store model is officially dying.
Updated from May 13 to include Sears earnings.
Rough starts to the year for Kohl's (KSS) - Get Kohl's Corporation (KSS) Report , Macy's (M) - Get Macy's Inc Report , Sears Holding Corp. (SHLD) and Nordstrom (JWN) - Get Nordstrom, Inc. (JWN) Report do nothing to engender confidence in the long-term outlook for U.S. department stores that are engaged in a battle with online shopping.
Kohl's reported that first-quarter earnings fell a disturbing 50% year over year to 31 cents a share, badly missing forecasts for 37 cents. Total revenue dropped 3.7% from the prior year to $3.97 billion compared to Wall Street estimates for $4.13 billion. Kohl's same-store sales, or sales from stores open longer than a year, nosedived 3.9%. Store traffic declined 4.8%. 
Shares of Kohl's are down a startling 22% over the past month.
"There wasn't a lot to get excited about in our quarter," conceded Kevin Mansell, Kohl's Chairman and CEO in a May 12 call with analysts. Despite rising employment levels and wages in the U.S., which traditionally have been good news for retailers, Kohl's is the latest department store to offer up a heavy dose of doom and gloom.
High-end department store Nordstrom delivered a stunning first-quarter earnings miss and ugly guidance reduction, and has seen its stock nosedive about 30% in the last month. The company reported first-quarter earnings of 26 cents a share versus forecasts for 46 cents a share. Sales tallied $3.19 billion compared to estimates for $3.28 billion. Comparable-store sales fell 1.7%.
For the year, Nordstrom now sees earnings of $2.50 to $2.70 cents a share, down from $3.10 to $3.65 a share previously. 
Macy's first-quarter sales fell 7.4% year over year to $5.77 billion, missing forecasts for $5.94 billion. Same-store sales declined for the fifth straight quarter, falling 5.6% compared to estimates for a 3.8% decline. Store traffic fell an alarming 7%. 
But earnings, adjusted for one-time items, came in at 40 cents a share, beating forecasts for 36 cents as Macy's bottom line benefited from $130 million in share repurchases made during the quarter. Shares outstanding fell 9.5% year over year as a result of the share repurchases, which had the effect of boosting per-share earnings.
Macy's slashed its full year same-store sales guidance to a decline in a range of 3% to 4% vs. a previous estimate for a 1% drop. For the year, Macy's now sees earnings of $3.15 to $3.40 a share, down from $3.80 to $3.90 a share offered back in February. Shares of Macy's have shed about 23% in the past month. The picture was even worse at Macy's rival at the other end of the mall, Sears.
Sears first quarter sales plunged 7.1% due to declines in home appliances, apparel, consumer electronics, footwear and Sears Auto Centers -- essentially, the entire store.
The performance of their businesses in the face of a still growing U.S. economy continues to stump executives at Macy's and Kohl's. 
"We're frankly scratching our heads, we see the same economic data you all see and it would point to a customer that would be spending more," said Macy's Chief Financial Officer Karen Hoguet on a May 11 call with analysts, adding, "Some of the spending [that is happening] is in different categories such as health, restaurants, and travel -- I'm not sure, but I would say that we too are somewhat puzzled by the data that we're seeing on the consumer and the traffic we're seeing in the stores and on the website."
The tone was similar at Kohl's. "People are not buying apparel, they are spending money on restaurants. We need more excitement in apparel, and until that happens it will be a replenishment market," said Mansell.
Unlike Macy's, however, Kohl's didn't slash its sales and profit forecast as it holds out hope consumer spending on apparel and home goods bounce back. 
"We aren't updating anything -- the first quarter is a small percentage of the year," said Mansell, sounding defiant on the consumer spending environment. Kohl's guidance for the full year stands at $4.05 to $4.25 a share in earnings and same-store sales of unchanged to an increase of 1%.  
To combat sluggish store traffic, Macy's said it will be boost the number of exclusive apparel brands that can't be compared in price to other retailers, enhance its jewelry and cosmetics offerings and more quickly roll-out new clearance zones inside it stores. The company is also evaluating its store base for the potential closure of under-performing locations. Meanwhile, Kohl's plans to improve its marketing and look for areas to cut expenses.  
The continued erosion of the bricks-and-mortar department store model evidenced in the first quarter likely has one executive pretty jazzed up.
"One of the biggest opportunities in the mall business if you are an owner of the top 400 to 500 malls in the country is to recapture the department store that is not drawing in traffic and then re-purpose that space with retailers that could actually draw in traffic," said General Growth Properties CEO Sandeep Mathrani in a recent interview with TheStreet.
Mathrani pointed out that the mall operator has recently added grocery stores such as Wegmans and Costco (COST) - Get Costco Wholesale Corporation Report and entertainment venues like Dave & Buster's (PLAY) - Get Dave & Buster's Entertainment, Inc. Report to vacated department stores.