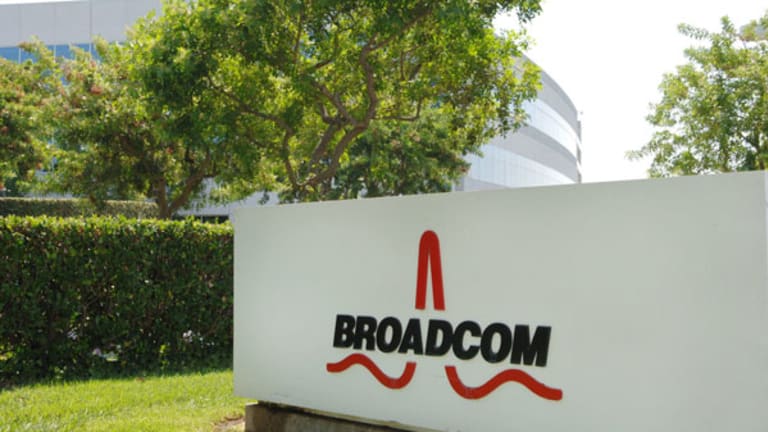 Broadcom's Earnings Report May Quell Investors' Fears
Broadcom offers compelling value and minimal downside risk at $27 per share.
NEW YORK (TheStreet) -- Semiconductor giant Broadcomundefined will report third-quarter earnings results Tuesday, affording management a chance to put some of the rising fears about the company's mobile/wireless business to rest.
In comparison to market leader
Qualcomm
(QCOM) - Get QUALCOMM Incorporated Report
, Broadcom has not had a stellar year. However, contrary to popular opinion, Broadcom's performance has been far from disastrous. The problem: given the "upper-tier level" chip position Broadcom has enjoyed when compared to, say,
Advanced Micro Devices
(AMD) - Get Advanced Micro Devices Inc. Report
, expectations for the company have been too high.
Broadcom's margins have come under pressure partially because of the steady decline of average selling prices of high-end mobile devices. However, the entire industry is dealing with the same issue.
Read: Why You Should Buy Apple Ahead of Earnings
That Broadcom's stock is down close to 30% because of this factor is a total overreaction. While Broadcom has taken the brunt of this fear, it is not alone. Qualcomm has also been impacted by mobile device saturation.
Even with the sector's prolonged weakness, which produced
from the likes of
Intel
(INTC) - Get Intel Corporation Report
, Broadcom still managed a 6% revenue growth in the July quarter, including 7% year-over-year growth in the mobile/wireless business. So, despite the recent mobile struggles, management has been making the best of a tough situation.
I do believe, however, that management needs to deliver Tuesday. Only then will the stock get going again. This means not only does Broadcom need to beat on both revenue and profits, but guidance has to suggest that investors' worst fears are over.
The Street will be looking for earnings of 48 cents per share. Seeing that profits have been unstable over the past couple of quarters, it's no surprise that this estimate is 7 cents lower than what it was three months ago. While this might suggest a lack of confidence, I take it as a positive as expectations have been too high. It seems the Street is becoming more realistic.
Revenue, meanwhile, is expected to be flat at $2.13 billion. Although flat growth would be viewed as a negative here, I don't believe it (if achieved) could tell the whole Broadcom story. Focusing solely on this metric would discount what really is a well-diversified operation.
For instance, although Broadcom's mobile/wireless business generates the lion's share of the press, some still take for granted that Broadcom has a meaningful presence in the networking realm, where one of its biggest customers includes
Cisco
(CSCO) - Get Cisco Systems Inc. Report
. Not to mention, the company also generates revenue from satellite and voice-over-IP components.
Read: Buying Homes Amid Rising Interest Rates: Understand This
What's more, if Broadcom's recent acquisition serves as any indication, under no certain terms does management plan to cede the mobile market to Qualcomm. In a deal that went relatively unnoticed last month, Broadcom acquired LTE-related assets from affiliates of Renesas Electronics Corporation for $164 million. LTE is a communication standard for mobile devices, such as those produced by
Apple
(AAPL) - Get Apple Inc. Report
and
Samsung
(SSNLF)
.
This means is Broadcom is now gaining industry-tested assets that are ready for volume production. These include dual-core LTE system-on chips, which rival Qualcomm's industry-leading Snapdragon chip.
With this recent acquisition, and along with Broadcom's existing breadth of capabilities, I have to like the company's prospects. I'm not suggesting that Broadcom will immediately overtake Qualcomm's market lead, but the company should be able to outperform not only its near-term estimates, but those that are several quarters ahead. At around $27 per share, I believe Broadcom offers compelling value and minimal downside risk.
At the time of publication, the author was long AAPL
.
Follow @saintssense
This article was written by an independent contributor, separate from TheStreet's regular news coverage.
Richard Saintvilus is a co-founder of
where he serves as CEO and editor-in-chief. After 20 years in the IT industry, including 5 years as a high school computer teacher, Saintvilus decided his second act would be as a stock analyst - bringing logic from an investor's point of view. His goal is to remove the complicated aspect of investing and present it to readers in a way that makes sense.
His background in engineering has provided him with strong analytical skills. That, along with 15 years of trading and investing, has given him the tools needed to assess equities and appraise value. Richard is a Warren Buffett disciple who bases investment decisions on the quality of a company's management, growth aspects, return on equity, and price-to-earnings ratio.
His work has been featured on CNBC, Yahoo! Finance, MSN Money, Forbes, Motley Fool and numerous other outlets.