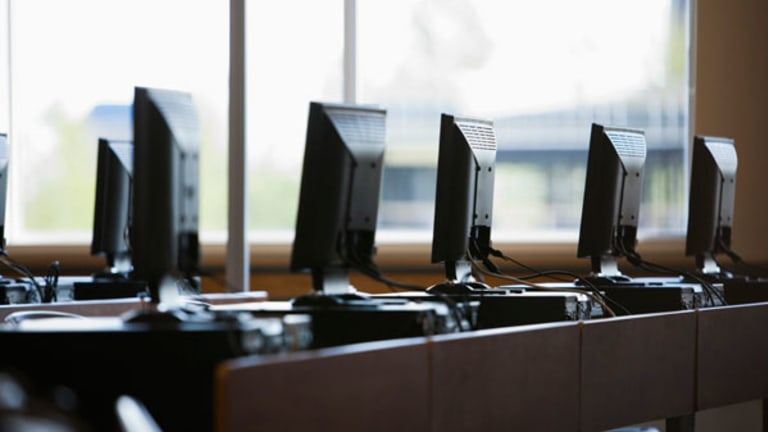 Broadcom's a Buy Now That It's Cutting Its Ties to Wireless
Broadcom's fair value should approach $40 per share by getting out of the cellular baseband/wireless business.
NEW YORK (TheStreet) -- After almost two years of underperformance, Broadcomundefined stock received a much-needed boost Monday, surging as much as 16% after management announced that it was pursuing strategic alternatives for its struggling cellular baseband/wireless business.
After just missing a new 52-week high during the session at $36.05, shares eventually settled down, closing Monday at $34.84, up 9.32%. Broadcom stock is up nearly 18% for the year to date.
Even though the term "strategic alternatives" is commonly used by management to imply intent to sell a struggling asset, the market cheered the news. For Broadcom, which was falling further behind market leaderQualcomm (QCOM) - Get QUALCOMM Incorporated Report, it was a matter of "when" not "if" it would dispose of the baseband business.
While Broadcom has always had the advantage of chip placement within devices from both Apple (AAPL) - Get Apple Inc. (AAPL) Report and Samsung (SSNLF) , the company has suffered amid high-end device saturation and low average selling prices. This has caused to meaningful drop in profits over the past three years.
Management has tried to offset the declines with some key moves, including its $164 million acquisition last year of LTE-related assets from affiliates of Renesas Electronics Corporation. Broadcom was looking to strengthen its position in the LTE (long-term evolution) standard and command better/more adoption in mobile devices. But it hasn't worked.
In the most recent quarter, Broadcom's baseband business posted a $32 million operating loss. It no longer made sense for the company to invest roughly one-fifth of its operating expenses to pursue a business segment that was not pulling its weight. Not to mention, Qualcomm's market share was widening, while smaller players like Avago Technologies (AVGO) - Get Broadcom Inc. Report are gaining steam.
All told, Broadcom has come to its senses. There are still questions, however. First and foremost, what options will be presented to management once the alternatives have been explored?There's also the question of who's going to buy the baseband business, and at what price.
Regardless of the outcome, it's clear the company no longer sees the value in the business. There is more value in closing up shop. Management says it can save as much as $700 million in annual operating expenses, or roughly 20% of total expenses. Of that total, management plans to reinvest $50 million to grow the rest of the business.
This is great news for investors. This means that $650 million will be left over to be used for things to grow shareholder value, including buybacks and dividends. Some will suggest Broadcom is effectively admitting defeat by conceding this market to Qualcomm. But there was significantly more risk in throwing good money after bad.
With the stock now trading at around $35, Broadcom's fair value should approach $40 per share on the basis of long-term earnings per share growth, which should be achieved by the $700 annual savings.
At the time of publication, the author was long AAPL.
This article represents the opinion of a contributor and not necessarily that of TheStreet or its editorial staff.
>>Read more: WWDC Sets Up Apple for Big Second Half in 2014