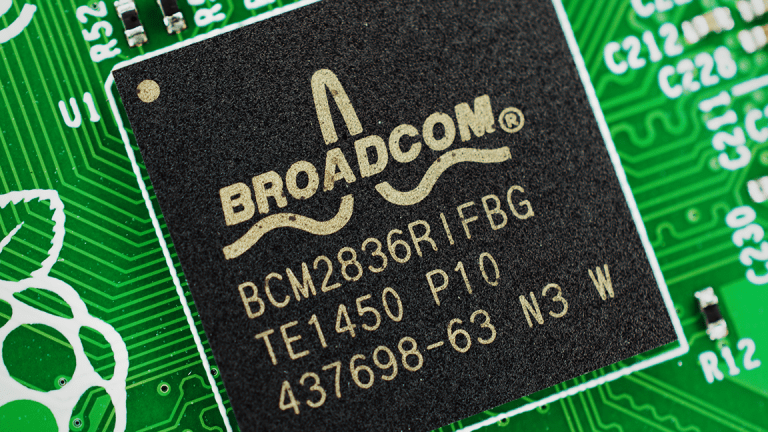 Broadcom's $18.9 Billion CA Technologies Deal Does -- and Doesn't -- Make Sense
Broadcom isn't paying too much for CA, and can find ways to boost its bottom line. But CA faces some challenges, and the deal is outside of Broadcom's usual comfort zone.
Though it's hardly a shock to see Broadcom (AVGO) - Get Broadcom Inc. Report pursue another big acquisition, it's safe to say that few expected the target to be a 42-year-old enterprise software firm.
The move says a lot about how confident CEO Hock Tan and the rest of Broadcom's management team are about making a wide variety of tech acquisitions pay off if the valuation is reasonable and there are major cost savings to be had. Nonetheless, it's fair to wonder if Broadcom is putting itself too far outside its traditional wheelhouse this time around.
On Wednesday afternoon, a couple hours after The Wall Street Journal reported that a deal is close, acquisition-happy Broadcom announced that it's buying CA Technologies (CA) - Get CA, Inc. Report  for $44.50 per share, or $18.9 billion, in cash. The price represents a 19.5% premium to CA's Wednesday close, and is equal to 16 times CA's fiscal 2019 (ends in March 2019) EPS consensus of $2.77.
Broadcom says the deal is expected to close in calendar Q4, and will be paid for with the help of $18 billion in new debt financing. The company had $8.2 billion in cash and $17.3 billion in debt as of April.
Naturally, CA shares have popped on the news: They rose 15.3% in after-hours trading to $42.90. Broadcom shares fell 6.7% to $227.20, leaving them just $6 above their 52-week low.
CA's product line contains dozens of enterprise software offerings. Collectively, these products handle everything from managing software projects to monitoring the performance of apps and IT hardware to testing app security to protecting against unauthorized data access. In fiscal 2018 (ended in March), the company posted revenue of $4.24 billion (up 5%) and free cash flow (FCF) of $1.15 billion.
Broadcom, just four months removed from seeing the Trump Administration thwart its hostile bid for Qualcomm (QCOM) - Get Qualcomm Inc Report , undoubtedly hopes to boost CA's FCF with the help of its trademark cost-cutting. The company says it's now aiming for a long-term adjusted EBITDA margin of about 55% -- higher than both Broadcom's prior target of 48% and the 38% margin CA had forecast for fiscal 2019.
If prior acquisitions are any guide, Broadcom might also want to streamline CA's product line by selling assets deemed non-strategic. And to raise prices on CA products that possess high market shares, have limited competition and claim a high level of customer "stickiness."
Broadcom seems enthusiastic about CA's mainframe businesses.
Some of CA's mainframe offerings for developers and IT admins appear to fit this description. The company still gets over half its revenue from mainframes, and judging by the presentation Broadcom released after announcing the deal, the company sees this as a positive. Also seen as a positive: The fact that CA's software and services bookings have an average duration length of more than three years, yielding a large base of recurring revenue streams.
Between cost cuts and potential price hikes, as well as a deal valuation that's moderate even before accounting for those things, the CA acquisition could very well pay off for Broadcom if CA continues to see a modest amount of positive revenue growth and Broadcom's management executes well on the deal. However, neither is a given.
In terms of growth outlooks, CA's software portfolio is a very mixed bag. Some of the markets in which CA has a strong presence, such as offerings for DevOps software teams, Agile code development, identity management and privileged account security, are seeing healthy growth. On the other hand, mainframe software is a field that (while stable) is likely to see little to no long-term growth. And various other CA businesses face stiff competition -- often from cloud software upstarts such as ServiceNow  (NOW) - Get ServiceNow, Inc. Report and New Relic (NEWR) - Get New Relic, Inc. Report -- and/or are being impacted by the adoption of cloud infrastructure services from the likes of Amazon.com (AMZN) - Get Amazon.com, Inc. Report and Microsoft (MSFT) - Get Microsoft Corporation Report .
Moreover, even if one feels that CA in theory has enough going for it to deliver low-single digit revenue growth in the coming years, it's perfectly reasonable to question whether it will do so under the ownership of Broadcom, whose acquisition spree to date has revolved around buying suppliers of chips and hardware to OEMs and cloud giants.
To be fair, CA does have partnerships with some of Broadcom's major enterprise OEM clients, such as IBM (IBM) - Get International Business Machines Corporation Report , HP Enterprise (HPE) - Get Hewlett Packard Enterprise Co. Report and Cisco Systems (CSCO) - Get Cisco Systems, Inc. Report . And -- in what's perhaps a sign that it's open to making additional software deals down the line -- Broadcom claims that pairing its products with CA's will create "one of the world's leading infrastructure technology companies."
Nonetheless, there are few or no product synergies between many of CA's offerings and Broadcom's current product line. And in terms of sales, R&D, distribution and much else, the enterprise software industry is a very different animal than the chip industry, or even some of Broadcom's enterprise-focused hardware markets such as Ethernet adapters and storage switches.
Perhaps Broadcom, which has made plenty of acquisitions pay off over its history, will make the CA deal pay off as well in spite of such challenges. But it's hard to blame Wall Street -- which, as the saying goes, hates uncertainty -- for being a little nervous this time around that it won't.
Amazon.com and Microsoft are holdings in Jim Cramer's Action Alerts PLUS member club. Want to be alerted before Jim Cramer buys or sells AMZN or MSFT? Learn more now.