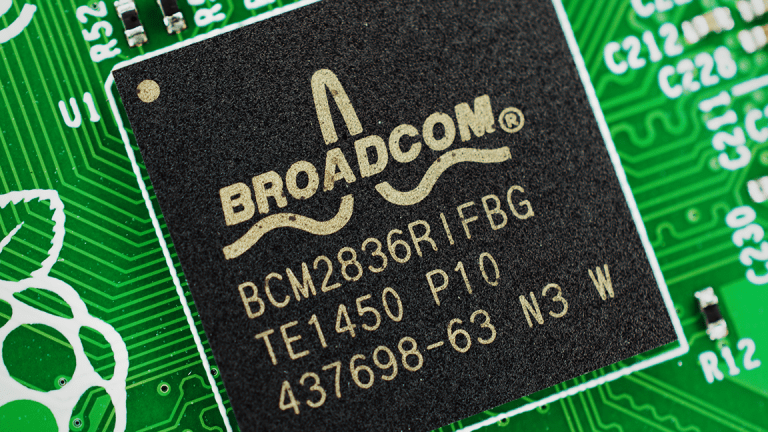 Broadcom Gains on Solid Results and Guidance: 5 Key Takeaways
The chip giant beat estimates and outlined a plan for rapidly growing its new software unit's bottom line. It also suggested demand for older iPhones was better than expected.
Broadcom (AVGO) - Get Broadcom Inc. Report delivered better-than-feared numbers for its chip businesses, and promised to drastically improve the profitability of its new software arm.
After the bell on Thursday, Broadcom reported October quarter (fiscal fourth quarter) revenue of $5.45 billion (up 12% annually) and non-GAAP EPS of $5.85 (up 28%), topping consensus analyst estimates of $5.4 billion and $5.58. The company also hiked its quarterly dividend by 51 cents to $2.65 -- that spells a 4.5% forward yield -- and added $6 billion to its stock buyback authorization.
Broadcom also disclosed that it's switching from providing quarterly revenue guidance to annual guidance. For fiscal 2019 (it ends in Oct. 2019), Broadcom expects revenue of $24.5 billion. That's above a $22.6 billion consensus, but it's worth noting that some analyst estimates don't appear to account for Broadcom's $18.9 billion deal to buy enterprise software firm CA Technologies, which closed in early November.
In addition, Broadcom guided for its operating margin, which will be hurt a bit in the near-term by CA, to be at 51% in fiscal 2019. That's up slightly from fiscal 2018's 50%.
Shares rose 5.2% in after-hours trading to $238.99. They're still down 8% on the year, but up nearly 20% from the lows they hit in July after the CA deal was announced.
Here are some notable takeaways from Broadcom's report and earnings call.
1. Broadcom Forecasts CA's Profits Will Surge Thanks to a Business Model Overhaul
In its last fiscal year (it ended in March), CA had revenue of $4.24 billion and operating income of $1.55 billion. Broadcom, which has sold CA's Veracode app security testing business for $950 million and begun the process of outsourcing CA's services business, forecasts CA will generate over $2.5 billion in operating income in 2-to-3 years on revenue of "over $3.5 billion."
In classic private equity fashion, Broadcom expects to pull this off in part by cutting CA's spending, which totaled $2.68 billion in its last fiscal year, to just $900 million. This in turn will be done by significantly paring back CA's efforts to land new customers and develop new products, and instead focusing on growing the revenue it obtains from its top 500 clients, which collectively account for over 70% of revenue and are said to "represent virtually all of the world's largest enterprises."
Broadcom hopes to grow CA's sales to these clients by getting them to shift from traditional perpetual software licenses to "all-you-can-eat" subscriptions for products. CEO Hock Tan cautions this business model shift will cause CA's revenue to "reset" in the near-term, before eventually improving. He also reiterated Broadcom's interest in leveraging CA's customer relationships to directly sell chips and hardware to enterprises and carriers building private clouds.
The company expects its "infrastructure software" business, which includes both CA and its Brocade storage networking unit, to post fiscal 2019 revenue of $5 billion.
2. Broadcom's Chip Sales for 'Legacy' iPhones Provided a Lift
Broadcom's wireless communications segment (31% of revenue) posted revenue of $1.7 billion. That's down 5% annually, partly due to RF chip share lost to Qorvo (QRVO) - Get Qorvo, Inc. Report with this year's iPhones, but above a $1.63 billion consensus and certainly better than feared given the numerous sales warnings and guidance cuts provided by other Apple  (AAPL) - Get Apple Inc. Report suppliers.
On the call, Tan said that "upside volumes of legacy phone generations at our North American OEM customer," known to be Apple, provided a boost. That's presumably a reference to the iPhone 7/7 Plus and 8/8 Plus, which Apple has kept around at discounts. It's also worth noting here that The Wall Street Journal reported last month that Apple has resumed producing the iPhone X.
Tan indicated wireless chip demand will be soft in the January quarter, and admitted that the phone market "has not been exactly very strong [the] past several months." But echoing past remarks, he suggested Broadcom will regain lost RF share with next year's iPhones.
Apple is a holding in Jim Cramer's Action Alerts PLUS member club. Want to be alerted before Jim Cramer buys or sells AAPL? Learn more now.
3. Demand from Cloud Giants Remains Pretty Strong
Broadcom's "networking and compute offload" business, which covers products such as Ethernet switching and connectivity chips, packet processors and custom ASICs for AI-related workloads, saw revenue grow 22% thanks in part to strong demand from cloud service providers. That allowed Broadcom's wired infrastructure revenue (41% of revenue) to grow 3% in spite of weaker sales for its broadband connectivity business, which covers chips for products such as modems, set-tops and last-mile optical networks.
Tan indicated cloud demand remains healthy, while adding demand for Broadcom's new Tomahawk 3 switching chip and Jericho 2 switch-router processor will boost sales in fiscal 2019. He also forecast broadband sales will rebound thanks to stronger capital spending among cable providers and telcos.
4. Broadcom Is Downplaying Tariff and Macro Concerns
When asked whether tariff and macro-related uncertainty is impacting Broadcom's sales, Tan didn't rule out the possibility, but also suggested other factors impacting end-markets (both positively and negatively) are playing a much bigger role in shaping demand.
"It's hard to tell," Tan said on the impact of macro trends and tariffs. "[W]e cross so many different end-markets, niche markets some of them...[A]re they all consistently trending down? No. We do not see that, but we do see some that are down and we do see some that are up."
Broadcom expects its various "semiconductor solutions" businesses to collectively post fiscal 2019 revenue of $19.5 billion, and says this represents "modest" revenue growth relative to fiscal 2018. The company expects semiconductor solutions to return to a mid-single digit growth rate in fiscal 2020, aided by stronger wireless chip sales.
5. Buybacks Will Remain Aggressive, But Broadcom Is Still Interested in M&A
In addition to spending $4 billion on dividends in fiscal 2019, Broadcom expects to spend $8 billion on buybacks. That follows $7.26 billion in buybacks in fiscal 2018, after Broadcom, following the launch of a $12 billion buyback authorization in April.
In spite of the major capital returns, Tan indicated Broadcom remains up for carrying out fresh acquisitions, particularly to strengthen its newly-obtained software arm. "[A]s we add on more products...we believe this is an opportunity for us as we say to build on that...complementary revenue stream in infrastructure software," he said.