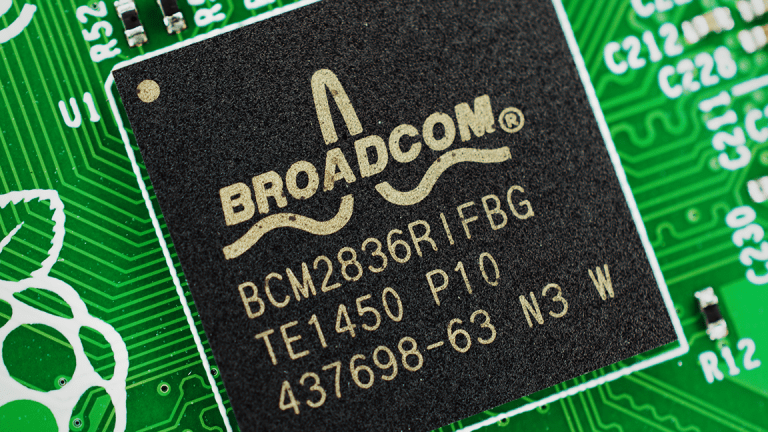 Broadcom Gains After Beating Earnings Estimates: 7 Key Takeaways
Strong data center product demand is giving a lift to the chip and hardware supplier as it pushes ahead with its $18.9 billion CA Technologies deal.
Broadcom's (AVGO) - Get Broadcom Inc. Report latest results and guidance were just solid rather than spectacular. But that's all that was needed.
After the bell on Thursday, the chip and hardware maker reported July quarter (fiscal third-quarter) revenue of $5.063 billion (up 13% annually with the help of last fall's Brocade acquisition) and non-GAAP EPS of $4.98. Revenue was nearly in line with a $5.06 billion consensus, while EPS, which benefited from $5.38 billion worth of stock buybacks, beat a $4.83 consensus.
Broadcom also guided for October quarter revenue of $5.4 billion, plus or minus $75 million. At the midpoint, Broadcom's outlook is slightly above a $5.37 billion consensus.
Shares rose 3.7% in after-hours trading to $224. They went into earnings down 16% on the year, thanks partly to a plunge that followed Broadcom's surprising $18.9 billion July deal to buy enterprise software firm CA Technologies.
Broadcom still trades for less than 11 times its fiscal 2019 (ends in October 2019) EPS consensus. Here are some takeaways from the company's earnings report and call.
1. Data Center Product Sales Remain Very Strong
Within Broadcom's Wired Infrastructure segment (45% of July quarter sales) sales of "networking and compute offload" products -- they include things like Ethernet chips, optical components and custom AI/deep learning ASICs, and account for 60% of segment revenue -- rose over 10% annually thanks to strong demand from both cloud and enterprise data center end-markets. And Broadcom guided for this business to also see double-digit growth in the October quarter.
CEO Hock Tan also struck an upbeat tone regarding fiscal 2019 demand for the business, forecasting Broadcom's Tomahawk 3 Ethernet switching chip, Jericho 2 switch-router system-on-chip (SoC) and deep learning ASIC sales will help drive further growth.
Strong data center hardware spending also gave a lift to Broadcom's Enterprise Storage segment (25% of sales), which sells products such as storage switches, controller cards, adapters and SoCs. The segment's revenue grew 70% thanks to both the Brocade deal and organic growth, and growth is expected to accelerate this quarter.
2. Wireless Chip Sales are Set to Drop, But Broadcom Insists its Temporary
Broadcom forecast its Wireless Communications segment sales, which were 25% of revenue and rose fractionally last quarter, will be down by a single-digit percentage annually in the October quarter. It also expects the segment's sales to witness a "temporary dip" in fiscal 2019.
Without mentioning Apple (AAPL) - Get Apple Inc. (AAPL) Report by name (a big no-no for suppliers), Tan suggested that the drop will be due to a lower RF chip share with this year's iPhones relative to last year's models. This fits with past reports indicating Qorvo will take iPhone RF share from Broadcom this fall.
Nonetheless, Tan forecast Broadcom's wireless business would return to double-digit growth in fiscal 2020, aided by fresh RF dollar content increases within smartphones -- including, eventually, thanks to 5G phone launches -- as well as the adoption of Wi-Fi/Bluetooth combo chips supporting the 802.11ax Wi-Fi standard. Regarding the latter, Tan indicated a high-volume smartphone launching in the spring of 2019 (quite possibly Samsung's Galaxy S10) would support 802.11ax.
Apple is a holding in Jim Cramer's Action Alerts PLUS member club. Want to be alerted before Jim Cramer buys or sells AAPL? Learn more now.
3. 'Broadband' Chip Sales are Under Pressure for Now
Though the Wired Infrastructure segment's data center-related sales were strong, its "broadband" chip sales fell annually due to what Tan described as "cyclical headwinds" for certain businesses, and are expected to remain pressured this quarter. The Chinese passive optical networking (PON) and North American video access (i.e., set-top) markets were mentioned as areas of weakness.
However, Tan sees broadband video chip sales bottoming in the October quarter, and an "up cycle" arriving in fiscal 2019. He also expects Broadcom's Wi-Fi access point chip sales (grouped within the broadband business) to get a boost from 802.11ax adoption.
4. Broadcom Asserts the CA Deal Will Help it Sell Chips and Components
Broadcom's decision to buy a large enterprise software firm yielded a lot of head-scratching in July -- especially since Broadcom didn't hold a conference call to discuss the deal. Tan tried to rectify the situation a bit on Thursday afternoon.
Just as Broadcom signaled in the presentation it published at the time of the deal, Tan argued that his company sees a lot of value in CA's mainframe-related software offerings, which account for over half of CA's revenue and fit the profile of the kind of business franchise Broadcom covets (high margins, limited competition, long-term customer relationships). Notably, he also insisted that CA's customer relationships with major enterprises will give Broadcom an opening to directly sell chips, components and hardware to these firms, rather than just indirectly do so via hardware OEMs.
When questioned about this strategy by analyst who pointed out that (unlike cloud giants) traditional enterprises haven't historically been direct buyers of Broadcom's wares, Tan argued there's a trend afoot among enterprises and carriers to create data centers featuring the kind of white-box systems used by Broadcom's cloud clients. "Some of the big operators now are starting to... build their own data centers. And some of them have come to us and asked us to enable that," he insisted.
5. Broadcom Thinks 5G Could Help it Gain RF Chip Share
Though Broadcom's RF products are mostly used in high-end phones today, Tan thinks the intense technical demands of 5G radios could help grow their footprint within cheaper phones. "I could see a situation where, especially with 5G coming into the mix with all these difficult bands showing up... You start to need better and better RF components, especially in filtering... and we could see that being required across the board in many... next-generation 5G phones," he said.
Qualcomm (QCOM) - Get QUALCOMM Incorporated Report , it should be noted, also thinks 5G gives it an opportunity to take RF share. The company argues its ability to supply both a device's modem and RF front-end circuitry will act as a major competitive advantage with 5G devices.
6. Financial Execution Continues To Be Superb
Providing a boost to earnings: Broadcom's non-GAAP gross margin was 67.3%, up 4 percentage points annually and above a guidance midpoint of 66.5%. Also helping a bit: Operating expenses came it at $874 million, up 14% annually but below guidance of $882 million. Together with 13% revenue growth, Broadcom's financial execution helped free cash flow (FCF) rise 52% to $2.13 billion.
For the October quarter, Broadcom is forecasting a gross margin of 67%, plus or minus 1%. And though revenue is expected to rise by around $300 million sequentially, opex is guided to remain at $874 million.
7. Expect a Fresh Dividend Hike Next Year
"Given our fourth quarter outlook and expected full fiscal year 2018 results, we anticipate another substantial increase in the quarterly dividend for calendar 2019," said CFO Tom Krause. The remarks come nine months after Broadcom hiked its quarterly dividend by 72% to $1.75 per share (it currently carries a 3.1% forward yield).
And though the company is set to spend $18.9 billion to buy CA, Broadcom reiterated its commitment to returning 50% of its FCF via dividends and buybacks. Following the July quarter's stock repurchases, the company has $6.3 billion left on the $12 billion buyback authorization it launched in April.