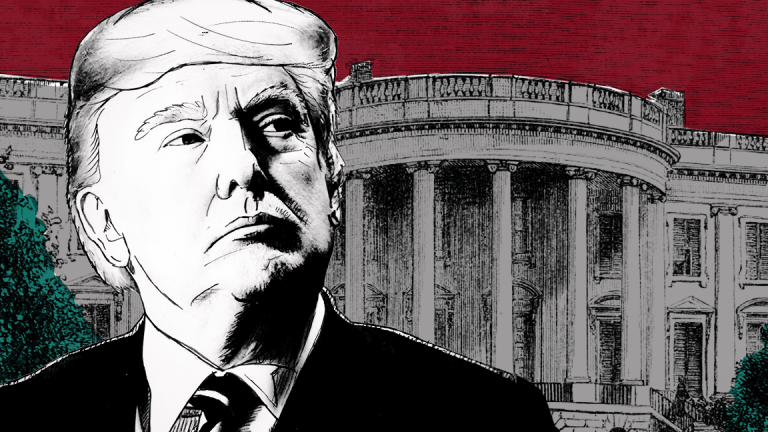 What May Happen Next After Trump's Blocking of Broadcom's Deal for Qualcomm
The Trump administration shocked most people by intervening in Broadcom's contentious battle to acquire Qualcomm. TheStreet's senior reporter Ron Orol weighs in.
President Trump is no stranger to running shock and awe campaigns. 
Now he could add another one to his long list. 
"There is credible evidence that leads me to believe that Broadcom Limited (AVGO) - Get Broadcom Inc. Report , a limited company organized under the laws of Singapore (Broadcom)...through exercising control of Qualcomm Incorporated (Qualcomm) (QCOM) - Get Qualcomm Inc Report , a Delaware corporation, might take action that threatens to impair the national security of the United States," a statement from the White House read as Trump effectively blocked the contentious merger battle between the two tech titans on Monday.
Said Broadcom in a statement, "Broadcom is reviewing the Order. Broadcom strongly disagrees that its proposed acquisition of Qualcomm raises any national security concerns." Qualcomm said in a statement it would reconvene its annual shareholder meeting for March 23.
Broadcom is a holding in Action Alerts Plus. Qualcomm shared fell 4.5% in pre-market trading Tuesday. Broadcom's stock popped on relief that it won't be overpaying for Qualcomm.
TheStreet's senior reporter Ron Orol has been covering the saga from start to finish. Here are several of his thoughts about what may happen next. 
The Lawsuit?
Broadcom could opt to file a lawsuit arguing that it should be allowed to continue to pursue its deal because the Trump administration went beyond the authority given to it in the statute behind the Committee on Foreign Investment in the U.S. (Cfius), the inter-agency panel reviewing the merger.
The Challenge
It's possible Broadcom could challenge Cfius for failing to follow through on its normal procedure and timeline for reviewing deals. Typically, Cfius will ask for a 30-day review period, followed by a 45-day investigation and then, if it deems it necessary, a 15-day review period for the president. In this case, Cfius took less than 30 days to review a deal that wasn't yet agreed upon.
Long-Term Considerations
The Cfius order is likely to have a much wider-reaching impact beyond Broadcom-Qualcomm. U.S. companies thinking about merging with other U.S. companies will need to consider whether they do business with China or whether the technology or service they offer is considered vital for national security.
Editor's Note
One interested party right now has to be fellow chip giant Intel (INTC) - Get Intel Corporation Report , which reportedly has expressed interest in buying Broadcom. Given what looks to be a weakened Broadcom, Intel may have an opening. Watch below for some added insight into Intel's possible interest here.