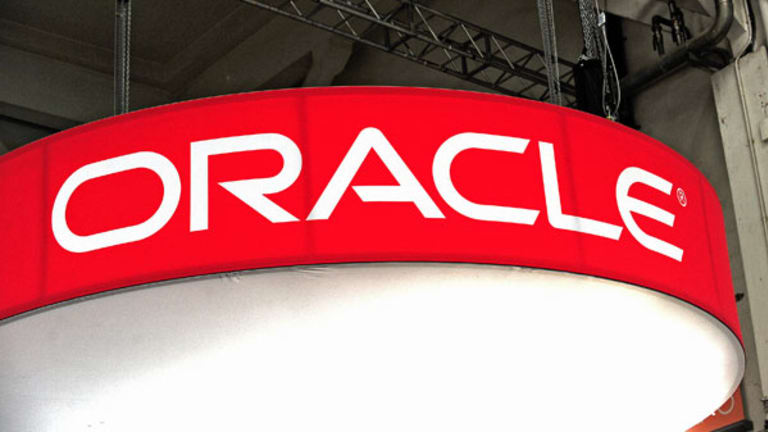 Brexit Comes at a Particularly Bad Time for Software Companies
Great Britain's referendum on its EU membership near the close of the second quarter came at an especially inopportune moment, but some firms are better off than others.
For most publicly-traded companies, there was never a good time for the Brexit vote. But for the large software companies that market to corporate IT departments, the referendum at the close of the second quarter came at a particularly inopportune moment. 
Slippage of large accounts from one quarter to the next is a landmine for software companies, resulting in earnings misses and making the last days of a reporting period crucial for sales.
"[T]he timing of this exogenous market shock couldn't have come at a worse time," Credit Suisse analyst Michael Nemeroff wrote in a report, noting that "most  enterprise-focused software companies -- regardless of size -- sign a large amount of business in the final few weeks of each [quarter]."
Nemeroff suggested that well-positioned stocks, given recent declines and their low exposure to Brexit fallout, include Ultimate Software (ULTI) and 2U (TWOU) , with 98% of revenues from the U.S. and none from the UK and Europe; Paycom (PAYC) , with 100% from the  U.S.; and Synchronoss (SNCR) , which generates 90% of its top line in the U.S. and 10% in the UK and Europe.
Higher risk companies include Open Text (OTEX) and Verint Systems (VRNT) , each with more than 30% of sales in Europe; Cornerstone OnDemand (CSOD) , with 30% in Europe; and Adobe (ADBE) , with 3% in the U.K. and 22% in Europe.
In an earnings call before the vote, Adobe CEO Shantanu Narayen told investors that Brexit had not been an issue in the company's sales meetings. "There isn't a customer on the planet that we go visit where digital disruption is not top of mind, it's a line item in everybody's budget and they are all talking about how they are going to aggressively transition to digital experiences," he said.
In Adobe's favor, its quarter does not end in June. Kirk Materne of Evercore ISI suggested in a post-Brexit report that investors take a look at some of the "quality growth names that do not have a June Q end" like Adobe, Salesforce.com (CRM) , Veeva Systems (VEEV) , Splunk (SPLK) , and Palo Alto Networks (PANW) . 
Long-term risk to the sector is low, Materne added. While SAP SAP generates 44% of its business in Europe, the Middle East and Africa, most software vendors obtain about 21% of their sales from EMEA and just three to four percent from the U.K.  
Tyler Technologies (TYL) and Ultimate Software have "essentially no exposure" to EMEA, the analyst noted. Oracle (ORCL) and Microsoft (MSFT) have nearly 30% and 20% revenue exposure, respectively, to EMEA markets, Materne suggested, but are well positioned because of their balance sheets.  
Cyber security companies Fortinet (FTNT) and Check Point Software (CHKP) generate 37% and 35%, respectively, of their sales from the EMEA, Gray Powell of Wells Fargo Securities noted in a report. Companies with less EMEA exposure include CyberArk (CYBR) (27%), Symantec (SYMC) (25%), Proofpoint (PFPT) (18%), Palo Alto (PANW) (18%), and FireEye (FEYE) (14%).   
Powell suggested that while Brexit will not likely have a great impact on second-quarter demand, it could weigh on guidance for subsequent periods. "[I]f market volatility remains in place through July -- then we would expect most security companies to guide Q3 conservatively," he wrote. "This is because August is always a slow month due to summer vacations which means that a higher-than-normal percentage of demand could be pushed into the month of September if July is soft."
MKM Partners analyst Kevin Buttigieg created a Brexit-bucking "wish list" for software stocks. Pluses include higher exposure to smaller businesses that do more business in the U.S. and less in Europe, fewer dealings with the financial sector, recurring revenues and high margins and lower valuations.  
Few firms can check all of those boxes, however. "[L]arger companies like Oracle and Microsoft ... that screen favorably for margins, recurring revenues and valuation also have the greatest exposure to the UK and EMEA economies and to financials." he wrote. "Smaller companies tend to have lower margins and higher valuations."
Of the companies Buttigieg watches, Ultimate Software, Salesforce.com and NetSuite (N) fulfill a number of the wishes.